There is more to Shaun T than abs and an awesome attitude. Just ask his Chief Operations Officer and friend, Tania Baron.
Shaun and Tania go way back. She knew him when he was Shaun Thompson, the dancer. And he believed in her when she didn't even believe in herself.
Today, they make a winning team with a capital "T".
And speaking of winners, Tania's confident the September Challenge Pack offer will have you pushing play over and over again. Yep, we're turning up the volume and bumping the beats with a Dance Party Challenge Pack, featuring Hip Hop Abs® and Rockin' Body® for $140. That saves your customers $50 and guarantees one seriously entertaining work out.
So read on as Tania breaks down the whole story—step by step.
How did you meet Shaun T?
We were working as professional dancers on a show called The 10 Commandments. That was before he was Shaun T! After the show, he created Hip Hop Abs and invited me to be in it. Since then, I've been in every one of his videos except INSANITY: THE ASYLUM® 1 and 2 because I was pregnant.
You're the Chief Operations Officer of Shaun T Inc. What does that mean?
It basically means that everything with Shaun T Fitness and Shaun T Inc. filters through me before it gets to Shaun. I'm responsible for making sure the different departments like operations, production, and social media run smoothly. I guess you could say I help him manage anything outside the Beachbody® world.
What's it like working so closely with Shaun T?
Luckily, we're able to balance business and friendship. We have tons of respect for each other and also love to have fun. If it's not fun, Shaun doesn't want to do it. That's why I admire him so much—he puts his heart and soul into every one of his products.
What's your favorite thing about Hip Hop Abs and Rockin' Body?
It's refreshing to see Shaun in such a light, fun atmosphere compared to his other programs like INSANITY® and FOCUS T25™. When Shaun's dancing, that's where he lives. Dancing is his passion and you can really feel it in these videos.
What are the differences between the two programs?
With Hip Hop Abs you get an intense cardio but it's more ab specific. Shaun hates traditional ab work so he wanted to create a program that will get you a 6-pack without doing a single crunch. In Rockin' Body, it's all cardio and my heart rate gets a lot higher. Each workout has a theme and is an all out dance party. There is a rock workout, disco workout etc.
Do you have a favorite work out from Hip Hop Abs or Rockin' Body?
I like the disco one. Am I aging myself? [Laughs] It's actually pretty difficult because the music is so fast and the exercises are intense. The good news is    you're just dancing, so you don't even feel like you're working out.
Do you normally listen to Disco when you work out?
No. I usually like anything by Beyonce—especially Run the World. I also like old school Justin Timberlake or Rihanna—anything with a driving beat.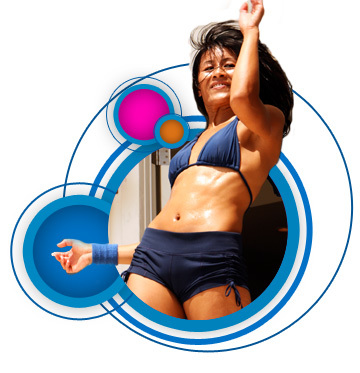 How would you pitch Rockin' Body or Hip Hop Abs to a stranger?
Whenever I find out someone loves to dance and workout, but doesn't want the intensity of INSANITY, I suggest Hip Hop Abs or Rockin' Body. They're both really good workouts, but the catch is that people feel like they're dancing and having a great time. Plus, Shaun is a master of making people with zero rhythm or coordination feel like they're professional dancers.
How did you get your nickname 'The Machine'?
[Laughs] When we were creating INSANITY, Shaun instructed me to stay at the front of the class and keep going the entire time. I felt like I had to keep everyone motivated and maintain perfect form. By the time we filmed the videos, I had become like a machine.
Do you have any new goals for the future?
To get everyone in my family off high blood pressure medication! I also want to stay healthy. At my last physical, they told me that I will definitely get diabetes someday since it runs in my family. I said, "No thank you." My new goals are to be as healthy as possible and to set the best possible example for my 22-month old son, Benjamin. (And yes, Shaun T is, in fact, Benjamin's Godfather!)
Read more...