Click the play button below for the top 3 things you need to know this month
//www.youtube.com/watch? eR7O7GAr6Ao
APRIL CHALLENGE PACK PROMOTION
SUMMER SLIMDOWN
Do you hear that? It's the sound of waves on the shore as you lounge in your swimsuit. Summer is just around the corner and what better way to get bikini ready than with April's Summer Slimdown Challenge Pack promotion? This month, we've got two Challenge Packs on sale – so there's something for everyone!
---
FOCUS T25™ Challenge Pack Promotion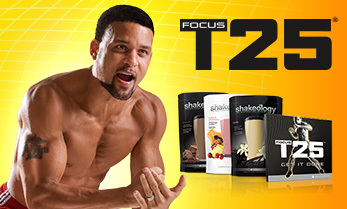 Spend 25 minutes a day working out with Shaun T and your customers will be ready to take their shirts off and soak in the sun.
How? The FOCUS T25™ Challenge Pack Promotion is reduced to $180 (normally $205).
Brazil Butt Lift® Challenge Pack Promotion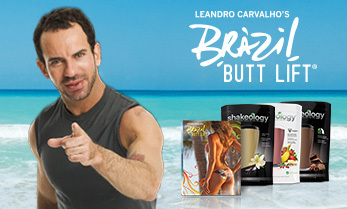 For all our ladies (and our gentlemen too!), we have the Brazil Butt Lift® Challenge Pack Promotion.
Typically retailing at $160, this package will give your booty a lift for only $140.
Challenge Pack Tip: Use the spring season to remind your customers that summer is almost here and it's time to commit to "Decide. Commit. Succeed."
For more information about the April Challenge Pack Promotions, visit the Coach Online Office: FAQ 9750
SUCCESS CLUB PROMOTION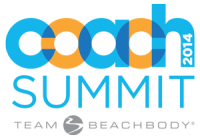 Summit is on the horizon, which means it's a BIG month, Coaches!
This April, you have the chance to qualify for an awesome t-shirt, access to the hottest Summit parties in Vegas, and a star-studded photo opp!
Don't be the Only One Shirtless
Headed to Summit? Qualify for SC 5 in April OR May and earn your Never Give Up T-shirt.
Show off your success by strutting your t-shirt during Friday's General Session at Summit.
Not going to be at Summit? Qualify for SC 5 in April AND May and the Never Give Up T-shirt is all yours.
Read the official rules at FAQ 9842
---
Earn Your Way on the List for the Exclusive SEQUINS AND STUDS Party
Qualify for SC 10 in April AND May and get admission into the swanky Sequins and Studs party. This poolside extravaganza at the MGM Grand is the place to be!
FAQ 9843 has all the details.
---
Qualify for a Celebrity Trainer Photo Opp!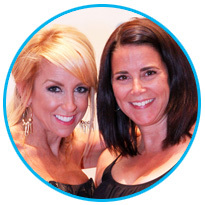 Be one of the top 750 SC point earners in April and win an unbeatable celebrity trainer photo opp!
The winners will be broken down like this:

Top 250 SC point earners in April who are Diamond rank or above
Top 250 SC point earners in April who are Ruby rank or below
Top 250 SC point earners in April who enrolled after June 2013

Go to FAQ 9841 for more details.
---
How to be Invited to the Star Diamond Reception
Qualify as a 1 Star Diamond rank or higher for 6 consecutive weeks between January 1 and May 21, 2014 AND achieve a paid rank of 1 Star Diamond or higher by May 21, 2014 to gain access to the hottest party in Vegas! We'll be celebrating your success at the exclusive Hakkasan Night Club.
Read the official rules at FAQ 9845
Upcoming Events
APRIL SURGE – MONDAY, APRIL 7
Surge is back! CEO Carl Daikeler is LIVE from Beachbody Headquarters on Monday April 7th from 9:00am to 5:00pm PST. Tune in for all the latest news, contest, insights and incredible tips from top Coaches and maybe even a celebrity trainer (or two)!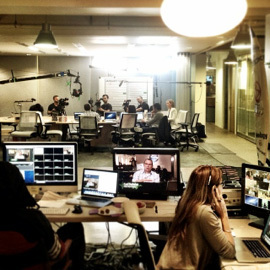 How to tune in:
Watch live on Ustream: //bit.ly/BeachbodyLive
Listen live through the conference line: 832-225-5820 pin number SURGE# (78743#)
Have a specific question for Carl?
Submit them via social media:
Facebook.com/tbbcoach411 Facebook.com/CarlDaikelerCEO Twitter – @tbbcoach411
Twitter – @CarlDaikeler Need more info? Visit FAQ 9791
---
SUPER SATURDAY – SATURDAY, APRIL 12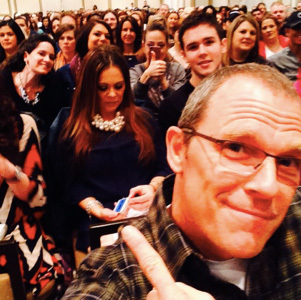 Mark your calendars! It's that time again – time to accelerate your business, learn from the experts and get excited. Super Saturday returns Saturday, April 12 and it's the perfect chance to connect with local Coaches and get all the hottest Team Beachbody updates. Be sure to either register to host OR attend an event in your area.
Want to find an event?
Visit: Tbbcoa.ch/SupSatList
Want to host an event?
Register here: Tbbcoa.ch/April12_SupSat
Visit the Coach Online Office > News & Training > Super Saturday OR Visit FAQ 9792.
---
ULTIMATE RESET: SPRING CLEANING WITH CARL & ISABELLE STARTS WEDNESDAY, APRIL 16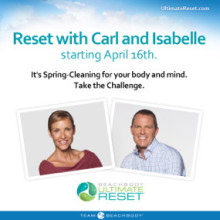 Ah, the fresh smell of spring is in the air! You've finally started to clean your garage or maybe your attic and you've ordered your Ultimate Reset Kit. Now, get ready to start the ULTIMATE challenge group on Wednesday, April 16 for the "Spring Cleaning with Carl & Isabelle." This is exactly what your body needs as the perfect kick-start before summer.
For all the details on the Ultimate Reset promotions, visit FAQ 9796.
Stay on track throughout your reset by following:
Facebook.com/CarlDaikelerCEO
Facebook.com/UltimateReset
---
#SUMMERSLIMDOWN SOCIAL CONTEST
Join April's #SummerSlimdown social contest.
Here's how to enter:
Post a photo of yourself (or someone you want to help) and a bathing suit (holding it, wearing it, etc.) to Twitter, Facebook or Instagram
In your post, include which program you'll use to reach your fitness goals
Tag your post with #SummerSlimdown
Who wins:
How winner is picked/announced:
Daily winner will be contacted via email (some will be highlighted on Carl Daikeler's Facebook page)
Prize: New Shakeology taste sampler (now includes Strawberry)
Contest dates: Starts April 7th, 9 am PST – April 30, 11:59 pm PST
Review the rules here: //tbbcoa.ch/AS_SummerSlimdown
Product & Training Spotlight
INTRODUCING SUMMIT'S BEACHBODY SHOWCASE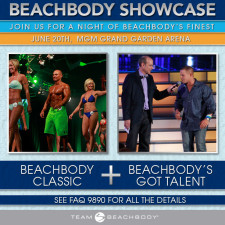 It's a night of pure entertainment. Don't miss this Summit extravaganza. Come celebrate the successes and talents of your fellow Team Beachbody Coaches during the Beachbody Showcase, which includes the Beachbody Classic and the 'Beachbody's Got Talent' Show. Where can you catch all the action? LIVE from the MGM Grand Garden Arena on the evening of Friday, June 20th (exact time TBD). Read on to find out how you can join in the fun!
PART 1: THE BEACHBODY CLASSIC
This is an incredible opportunity for you to truly be a product of the product at the first annual Beachbody Classic physique competition! This year, the Beachbody Classic is a men's and women's physique competition open to anyone who primarily uses Beachbody fitness programs to achieve and maintain their physique. This could be your special moment to strut your stuff live on stage in front of thousands, and get the incredible recognition and applause you deserve for your hard work and amazing physical results!
WHEN: Friday, June 20 – exact time TBD
WHERE: MGM Grand Garden Arena, Las Vegas
HOW TO ENTER: Starting on March 25th, register at www.BeachbodyClassic.com.
'BEACHBODY SHOWCASE' FAQ: 9890
Prize: First, second, and third place winners (male and female) will win a "Beachbody Classic" trophy, and bragging rights. If the winners have nominated their Coaches, those Coaches will win trophies too.
PART 2: THE 'BEACHBODY'S GOT TALENT' SHOW
Calling all Coaches who want to share their talent on the infamous stage at the MGM Grand Garden Arena during Summit. We want to see YOU in the 3rd Annual 'Beachbody's Got Talent' show—singing, dancing, playing an instrument, telling jokes, juggling, doing acrobatics – whatever your amazing act is, this is your big chance to tell us about it!
How to Enter: Simply email us a brief description of your talent with a video of you performing it (or a You Tube link) to tbbcoach411@gmail.com. We're accepting entries from March 25th (after announcement on cruise) through the end of April—and will be announcing our show finalists mid-May. Exact dates will be published next week. Good luck!
When: The evening of Friday, June 20th – immediately following the Beachbody Classic contest.
WHERE: MGM Grand Garden Arena, Las Vegas
'BEACHBODY SHOWCASE' FAQ: FAQ: 9890
BEACHBODY CHALLENGE QUARTERLY VOTING NEEDS YOU
It's that time again! Time to vote for the Beachbody Challenge winners. From April 28th – May 5th vote for the biggest success story – the winners will each receive $5,000 and a trip to Los Angeles for themselves and a guest. Remember, if nominated, the Coach of each quarterly winner can receive $1,000 as well. Voting is quick, simple—and every vote counts!
So on April 28th visit BeachbodyChallenge.com to vote.
---
FranklinCovey TRAINING WORKSHOP COMING TO PITTSBURGH!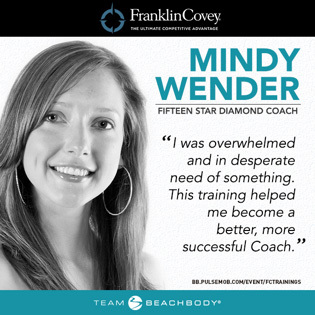 The average person uses 13 different methods to control and manage their time. Imagine how much time is spent trying to organize and manage those methods?
Team Beachbody® Custom FranklinCovey® Training Workshop brings you The 5 Choices to Extraordinary Productivity: Time Management Training. Valued at $2,000, this training is available to you for only $249! FranklinCovey Graduates can attend for a refresher for $75. Transform your business and personal life!
Want to know more? Here from 15 Star Diamond Coach, Trina Gray //youtu.be/sZVoYvz0BLw and 15 Star Diamond Coach, Mindy Wender //youtu.be/FG2sUkYF-oQ was just what their business needed.
Upcoming workshop:
When: Saturday, April 26th – Sunday, April 27th (8am – 5pm)
Where: Sheraton Station Square – 300 West Station Square Drive, Pittsburg, PA 15219
To register, visit: https://bb.pulsemob.com/event/fctrainings/
---
BEACHBODY CHALLENGE GROUP TRAINING COMING TO CALGARY!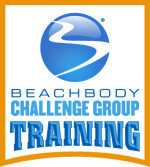 Get ahead and mark your calendars for May 3rd. During this interactive Coach training session, you'll:
Learn how to apply the 3 Vital Behaviors to build a successful business.
Discover the most effective tools used by our Top Coaches.
Learn to create compelling Challenge Group invites, and discover how to set important goals and track business success.
Be inspired and motivated with an Action Plan to launch or revive your business.
When: Saturday, May 3rd, 2014 10:00 am – 3:00 pm EST w/1-hour lunch break (lunch not provided)
(Registration Open: 9:00am – 10:00am)
Where: Glenmore Inn & Convention Centre
2720 Glenmore Trail SE
Calgary, AB T2C 2E6
Register Here: https://bb.pulsemob.com/event/bbcgtcalgary/
---
GET YOUR BEACHBODY APPAREL NOW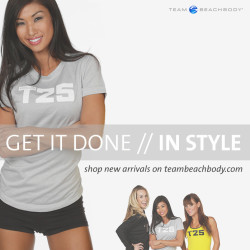 It's the moment you've been waiting for. Get your Beachbody swagger on with the launch of our new seasonal performance and fashion apparel for men and women! These snazzy new threads include: FOCUS T25®, INSANITY®, and Shakeology® apparel from Summit 2013, plus new P90X3 branded apparel. Get it now in the TeamBeachbody.com Store.
Stay tuned for a new season of apparel at Summit and other brands in the coming months!
NOTE: To ensure low prices, apparel will have a different pricing structure. Coaches and Club members get a 10% discount. There is no volume or commissions associated with apparel.
Want more details? FAQ 9803
---
COACH SHAKEOLOGY SWAG NOW AVAILABLE THROUGH MYSHAKEOLOGY.COM
What is the second best thing to Shakeology? Shakeology swag. Get it now on Shakeology.com and through your MyShakeology.com page. There's no better way to gather visitors to your MyShakeology.com page. Here are the hottest new items available:
The Fiber Boost – Add more fiber to your diet with Shakeology Boost: The Fiber. This non-gritty, flavorless powder mixes easily into your daily Shakeology shake or any other drink. Coach price: $18.71 (normally $24.95)
Single Shaker Cup – The perfect size for your Shakeology on-the-go! This 25-oz Shakeology Shaker Cup is stylish, yet sturdy. Coach price: $5.21 (normally $6.95)
Black Canister and White Canister – These airtight, durable, 3.3-quart, round canisters are BPA-free and perfect for storing a full bag of your favorite Shakeology®. Canisters are stackable and come in black or white. Coach price: $14.96 (normally $19.95)
For more information, visit: Shakeology.com or log into your MyShakeology.com
In Case You Missed It
COACH INSURANCE
Have you signed up for your insurance through PRO Insurance Managers, Inc.? Coaches, you now have access to top-of-the-line national insurance programs. PRO is one of the nations leading independent insurance brokers and was chosen as the Direct Selling Association's exclusively endorsed program resource to all member companies.
Want to learn more and sign up?
To learn about the different types of coverage and to sign up, visit www.pro4.us/beachbody.asp or call 800-821-7383.
For more information, visit the Coach Online Office: FAQ 9844
© 2014 Beachbody. All rights reserved.
Read more...