Get content you can customize and share with your 21 Day Fix® Challenge Groups.
Getting Started
Create a Challenge Group in the My Challenge Tracker Coach Portal, and invite your participants to download the My Challenge Tracker App. Alternatively, you can set up a private Facebook® group.
Review the Product Training Guide for everything you need to know about 21 Day Fix.
Share this message from Autumn with your challengers.
Post Week 0 topics to your group's feed.
Challenge Group Best Practices
Use My Challenge Tracker. My Challenge Tracker was designed to help you run your Challenge Groups and get your customers the best results possible. Using the app, your participants can track their workouts, Shakeology, weight, measurements and progress photos, while interacting with one another in a closed forum. Simultaneously, with the Coach Portal, you can gain insights into your participants' daily activities to help keep everyone accountable.
Kick off with a group meeting and set expectations. Whether in person, via Zoom or over the phone, holding an initial group meeting is a great way to set clear expectations that can define a rewarding experience for your participants. It also creates a team culture where participants can feel a sense of belonging and gain encouragement from others. Walk them through the My Challenge Tracker app, showing them how to track their activity and engage within the group. Tell them what they need to do to be successful (i.e., check in daily, drink Shakeology, set realistic short-term and long-term goals, etc.). Share how you and others in the group will support them along the way.
Share the Team Beachbody meal prep guides. These guides are tailored to different calorie needs and make meal prep simple, providing grocery lists and step-by-step instructions for planning breakfasts, lunches, dinners and snacks — one week at a time.
Lead by example with our #1 Vital Behavior, be proof the products work. Track your activity and share your experiences daily, so your participants can replicate actions that will help them succeed.
Connect and check in with participants constantly. Notice someone hasn't been logging their activity? Reach out to them individually to make sure everything is okay and encourage them to get back on track. They'll be more likely to stick with the challenge if they know someone is holding them accountable.
Surprise your participants; throw down a challenge. Whether it's a day where everyone completes 10 push-ups, shares their favorite meal photo and recipe, or does the most squats in a minute, small prizes or contests can help keep your participants engaged and motivated.
Recognize, Recognize, Recognize! Another Coach vital behavior, it's key to recognize the positive changes and healthier lifestyle choices people make, no matter how small. Recognition keeps challengers engaged and motivated. Consider designating a day of the week to highlight someone's success, or, better yet, do it daily.
Encourage participants to submit their results to the Beachbody Challenge contest. Everyone loves free stuff. Make sure your participants enter the contest once they complete their challenge to get rewarded with a free completion prize, and a chance to win some cash.
Continue with the momentum even after your Challenge Group ends. Check out these tips for effectively wrapping up your Challenge Groups and getting your participants to join your next challenge – or transition to become a Coach.
Note Regarding Links
This guide contains links to products and resources on TeamBeachbody.com. To ensure you receive credit for any sales made through these links, simply append this (inserting your OWN Coach repID) to the end of the URL: ?referringRepId=yourID
---
OR FILTER BY
:
Select the content topics you'd like to view and then click "Filter."
Motivation
Shakeology
Nutrition
Fitness
Recipe
Check-In
Getting Started
Success Story
Trainer Tips
Download all images in this Challenge Guide
Week 0
(Week prior to challenge start date)
---
Week 1
Day 1:
Total Body Cardio Fix
Day 2:
Upper Fix
Day 3:
Lower Fix or Barre Legs
Day 4:
Pilates Fix or Flat Abs Fix
Day 5:
Cardio Fix
Day 6:
Dirty 30
Day 7:
Yoga Fix
Success Story
Talk about a transformation: Katie had not felt good about her body in a long time. She became accustomed to stuffing herself with huge portions of food that weren't quite "the healthiest." That was until she found 21 Day Fix...after 21 days, she lost 8.5 pounds and 6.5 inches!*
"I was nervous that the meal planning was going to be difficult to keep track of and that the portions were not going to be enough to keep me full, but it was so easy! I received better results than I ever thought possible!" —Katie!
*Results vary based on effort and following Beachbody's healthy eating plan.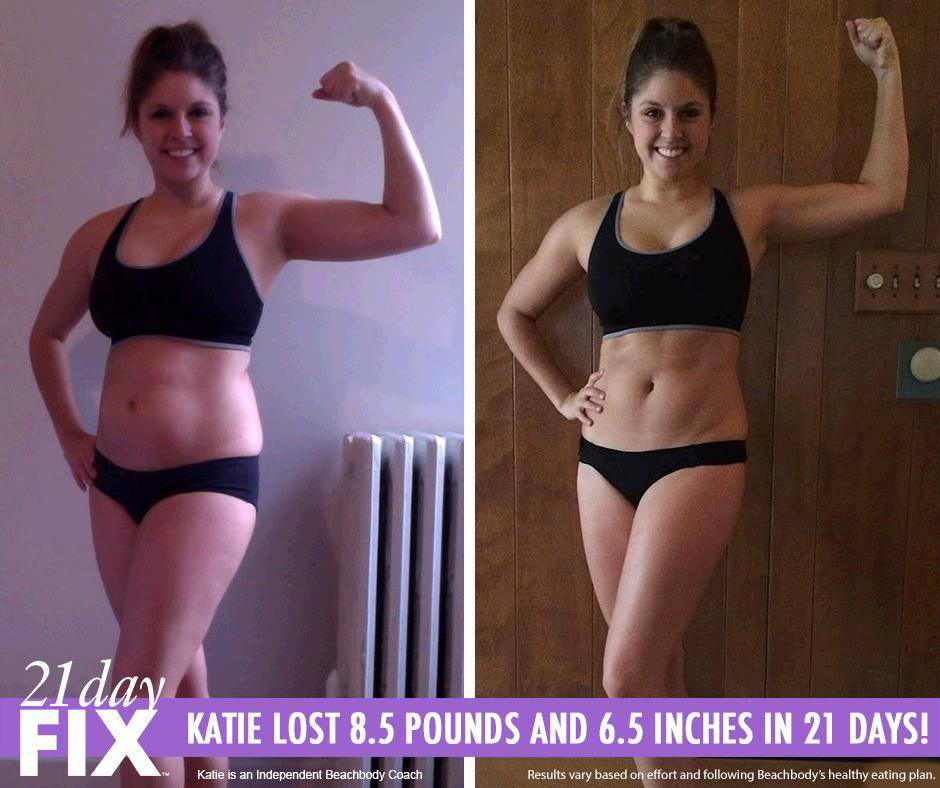 Recipe
It feels great knowing I'm fueling my body with healthy, nutritious meals. And what I love is there are so many Fix-approved recipes out there! Just check these (container equivalents included with each): https://tbbcoa.ch/TBB_recipes
---
Week 2
Day 8:
Total Body Cardio Fix
Day 9:
Upper Fix
Day 10:
Lower Fix or Barre Legs
Day 11:
Pilates Fix or Flat Abs Fix
Day 12:
Cardio Fix
Day 13:
Dirty 30
Day 14:
Yoga Fix
Recipe
Looking for even more recipes? Check out the healthy cooking show FIXATE™—led by your very own Autumn Calabrese—on Beachbody On Demand. I love it because it shows me how to make perfectly portioned meals that are absolutely delicious! Make sure to check out the "Containers 101" video on FIXATE which explains how the portion-control container system works and why portion-controlled meals and snacks can give you even better results.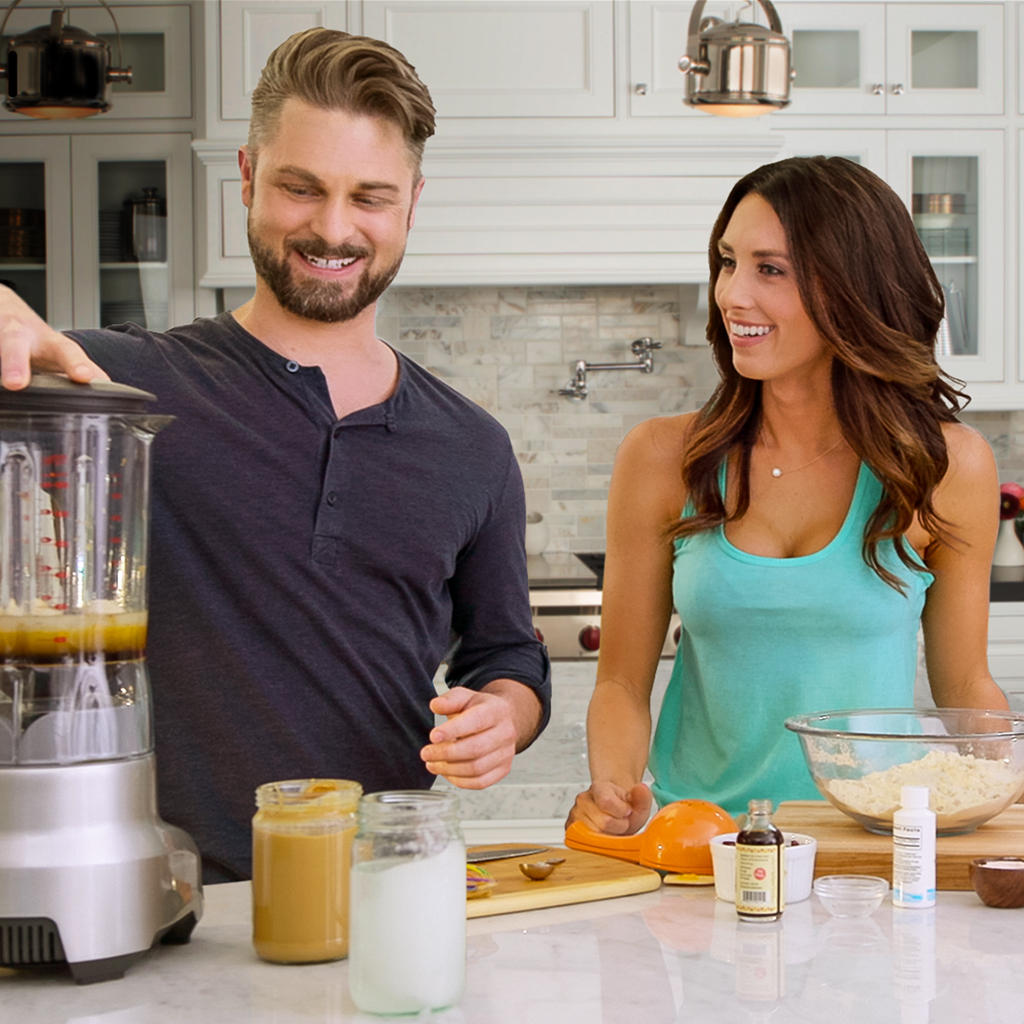 Success Story
Here's some inspiration for you! LaTeisha used to be active and fit, but started gaining weight while trying to balance a job with school. Feeling self-conscious, she wanted a change. Hearing about transformation stories from others, LaTeisha decided to begin her own journey with 21 Day Fix. After 6 rounds, she lost 45 pounds!*
"I feel mentally strong, peaceful, and happy. Before I started 21 Day Fix, I wasn't outgoing or social. I hated shopping. Now, I love it." —LaTeisha
*Results vary based on effort and following Beachbody's healthy eating plan.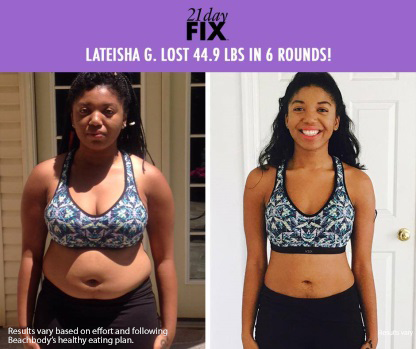 Shakeology / Recipe
Instead of grabbing a packaged protein bar, why not make your own? These Shakeology Sunshine Bars take 10 minutes to prepare and taste so good that you won't believe they're healthy! https://tbbcoa.ch/SHK-Sunshine_Bars
Recipe
This salad is delicious and easy to make, plus it's packed with vitamin A, vitamin C, and tons of protein! Sounds like a 21 Day Fix win to me!
Ingredients:
1 cup chopped fresh kale
¼ cup chopped tomato
¼ cup sliced cucumber
4 oz. cooked chicken breast, boneless, skinless, sliced
1 Tbsp. raw sunflower seeds

Fix Portions:
1 Green
1 Red
1 Orange

---
Week 3
Day 15:
Total Body Cardio Fix
Day 16:
Upper Fix
Day 17:
Lower Fix or Barre Legs
Day 18:
Pilates Fix or Flat Abs Fix
Day 19:
Cardio Fix
Day 20:
Dirty 30
Day 21:
Yoga Fix
Recipe
Don't have much time to cook? Check out these simple meal prep recipes. (Fix container equivalents included on each!): httpS://tbbcoa.ch/1Oo4TtB
Fitness / Nutrition
Now that we're nearing the end of our 21 Day Fix challenge, how will you continue to improve your nutrition and fitness?
For some of you, completing another round of 21 Day Fix will be a great way to continue with your healthy lifestyle. But if you're ready to take it to the next level with extreme workouts and clean eating, I suggest you try 21 Day Fix EXTREME.
Message me if you're interested.
Success Story
Kourtney's story never ceases to amaze me. Having two kids just two years apart took a major toll on her body. Kourtney felt "alive but not living." That was until she turned to 21 Day Fix. After 11 consecutive rounds, she lost 85 pounds!*
Who's inspired to keep going?
*Results vary based on effort and following Beachbody's healthy eating plan.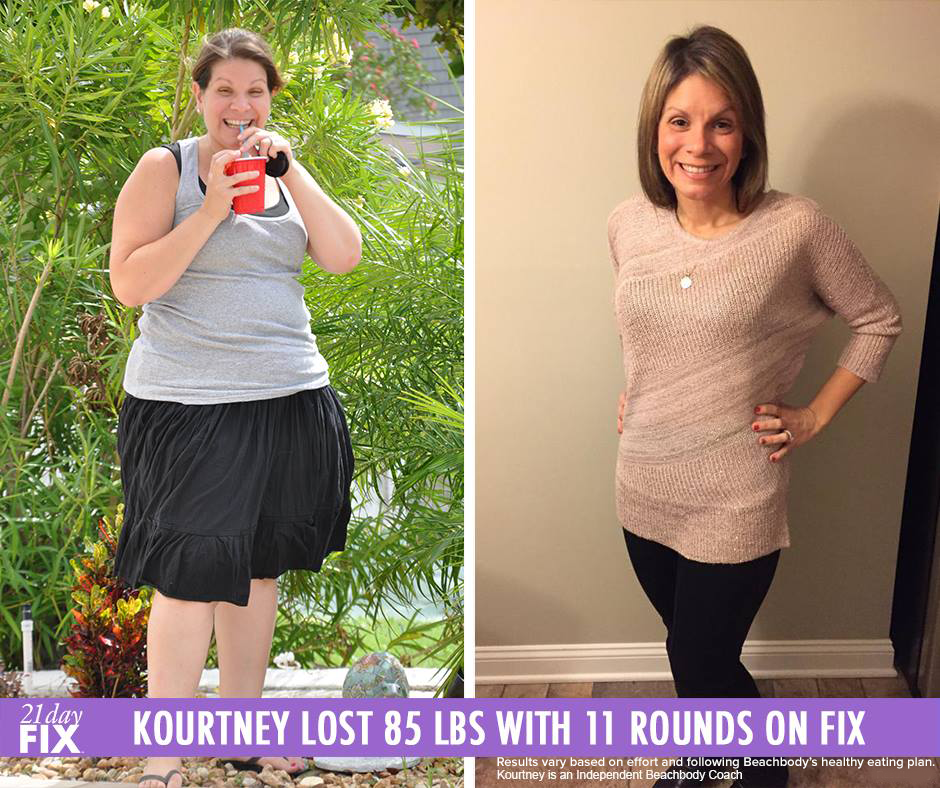 ---