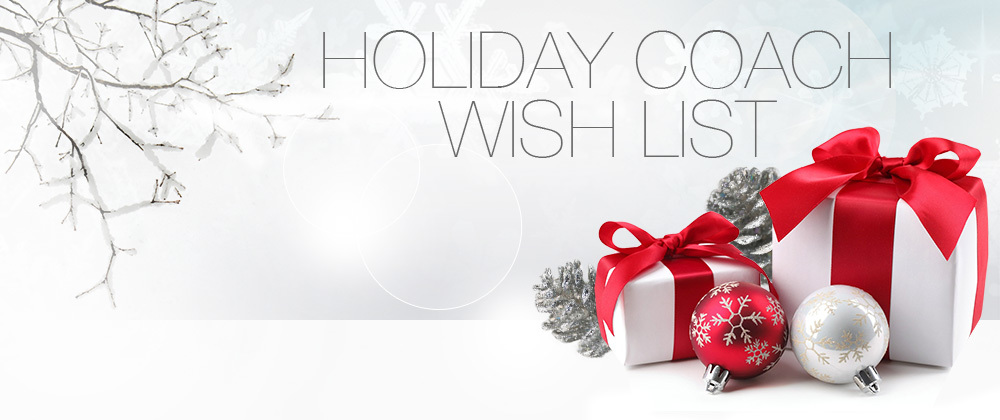 Fruit baskets. Chocolates. Refrigerator magnets. Those are the same kinds of holiday gifts you gave away last year. Bo-ring!
Nothing says impersonal quite like these unimaginative items. Been-there. Bought-those.
Why not get a valued member of your Team something creative? Something you put a little thought into. Something that inspires them!
Want some fresh, new ideas that stand out from the pack? You've come to the right place. Here are eight things that are guaranteed to leave a lasting impression.
1) Portable DVD Player

www.amazon.com/Portable-DVD-Players/b?ie=UTF8&node=172521

Meet your new traveling companion: the portable DVD player. This gift will help you make the most of your downtime while commuting, at the office, or at the beach. In a hotel during the holidays? No problem. Just pop in a copy of your favorite Beachbody
®
workout DVD and your fitness program won't miss a beat.
2) Personal Development books
//networkmarketingpro.com/gopro/
//www.amazon.com/The-Compound-Effect-Darren-Hardy/dp/159315724X
The effects of a good Personal Development book continues long after the read is over. That's a gift that keeps on giving! Check out Go Pro by Eric Worre. It teaches you skills to find prospects, get them started right, and grow your Team by leaps and bounds. Another powerful choice is Darren Hardy's, The Compound Effect. You'll learn the secrets of superachievers and how to eliminate bad habits that are slowing your progress. Want to make these gifts extra special? Inscribe a motivational message inside the cover. They'll think of you each time they read it!
3) eVoice Virtual Phone System
www.evoice.com
eVoice will keep you in close contact with your Team—even if you're thousands of miles away! This impressive virtual phone system automatically answers every call with a professional greeting and routes them to your office, cell phone, or home. What's more, it transfers voicemail to email, transcribes voice messages, screens calls, and allows you to work from anywhere. As far as holiday gifts go, this one's a slam dunk.
4) Bluetooth Talking Gloves
www.sharperimage.com/si/view/product/Bluetooth-Talking-Gloves/201624?_requestid=243178
If you want a highly creative gift idea for you or one of your Coaches, consider the rechargeable Bluetooth Gloves. With a speaker in the left thumb and a microphone in the left pinky, you'll be all set to take phone calls—without taking your gloves off. Just make the "call me" gesture and you're ready to chat for up to 12 hours.
5) Give the healthiest meal of the season
Here's a few ideas to savor: First, the Shakeology® Sample Pack. Not only is it a great holiday gift idea, it's a top-notch inviting tool as well. You can also choose the new and improved Shakeology Shaker Cups. They're great for Coaches, family, or friends—any Shakeologist on the run. Go to www.teambeachbody.com/shop/-/shopping/ShakerCupPack. Have you heard about the new Shakeology tote bags? These reusable bags are a perfect conversation starter. Look for them on December 2 in the TBB Store > Coach Products and Tools > Shakeology Items. 
6) Travel Charging Kit
//www.sharperimage.com/si/view/product/Travel-Charging-Kit/201241
If you want to make absolutely sure you stay connected to your Upline or Downline, this is your gift. The essential Travel Charging Kit is a traveler's dream, allowing you to charge up to 3 electronic devices at once. What's even better is that you'll only have to use one outlet to do it! This cool item charges all iPads, iPhones, including iPhone 5, iPods, smartphones, laptops, eReaders, MP3 players, and more.
7) Wear and share
Buying Beachbody-branded apparel for your customers and Coaches will pay huge dividends for your business. Want a couple stylish suggestions? Why not get the men in your life the Shakeology Men's Vintage Tee? This awesome tee makes representing the healthiest meal of the day downright hip. And for the women? Try the INSANITY Women's Raw Edge Sweatshirt. It's lightweight, loose-fitting, and will keep her cool and comfortable. Encourage them to wear the merchandise with pride and start conversations wherever they go!
(Both items available mid-December on www.teambeachbody.com)
8) Wrap an app
Still stuck on finding the ideal holiday gift for your Team? There's an app for that! To get the ball rolling, we picked out a few of our favorite and most practical apps:

So whatever you do, focus on finding customized gifts that show people you care. It will definitely wow your Team and help make it a happy holiday season for all!