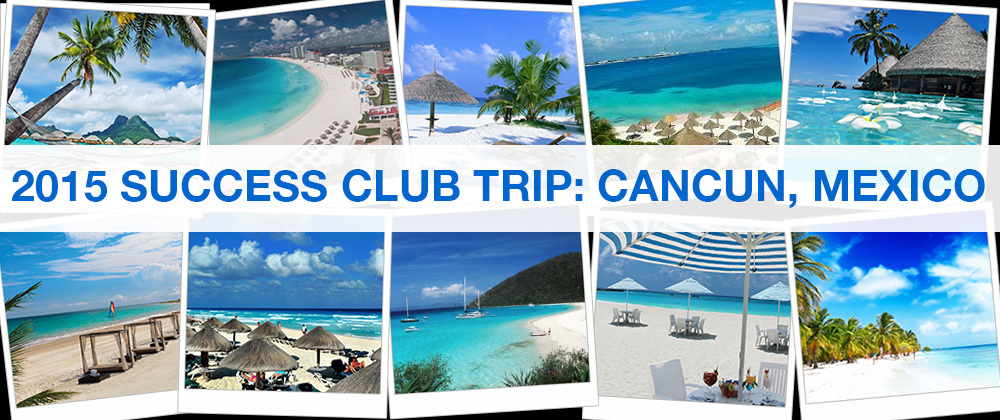 The Bahamas. Walt Disney World. Our past Success Club trips have been downright legendary. But in 2015, we're set to boldly go where no Team Beachbody® Coach has ever gone before: spectacular Cancun, Mexico! Learn why this exclusive trip is destined to be the granddaddy of them all—and why you and your Team simply can't afford to miss out!
Break out the sombrero and suntan lotion; Team Beachbody is headed south of the border to Cancun, Mexico!
Can you say fiesta of a lifetime? Our all-inclusive (yes that means food and drinks are included) 2015 Success Club trip will be all that and more.
Situated on the south-east coast of Mexico on the Yucatan Peninsula, Cancun is the ultimate dream destination. White sand beaches. Lush jungles. Turquoise crystal clear waters. Not to mention the largest coral reef in the entire Northern Hemisphere.
Let's just sum it up in three words: Heaven. On. Earth.
Your date with destiny
Take out your smartphones and mark April 15-19, 2015, in your calendar. Now.
Prepare to spend five sun-drenched days and four blissful nights at the world-class Moon Palace Resort and Spa.
Talk about surreal surroundings! This breathtaking, beachfront paradise in the heart of the Mayan Riviera is a five-star experience featuring: expansive oceanfront views, spacious, rooms, and a variety of incredible specialty restaurants to satisfy your every culinary desire.
On the relaxation meter, Cancun is a definite 10. Imagine lounging with other Coaches at one of the gorgeous, lagoon-style pools or rewarding yourself with a well-deserved massage at the luxurious spa.*
And for those who seek a little adventure and fun in the sun? Read on. We're just getting started.
Activities abound
The activities on this trip will be off the charts. Sweat it up in a heart-pumping workout with our celebrity trainers. Swim with the dolphins in the pristine waters. Play a round of golf on a beautiful, 27-hole course.*
There'll be something for every member of the family from sunrise to sunset. Enjoy hiking, snorkeling or even ride endless waves of fun on the thrilling flowrider (a simulated wave machine). In other words, it might be a good idea to leave your watch at home.
And as for the night life? You and your friends can hang out at your choice of cozy bars, or dance the night away at the chic Noir Nightclub. Not a bad way to cap off an action-packed afternoon.
Celebrate your success
The best part of all? You'll be celebrating your success with fellow Beachbody Coaches who've been in the trenches with you all year long. You'll also be meeting some of your Facebook friends for the first time and making tons of new friends along the way.
This kind of bonding experience is second to none.
And what would a Success Club trip be without an opportunity to learn from some of the best in the business? You'll have the chance to share best practices, ask questions and get advice from our elite panel of Coaches.
Keep the perks coming
We haven't even mentioned one of the biggest perks of all: You and your Team can show up with tons of Resort Dollars before you even arrive! This means as you earn Success Club points throughout the year, you'll be able to turn them into Resort Dollars for the trip.
Here's a quick breakdown of how it works:
Resort Dollars
Earn $5 in Resort Dollars for every Success Club point in 2014.
If you qualify for Success Club, you can earn $10 in Resort Dollars for every point earned that month.
Earn a bonus $100 Resort Dollars if you achieve Fast Track in 2014.
Maximum that can be earned is $1,000 in Resort Dollars.
PLUS: All Resort Dollars earned in the month of January 2014 will be doubled
Travel Cash
Earn $300 by qualifying for Success Club 5 every month in 2014 and enroll 12 new Coaches with 90PV
Earn $750 by qualifying for Success Club 10 every month in 2014 and enroll 12 new Coaches with 90PV
Don't miss out on this once-in-a-lifetime opportunity—commit to Cancun today! Rooms are only available on a first come, first serve basis so you'll need to act fast. Lock in your space at www.Cancun2015.com. (Elite and 5 Star registration begins on January 9th at 9am PST. Premiere registration opens om January 10th at 9 am PST with standard registration for all Coaches starting on January 11th at 6pm PST).
See you in the tropics!
*Spa, dolphin swim and golf activities are not included in the "all inclusive" package deal