DECEMBER CHALLENGE PACK
MAX OUT WITH THE DECEMBER CHALLENGE PACK PROMOTION
INSANITY MAX:30™ Challenge Pack Promotion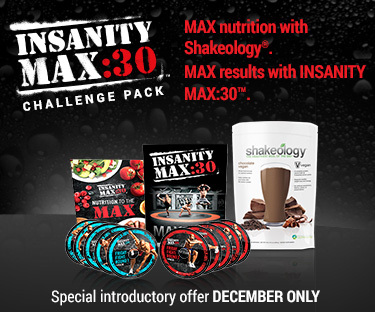 Get ready for the hardest 30 minutes of your day because INSANITY MAX:30 is finally here! Celebrity trainer, Shaun T is digging deep again with this game-changing program that will give you, your customers and your Team the best results of your life.
Now, take fitness to the MAX with the December Challenge Pack Promotion: only $180 USD (normally $205 USD).
KEEP COOL WHILE YOU MAX OUT WITH THE DECEMBER SUCCESS CLUB PRIZES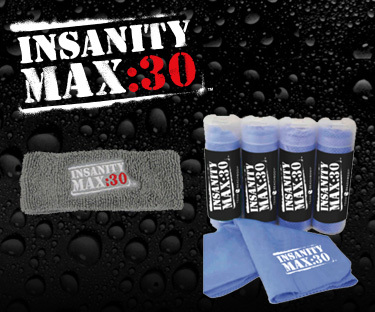 Hit Success Club 5 this month and an INSANITY MAX:30 Cooling Towel and headband are all yours. No better way to look fly and keep cool while Shaun T is making you dig deep!
For more information about the December Success Club, visit: FAQ 9249
December Challenge Pack Promotion details here: Current Promotions or visit FAQ 9758
Back to top ˆ
Training Spotlight
NEED SOME GREAT TOOLS TO HELP YOU HIT SUCCESS CLUB THIS MONTH?
The end of the year is approaching, but we're not celebrating just yet. It's time to stay focused to hit big goals and create the momentum you need to start the New Year strong.
Don't miss "3 Tips to MAX-OUT 2014 & Kick Off 2015 Strong" in the Coach Monthly Training.
Check Coach Breaking News every week for new tips on how you can increase your success and achieve your goals.
Product News
INSANITY MAX:30 APPAREL ARRIVES DECEMBER 4TH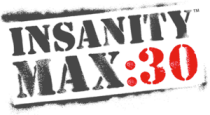 For the first time ever, we're launching a new product followed by apparel! By end of day on Thursday, December 4th, INSANITY MAX:30 apparel will be available in the TeamBeachbody.com Store!
Follow us on Facebook.com/tbbcoach411 to get the latest details on timing.
For more information on Beachbody Apparel, visit FAQ 9803.
---
FREE SHIPPING ON ALL BEACHBODY APPAREL DURING THE MONTH OF DECEMBER!
FREE SHIPPING on all Beachbody apparel has been extended through the month of December. Spread seasonal cheer with stylish gear and get the perfect holiday gifts for all the fitness fans on your list. We've got you covered with must-have fitness favorites that stand up to your most challenging workouts, and easy-to-wear fashion looks that go everywhere! Plus, check out the new sale items added to clearance—act fast to get up to 40% off!
Shop now at TeamBeachbody.com > Shop > Mens/Womens Apparel.
Free Shipping only applies to apparel in the TeamBeachbody.com Store. For more information on Beachbody apparel, visit FAQ 9803
---
SAVE HUGE ON LES MILLS COMBAT AND PUMP!
Still have a few gifts you need to get? Don't worry! We've extended the great deals on LES MILLS COMBAT and LES MILLS PUMP through December! Visit the FAQ numbers below to check out the awesome savings on LES MILLS products and accessories.
For information on the LES MILLS PUMP products and accessories promotions, visit FAQ 2315
For information on the LES MILLS COMBAT products and accessories promotions, visit FAQ 4300
UPCOMING EVENTS
MARK YOUR CALENDARS FOR JANUARY SURGE – JANUARY 5TH, 2015
Start your New Year right and January Surge with Beachbody CEO, Carl Daikeler and his awesome lineup of special guests as he rings in 2015 LIVE from Beachbody Headquarters.
Save-the-date: Monday, January 5th, 2015 at 5:00pm PT.
---
COMING JANUARY 10TH, 2015: SUPER SATURDAY


Super Saturday is back, January 10th, 2015! It's time to rally the troops, set your goals and rediscover your 'why.' Here's how:
FIND AN EVENT TO ATTEND: To find an event in your area, check out the interactive map here: //www.tbbcoach411.com/super-saturday/. If you don't see an event in your area, remember to check back as the map is updated regularly with new events.
REGISTER TO HOST AN EVENT: Interested in hosting your own Super Saturday event? Register your event by filling out the form at tbbcoa.ch/Jan10_SupSat.
For more information on Super Saturday, visit the Coach Online Office > News & Training > Events > Super Saturday.
You can also check out FAQ 9792.
Back to top ˆ
Coach Contests
SPREAD THE WORD ABOUT 21 DAY FIX® EXTREME AND WIN
Ready to get shredded? February 2015, celebrity trainer, Autumn Calabrese, debuts 21 Day Fix Extreme. No other program has you eating this well and working this hard. It's going to take guts, intensity, and drive. But, it's only 21 days. There are seven, 30-minute workouts combining steady-state aerobics, resistance training, and explosive power moves that target every muscle in the body to help you get shredded in a short amount of time.
And don't forget, send your prospects to the 21 Day Fix Extreme email collector so they'll be the first to know when it's available.
Plus, submit your own name to the 21 Day Fix Extreme email collector and you'll be entered to win a 21 Day Fix Extreme Essential Kit!
Submit email addresses to the 21 Day Fix Extreme email collector at www.21DFExtreme.com?referringRepId=yourcoachID
**Remember to use your Coach Rep ID so you get the credit!
For more information, visit FAQ 3559
---
SHARE #MYBESTMOMENT AND WIN AMAZING BEACHBODY GEAR
Join the social Beachbody world, share your best moments and you could get some awesome Shakeology swag! Starting December 8th through December 22nd, 2014, enter the #MyBestMoment social contest for your chance to win.
Here's how to enter:
Step 1: follow @Shakeology on Instagram
Step 2: Upload a photo on your own Instagram account that illustrates your favorite moment from 2014, health-related or not
Step 3: Use the hashtag #MyBestMoment and tag your photo @Shakeology
Check out the awesome prizes up for grab:
FOUR winners will receive:
1 hybrid shaker bottle
2 Shakeology plastic cups
3 Shakeology sweatbands
1 tote bag
1 Shakeology t-shirt
1 Shakeology sampler pack
ONE GRAND PRIZE winner will receive:
1 Max 30 base kit
1 3-Day Refresh® kit
1 30-day supply of Shakeology
2 Shakeology plastic cups
1 Shakeology zip-up hoodie
1 premium hybrid shaker bottle
1 tote bag
For more information, visit: FAQ 7258 Follow us on Facebook.com/TBBCoach411 for all the latest details. More information coming soon!
Back to top ˆ
In Case You Missed It
GIVE THE GIFT OF HEALTH THIS HOLIDAY!
This holiday season we're on a mission to make this the healthiest holiday in history! How can you help? Encourage EVERYONE you know to watch and share the Happy Healthy Holidays video and remind your friends, family, customers and new acquaintances that the #GiftOfHealth is the perfect holiday present.
Watch Carl Daikeler and your favorite celebrity trainers in action below or click here: //bit.ly/10vUsBF
---
SAVE 15% OFF ZOOM VIDEO CONFERENCE CALLS
Looking for a way to host video conferencing for your team meetings, Coach Basics groups, and Coach or Customer meet ups? Zoom, the cloud meeting company, unifies cloud video conferencing, simple online meetings, and group messaging into one easy-to-use platform. It is a great way to build face-to-face relationships no matter where you live. And now you can save 15% off monthly or annual pricing.
To take advantage of this saving, visit //zoom.us/ and use the Beachbody Zoom discount code: beachbodyzoom.
Want to learn more about Zoom? Visit their website at //zoom.us/.
---
CHECK OUT THE NEW 'WEAR AND SHARE' SITE
Put your own stamp on Team Beachbody apparel with the new Team Beachbody 'Wear & Share' store powered by Cafe Press. This awesome site offers customizable shirts and a wide variety of branded accessories. Create personalized tops to promote your Team and fun accessories to use as prizes and giveaways.
Team Beachbody Coaches get 10% off! Use code BEACHCOACH10. Shop NOW at //www.cafepress.com/teambeachbody.
To check out all the wear and share options available, visit the Coach Online Office > Sales & Marketing > Wear & Share.
Have questions on the new Team Beachbody Wear & Share store? Visit FAQ 3382
CANADA NEWS
CANADA COACHES: HAVE YOU COMPLETED YOUR COMPLIANCE REQUIREMENTS?
Are you a New Coach living in Canada? Make sure you take action NOW to complete the mandatory compliance requirements. These requirements are necessary to ensure you get your commission and bonus payments without delay.
Make sure you're ready to go by reviewing this EASY, short checklist of things you absolutely need to do: //tbbcoa.ch/CAComp
For more information on Team Beachbody Canada, visit: FAQ 9970
Back to top ˆ
© 2014 Beachbody. All rights reserved.
Read more...