Get content you can customize and share with your CORE DE FORCE® Challenge Groups.
Getting Started
Challenge Group Best Practices
Use My Challenge Tracker. My Challenge Tracker was designed to help you run your Challenge Groups and get your customers the best results possible. Using the app, your participants can track their workouts, Shakeology, weight, measurements and progress photos, while interacting with one another in a closed forum. Simultaneously, with the Coach Portal, you can gain insights into your participants' daily activities to help keep everyone accountable.
Kick off with a group meeting and set expectations. Whether in person, via Zoom or over the phone, holding an initial group meeting is a great way to set clear expectations that can define a rewarding experience for your participants. It also creates a team culture where participants can feel a sense of belonging and gain encouragement from others. Walk them through the My Challenge Tracker app, showing them how to track their activity and engage within the group. Tell them what they need to do to be successful (i.e., check in daily, drink Shakeology, set realistic short-term and long-term goals, etc.). Share how you and others in the group will support them along the way.
Share the Team Beachbody meal prep guides. These guides are tailored to different calorie needs and make meal prep simple, providing grocery lists and step-by-step instructions for planning breakfasts, lunches, dinners and snacks — one week at a time.
Lead by example with our #1 Vital Behavior, be proof the products work. Track your activity and share your experiences daily, so your participants can replicate actions that will help them succeed.
Connect and check in with participants constantly. Hold a weekly zoom call for your challengers to ask questions and share successes and challenges to increase group engagement and morale. Additionally, if you notice someone hasn't been logging their activity, reach out to them individually to make sure everything is okay and encourage them to get back on track. They'll be more likely to stick with the challenge if they know someone is holding them accountable.
Surprise your participants; throw down a challenge. Whether it's a day where everyone completes 10 push-ups, shares their favorite meal photo and recipe, or does the most squats in a minute, small prizes or contests can help keep your participants engaged and motivated.
Recognize, Recognize, Recognize! Another Coach vital behavior, it's key to recognize the positive changes and healthier lifestyle choices people make, no matter how small. Recognition keeps challengers engaged and motivated. Consider designating a day of the week to highlight someone's success, or, better yet, do it daily.
Encourage participants to submit their results to the Beachbody Challenge contest. Everyone loves free stuff. Make sure your participants enter the contest once they complete their challenge to get rewarded with a free completion prize, and a chance to win some cash.
Continue with the momentum even after your Challenge Group ends. Check out these tips for effectively wrapping up your Challenge Groups and getting your participants to join your next challenge – or transition to become a Coach.
Note Regarding Links
This guide contains links to products and resources on TeamBeachbody.com. To ensure you receive credit for any sales made through these links, simply append this (inserting your OWN Coach repID) to the end of the URL: ?referringRepId=yourID
Example for Coach with repID of 2422 linking to the CORE DE FORCE and Shakeology® Challenge Pack: https://www.teambeachbody.com/checkout/-/bbcheckout/challengepack/core-de-force?referringRepId=2422
---
OR FILTER BY
:
Select the content topics you'd like to view and then click "Filter."
Beachbody Performance
Check-In
Daily Sunshine
Fitness
Getting Started
Motivation
Nutrition
Shakeology

Success Story

Trainer Tips
Download all images in this Challenge Guide
Week 0
(Week prior to challenge start date)
---
Week 1

Day 1: MMA Speed
Day 2: Dynamic Strength
Day 3: MMA Speed
Day 4: Power Sculpt
Day 5: MMA Shred
Day 6: Dynamic Strength
Day 7: Active Recovery

---
Week 2
Day 8:
MMA Shred + Core Kinetics
Day 9:
Power Sculpt
Day 10:
MMA Shred + Core Kinetics
Day 11:
Dynamic Strength
Day 12:
MMA Power
Day 13:
Power Sculpt
Day 14:
Active Recovery
Nutrition / Trainer Tip
Let's talk nutrition. As explained in the CORE DE FORCE Eating Plan, you add food strategically to your diet in Weeks 2 and 3 to fuel your workouts and ward off stress-related plateaus.
This week you start adding one PURPLE fruit portion every day. The reason? Fruit contains mostly healthy carbs—your body's most readily absorbed fuel—to help keep your energy levels up as the workouts get a little tougher. Another thing that can help is drinking your Shakeology daily.
Now on to meal prep…in the video below, Joel and Jericho share their favorite meal prep strategies to help you dial in your nutrition this week. Check it out: https://youtu.be/NoHi4OsB4-E
Check-In / Fitness
Back to Power Sculpt today! How are you doing? Do you find yourself getting stronger and feeling more energized?
Today's Tip: Listen to Joel and Jericho's cues. They are there to make sure you get through the moves safely and effectively. Don't forget—there's a modification for almost everything. If you find yourself struggling to perfect your form on a move, follow Jessica, the modifier, and see if that helps. You can always crank up the speed and intensity once you're stronger!
Speaking of modification, here's a video of Joel and Jericho demonstrating a modification of Ground to Fighter stance, a move featured in Power Sculpt and other CORE DE FORCE workouts. Watch it and let me know if it's helpful: https://youtu.be/Up6XLIw9DOg
Motivation
Coach Tip: Take some time to recognize the efforts of someone in your group today. Then, feel free to add the post below with it or later in the day. Here's an example: [Name] is crushing the workouts this week! Tag [Name] in a post and congratulate her on her hard work!
Remember, every expert started their journey as a beginner. Don't be discouraged if things are tough right now—keep at it and you will see progress!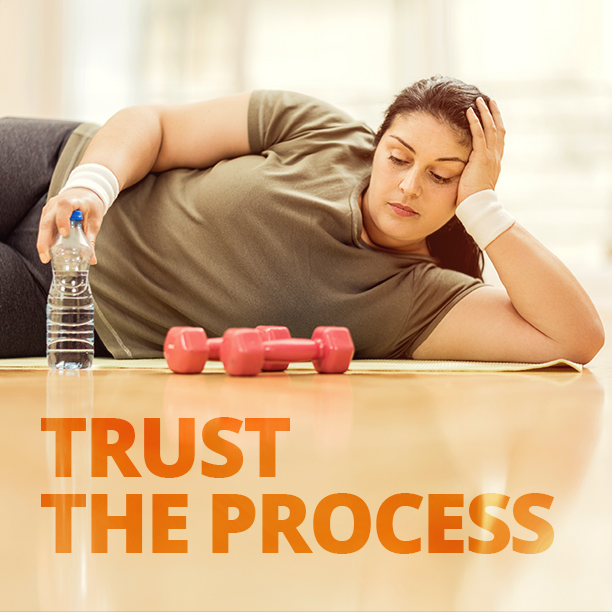 Fitness
We have a new workout today—MMA Power! Before you press play, remember to watch the Learn It & Work It video. That'll help you get a handle on the combinations before you begin.
And if you need extra help, check out the Modifier Track option for all of the CORE DE FORCE workouts on Beachbody On Demand. It's a supercool feature that lets you follow the modifier in split-screen view to help you nail these moves, so you can start kicking the intensity up a notch!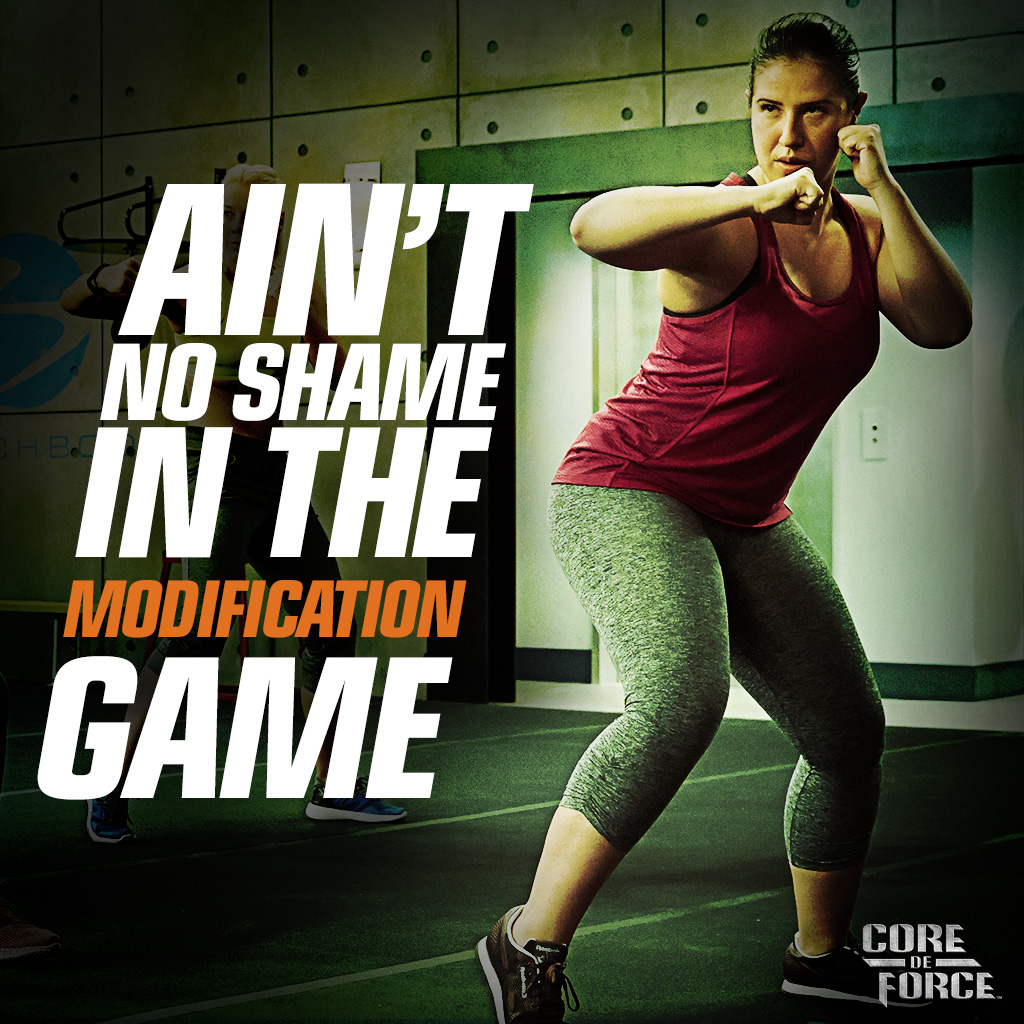 Check-In / Fitness / Shakeology / Success Story
Back to Power Sculpt today. Talk about a fun workout that leaves you in a pool of sweat!
Since we're almost 2 weeks into the program, I'd like you to check in with the Transformation Tracker. Snap a few pics and share if you'd like—we'd love to see your progress! Here's Tanya's incredible CORE DE FORCE results…doesn't she look amazing at 52? She's proof that we can all do it!†
†Results vary depending on starting point and effort.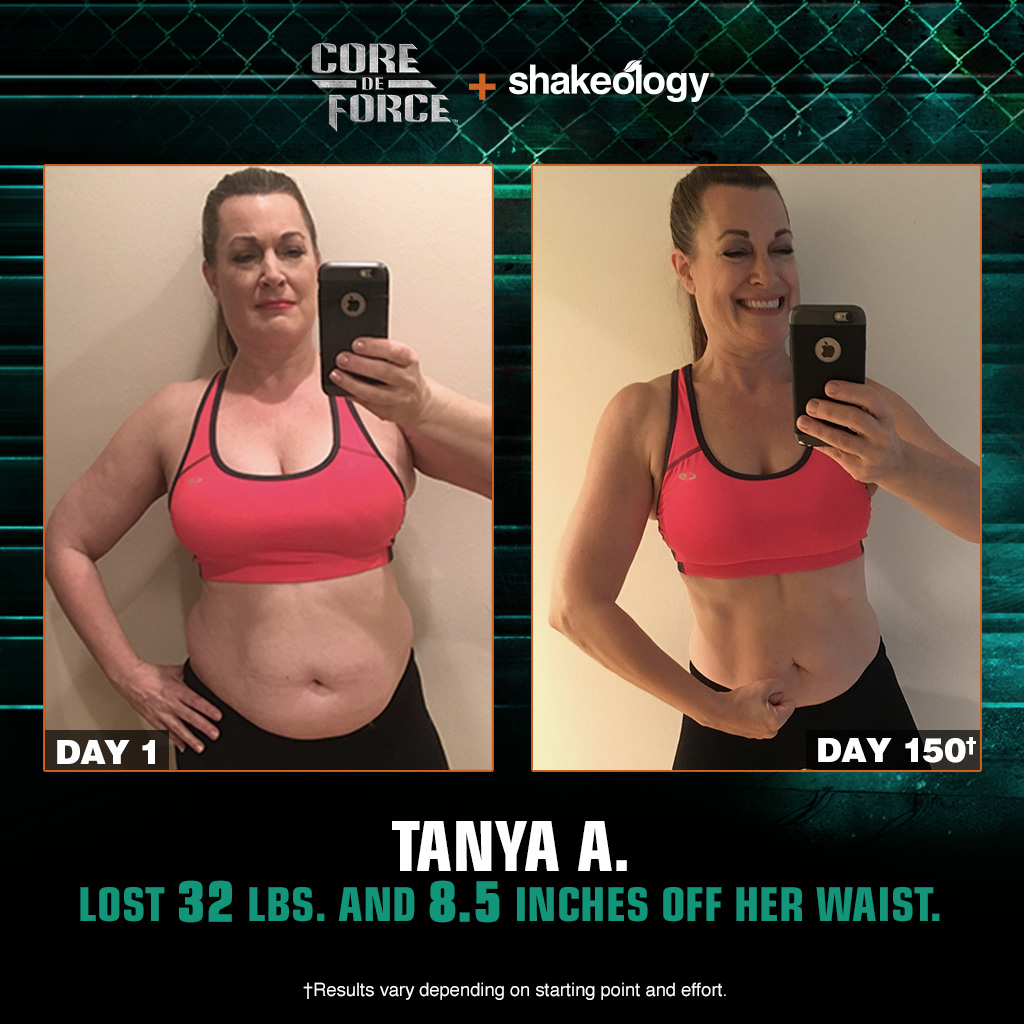 Fitness
Because CORE DE FORCE is only a 30-day program, you must make every day count.
It's important to follow the calendar as best you can. Don't push your training schedule back a day (i.e., do the workout you missed), or cram two workouts (the one you missed plus the one you're supposed to do) into the same day.
It's common to fall off the wagon. Just remember that you can always get back on. Now, let's get pumped for Week 3!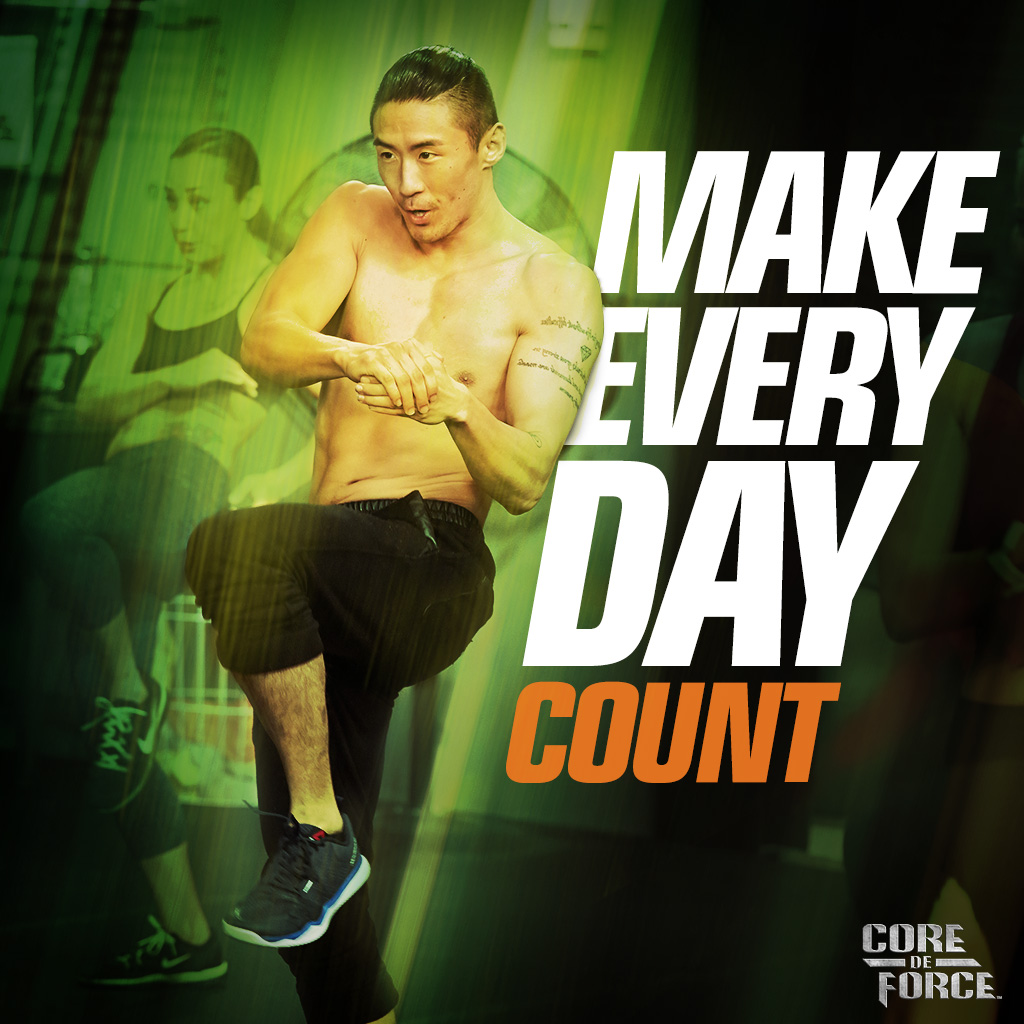 ---
Week 3
Day 15:
MMA Power + Core Kinetics
Day 16:
Dynamic Strength + 5 Min. Core on the Floor
Day 17:
MMA Power + Core Kinetics
Day 18:
Power Sculpt + 5 Min. Core on the Floor
Day 19:
MMA Plyo
Day 20:
Dynamic Strength + 5 Min. Core on the Floor
Day 21:
Active Recovery
Fitness
Let's talk plateaus.
When you start a program, you'll often see quick gains in strength or significant weight loss. But once your body gets used to working out every day, you might experience a brief pause in progress. We call this a plateau.
If you're experiencing this, don't sweat it! Stay the course, and you will see results. In the meantime, here are Joel and Jericho's tips that can help you bust through any plateau that stands in your way: https://youtu.be/jRdNym2sOA4
Daily Sunshine / Nutrition
Who else is psyched about adding an extra serving of healthy fats to your meal plan this week? Plus, you still get to keep your fruit! Feel free to grab a handful of almonds to snack on or sprinkle some extra mozzarella on that BBQ Chicken Pita Pizza—you deserve it!
So, why are we adding an extra serving of healthy fat? Fat is an excellent fuel source, which you need to power through this week's especially tough workouts. It also helps keep your overall macronutrients balanced.
On a separate note, as you develop healthier habits, I hope you've been sharing them with your family. Helping your kids develop healthier habits now will definitely help them in the long run. However, I know how difficult it can be to get kids to eat right. That's why I love Daily Sunshine. With its full serving of fruits and veggies, 10 grams of protein, and healthy fats, it's a healthy snack my kids actually love!*
**All products and flavors may not be available in your market.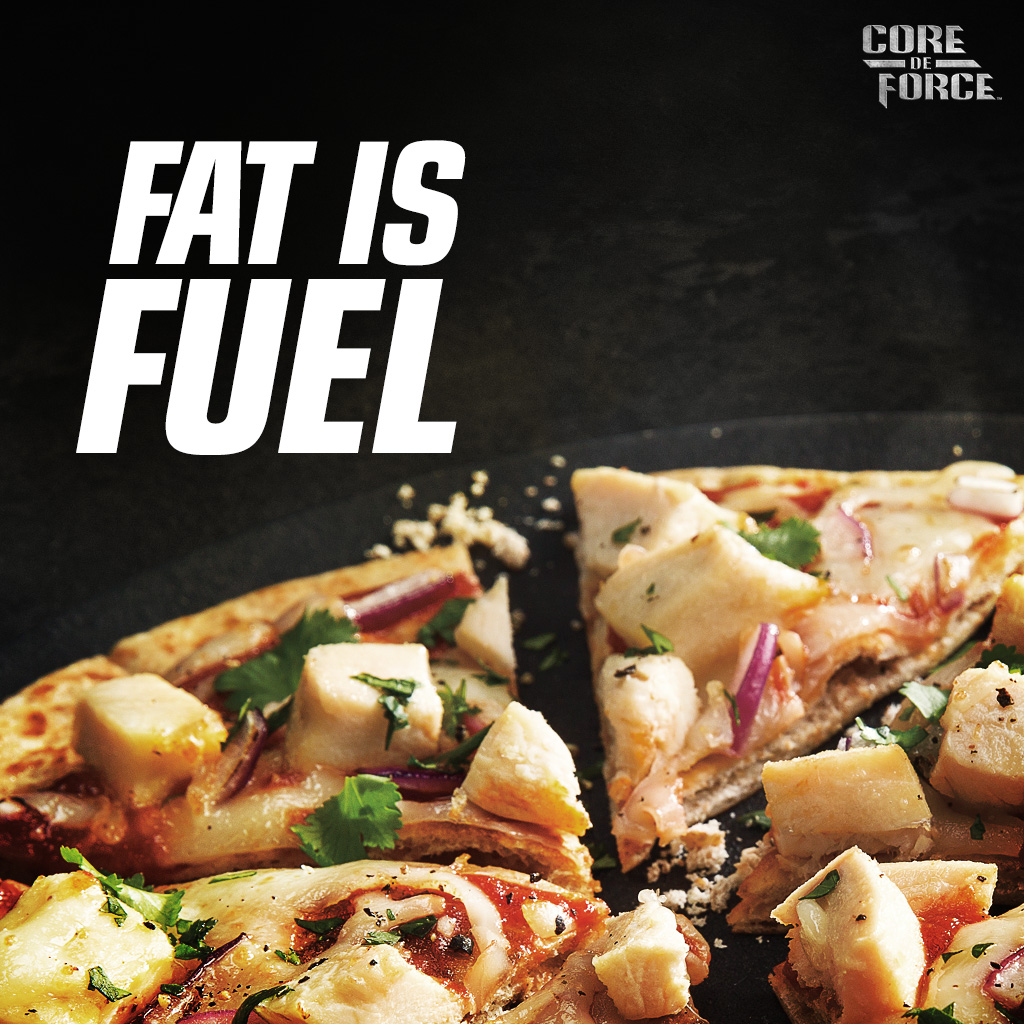 Beachbody Performance
Getting my sweat on before work in the morning is NOT easy. And since we had MMA Power AND Core Kinetics, I felt like I needed a little something extra. Thank goodness for Beachbody Performance Energize. Unlike coffee, it gives me a healthy dose of caffeine. You might get a slight tingly feeling after taking it, but that's just the beta-alanine doing its job! This is a common response to beta-alanine and will generally subside within 60 to 90 minutes.
Have you tried it yet? I definitely recommend taking it 30 minutes before a work out, especially if you like to get your workout on in the AM.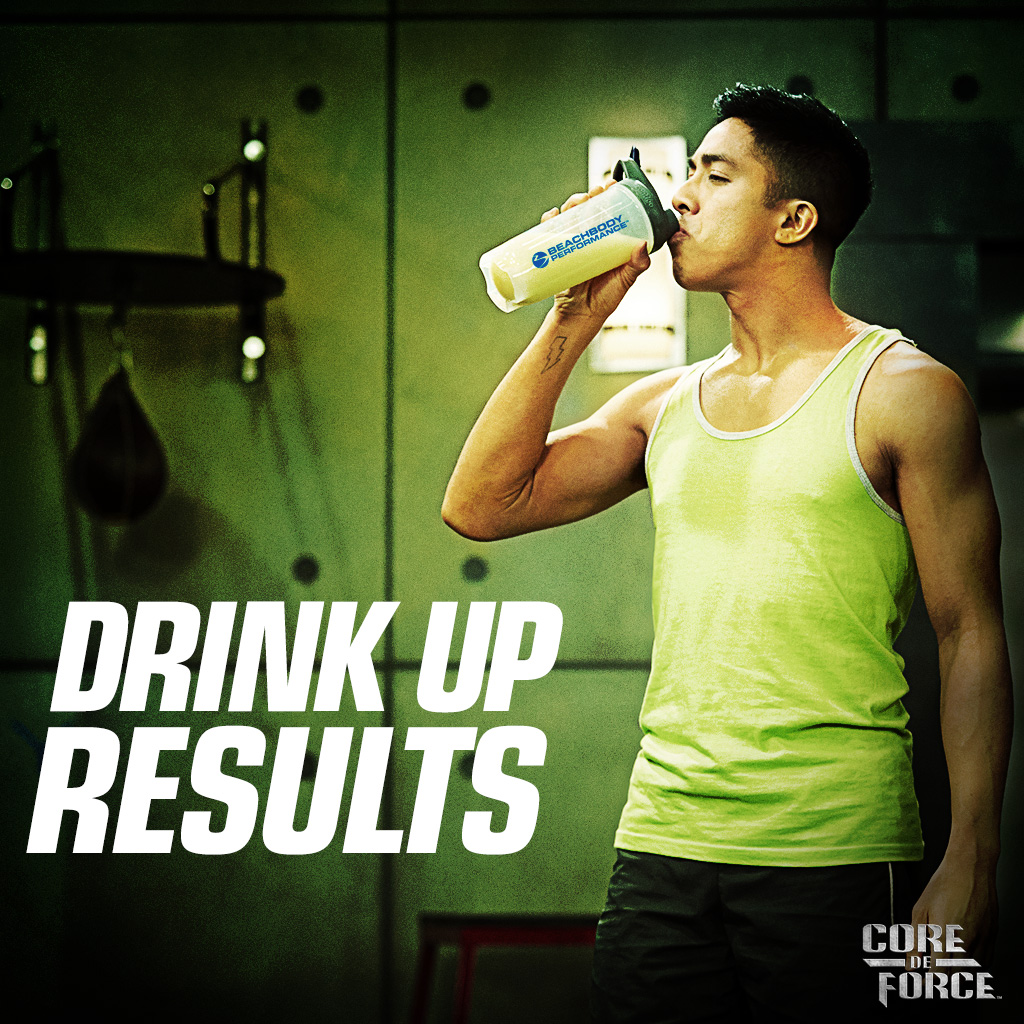 Fitness / Shakeology / Success Story
After you finish Power Sculpt, make sure you add on 5 Min. Core on the Floor. This 5-minute core blast will zone in on your midsection and help you get serious definition, just like Angelina below! She lost 5.5 inches off her waist after 2 rounds of CORE DE FORCE.† Now that's impressive.
† Results vary depending on starting point and effort.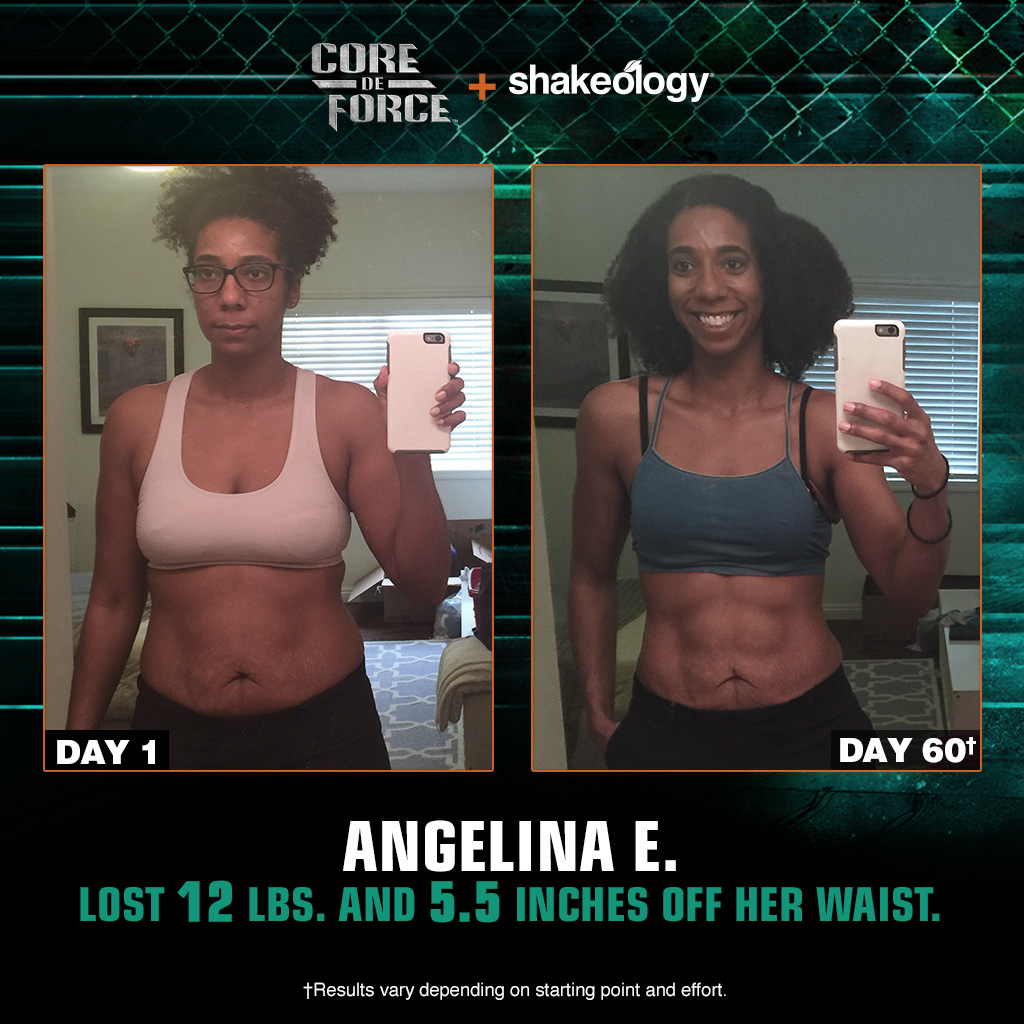 Fitness / Trainer Tip
New workout today! Who's excited for MMA Plyo?
There's a super-fun move in it—the Superman Punch. I feel invincible when I do this move, and think you will, too!
Check out this video of Joel and Jericho demonstrating the Superman Punch. I would love to see your videos and photos. Upload your best Superman Punch photo below and tag it #COREDEFORCE: https://youtu.be/dUAakPjrs_w
Motivation / Nutrition
Coach Tip: Take some time to recognize the efforts of someone in your group today. Then, feel free to add the post below with it or later in the day. Here's an example: Did you see [Name]'s results? She already lost five pounds! Awesome work, [Name]!
Turn your CORE DE FORCE cooking into a culinary tour de force!
Looking for some new recipes to try? The Team Beachbody Blog has hundreds of great recipes for breakfast, lunch, dinner, and snacks: tbbcoa.ch/TBBRecipe
Fitness / Nutrition
We are at the end of Week 3!
Do you feel like the extra fruits and healthy fats have helped you? Well, I hope you enjoyed the extra food because this week, you're going to drop back down to your baseline and eat the same portions you ate in Week 1!
Remember, we gave you more calories to help stave off plateaus and keep your metabolism going. But now that your body has begun to adjust to the harder CORE DE FORCE workouts, we'll return to our nutrition baseline. That should help fire up your metabolism even more and translate to killer results at the end of next week!
If you've forgotten what your Eating Plan looked like during Week 1, turn to page 2 of your Eating Plan. And if you still have questions, feel free to post them here and I'll do my best to answer them!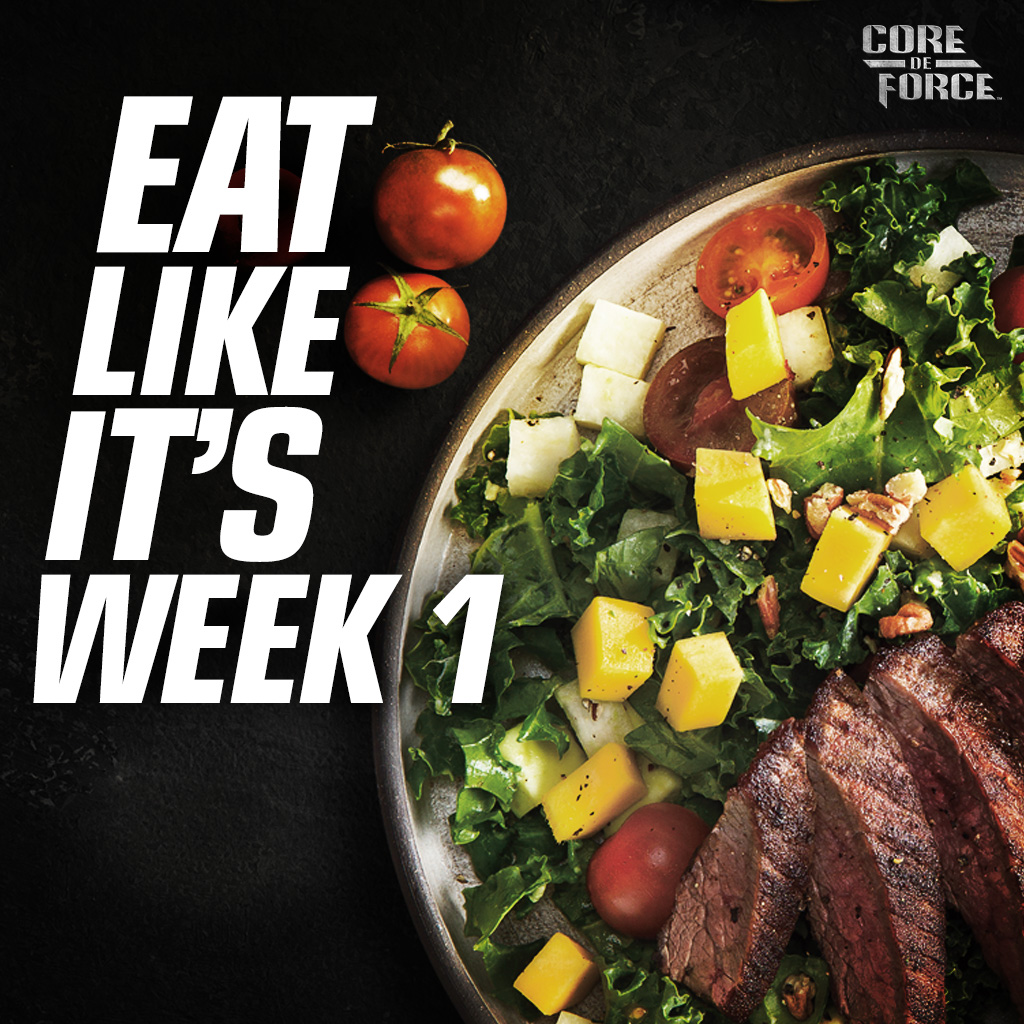 ---
Week 4
Day 22:
MMA Plyo + Core Kinetics
Day 23:
Power Sculpt + 5 Min. Core on the Floor
Day 24:
MMA Plyo + Core Kinetics
Day 25:
Dynamic Strength + 5 Min. Core on the Floor
Day 26:
MMA Speed + Core Kinetics
Day 27:
MMA Shred + Core Kinetics
Day 28:
Active Recovery
Fitness / Trainer Tip
Guess what…it's the full final week of our Challenge Group!
By now, you're probably rocking your workouts, but you might be wondering, "What comes next?"
To answer your question, Joel and Jericho have some ideas on how to kick your moves up a notch and stay on course after our challenge: https://youtu.be/fmTZbNKpSe4
Shakeology / Success Story
Need some #TransformationTuesday inspiration?
Check out Franquie who lost 48 pounds and 11.5 inches off his waist after 4 rounds of CORE DE FORCE and Shakeology.† That's right. Your CORE DE FORCE journey doesn't have to end once our challenge ends. You can continue on and see even better results if you commit to another round!
† Results vary depending on starting point and effort.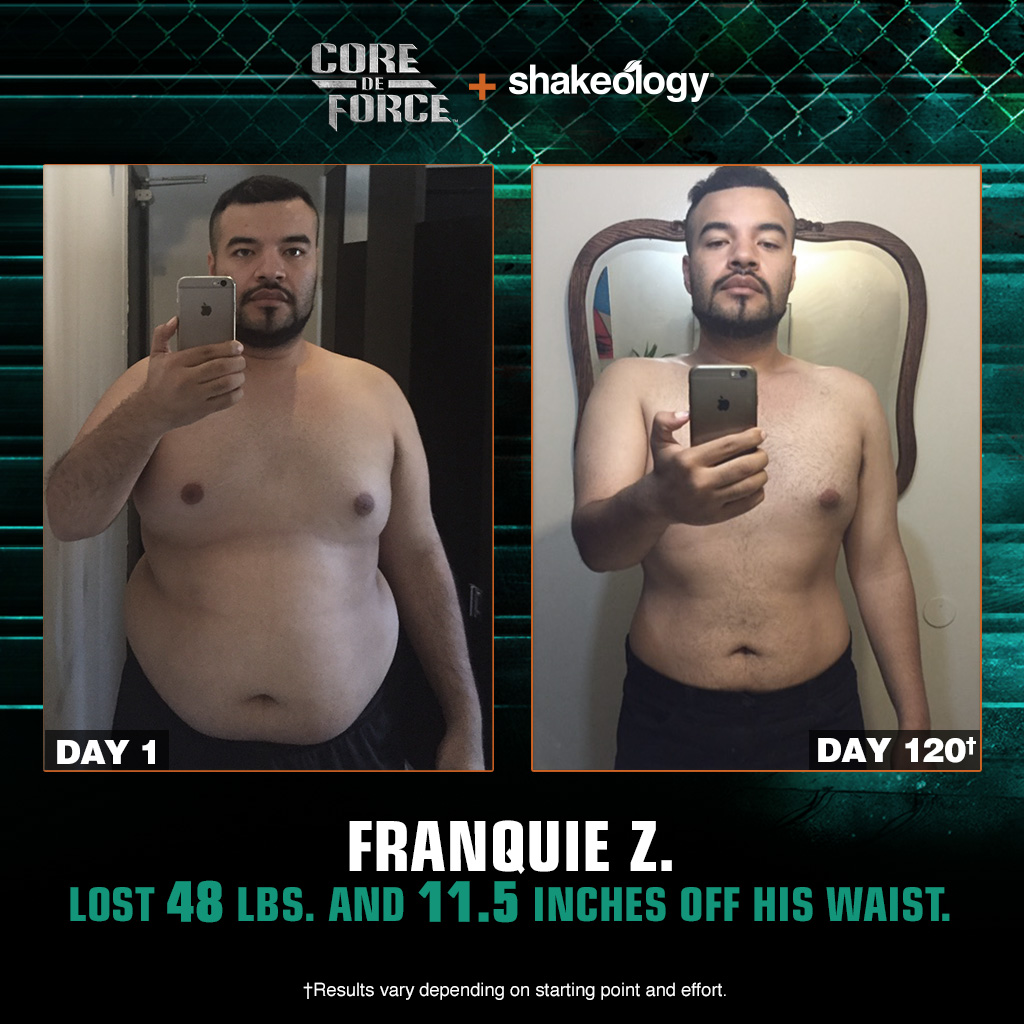 Nutrition
Make sure your nutrition is dialed in this week. Your results are counting on it!
If you're stuck on what to meal prep, as I've said before, the Team Beachbody Blog is a great resource for recipes. Recently they interviewed a couple meal prep pros, who shared their secrets: tbbcoa.ch/MealPrepFromPros
What are your favorite foods to meal prep? Take a picture of your meals and tag #COREDEFORCE!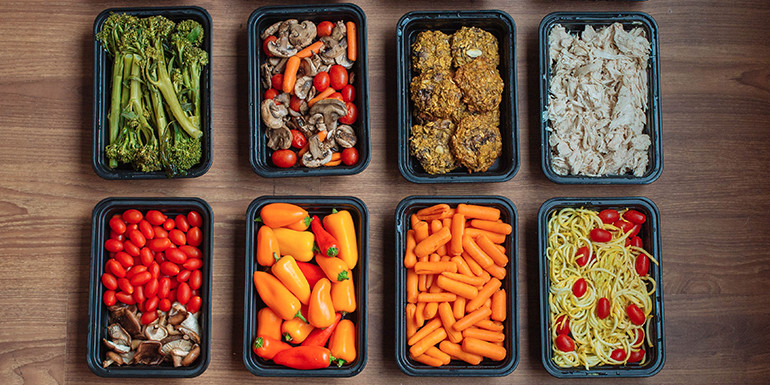 Nutrition
Here's a tip you can put into practice long after our Challenge Group is over:
Eat a piece of fruit before you hit the supermarket. In a recent study at Cornell University, people who did bought 28% more produce than those who had a cookie. They also bought fewer unhealthier items overall. How's that for some food for thought?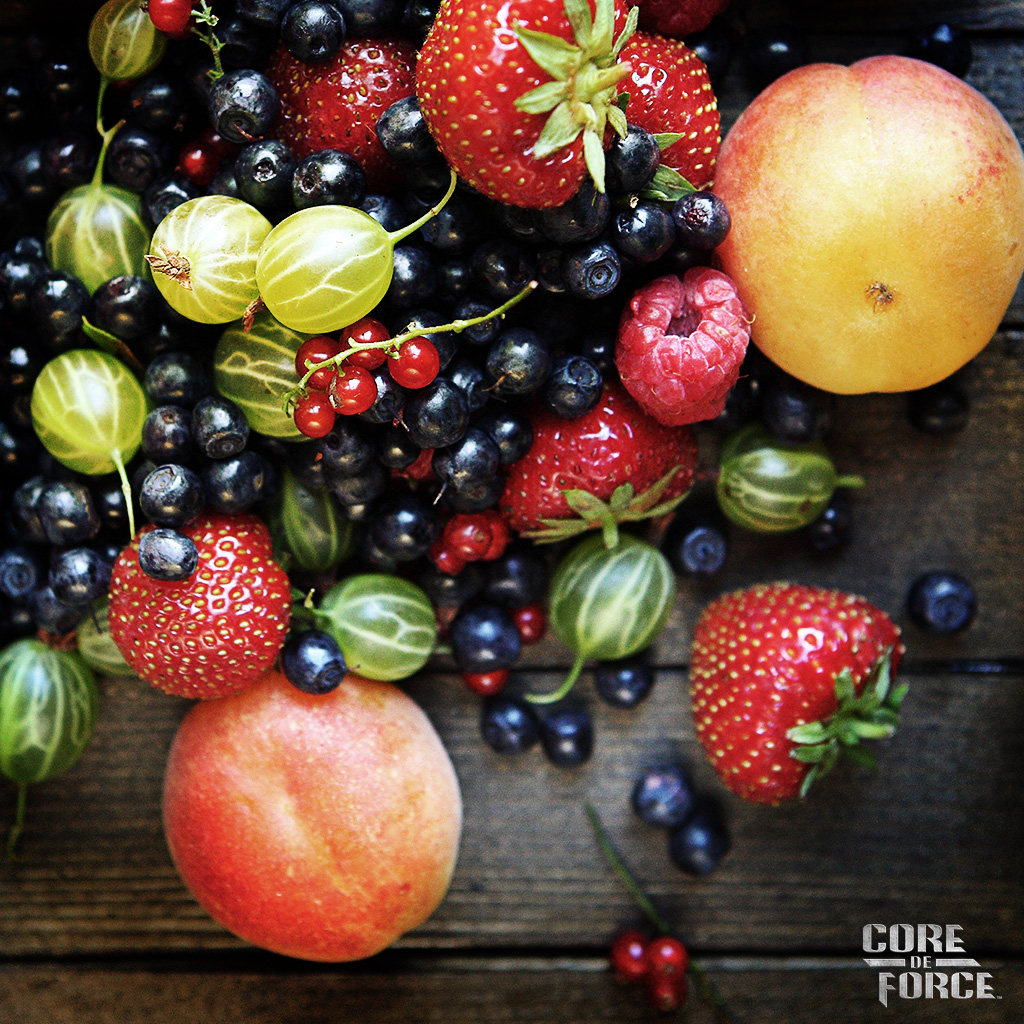 Check-In / Fitness / Motivation
Coach Tip: Take some time to recognize the efforts of someone in your group today. Then, feel free to add the post below with it or later in the day. Here's an example: [Name] is killing it with nutrition! Once an avid soda drinker, he now hydrates his body with ONLY water. Keep it up, [Name]!
We're going back to basics today! MMA Speed is on the calendar, along with Core Kinetics. Tell me, have you gotten better at the moves? Has your endurance improved? Tell me one thing you're proud of—you've all come so far!
In the meantime, here's something fun. Joel and Jericho answer some questions about each other in this "Get To Know Your Trainer" video. Trust me; you're not going to want to miss this one: https://youtu.be/_MNiXn7VE9M
Shakeology
If you're anything like me, you love sweets. Adding an extra portion of fruit should help stave off cravings, but Shakeology can also come in handy if you're eyeing something sweet that's not exactly on your Eating Plan. Case in point? These delicious Mini Peanut Butter and Chocolate Shakeology Ice Cream Sandwiches: tbbcoa.ch/SHKIceCreamSandwich
Do you have a favorite Shakeology dessert? Share the recipe below!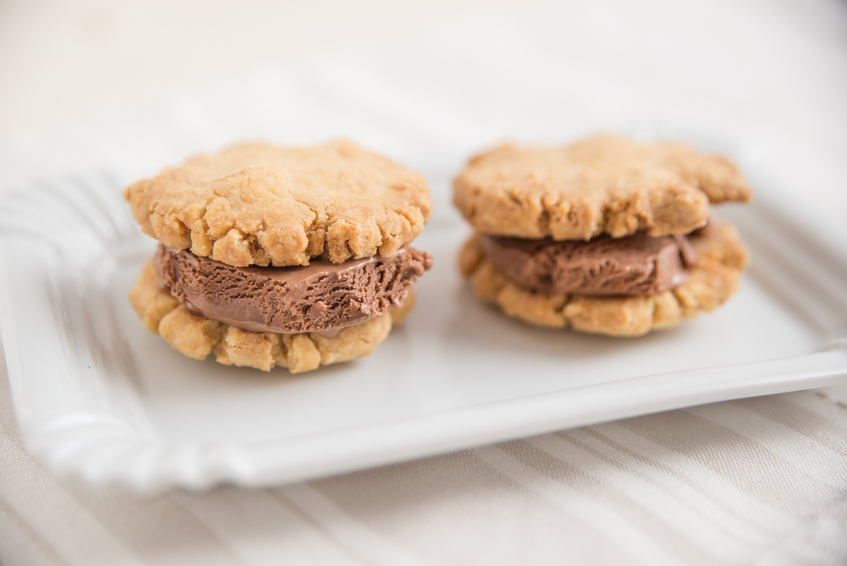 Beachbody Performance
Throughout the past 30 days you've heard Joel and Jericho talk about Beachbody Performance a ton. For those of you who aren't familiar with it, Beachbody Performance is a line of supplements that were specifically designed to work with high-intensity programs like CORE DE FORCE. Recover, for example, is a delicious post-workout chocolate protein shake that can help combat muscle soreness. It's perfect for Active Recovery days when we focus on repairing our muscles after a hard week of workouts.*
If you're interested in Beachbody Performance, drop me a line. I'm happy to answer any questions or help you identify the right supplement for your needs!
*These statements have not been evaluated by the Food and Drug Administration. These products are not intended to diagnose, treat, cure, or prevent any disease.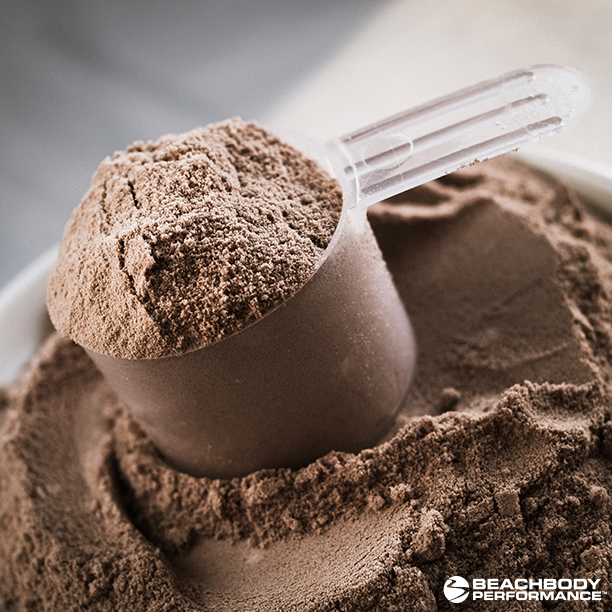 ---
Week 5
Day 29:
MMA Power + Core Kinetics
Day 30:
MMA Plyo + Core Kinetics
Fitness
Okay, who else is obsessed with Jericho's Brawler tank? Did you know that Joel and Jericho helped design the CORE DE FORCE apparel, and that the collection incorporates some of their favorite styles and motivational sayings?
Check out this video of them at their apparel photoshoot, and let me know if you see something you like: https://youtu.be/nsi-cWdeu4M
Check-In / Motivation
Welcome to your LAST DAY of our CORE DE FORCE Challenge Group! I cannot be more proud of every single one of you. Remember to take those "after" pictures and write down your new measurements. You've earned your progress and it's time to show off to others! You can enter the Beachbody Challenge contest and you'll not only have the chance to win big cash prizes, but you will even receive a free gift while supplies last. Go to BeachbodyChallenge.com for details.
So what do you plan to do now that you've completed CORE DE FORCE? I'm starting a new CORE DE FORCE Challenge Group on [Insert date] and would love it if you joined! As amazing as your results may be now, imagine what they could be after another round. Message me if you are interested.
It's been a blast leading this Challenge Group for you guys—thanks for joining!
---