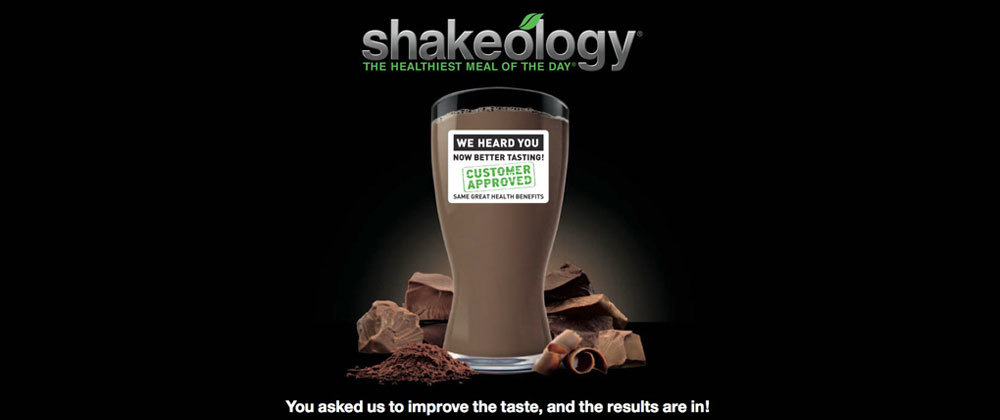 When our discerning fans gave us their feedback on the new chocolate Shakeology formula last summer, we listened. We improved it based on the feedback and put it to the test. The result is a new better-tasting customer-approved Chocolate Shakeology®. Find out why it's about to have everyone talking – and drinking- its praises.
Unless you've been living under a rock, you've most likely heard that we have introduced a revamped, more sophisticated Chocolate Shakeology®! You may be asking, how's it better this time around? In every way. Better taste. Smoother texture. More chocolatey-ness. Any more accolades, and Chocolate Shakeology might start to blush.
Amped up about this exciting change? You should be. After all, you asked for these improvements. And your voice was heard loud and clear.
Shakin' things up.
Even one of the biggest stars in the nutritional galaxy can use a little constructive criticism from time to time. That's why we set up a Chocolate Shakeology Sensory panel of nearly 2,500 people to conduct a blind taste test. The panel, consisting of both shake-savvy customers and Coaches, were ready to channel their inner Simon Cowells and provide key feedback.
One such person was Emerald Coach, Keith Wanser. "I switched over to the Vegan flavor because I wasn't completely satisfied with the former Chocolate formula," he says. "I couldn't seem to get the texture right no matter how hard I tried."
Keith continues, "I was beyond excited to give my insight so that future Shakeology customers could have the best possible formula out there."
Love at first sip.
The shake was unveiled for testing. And the overwhelming majority on the panel fell in love with the new, revised formula. Here's what some of the Coaches on the panel had to say:
"The new formula was so yummy and the texture was just perfect. People will love it."    -Maria Panaro
"Nobody can complain it's not sweet enough or too chalky. I even found it easier on the digestive system."    -Haroldlyn Skinner
"It had the same great taste we loved before, but didn't have the funky aftertaste."  -Manesseh Ibanez
The shake with benefits.
The good news is that this new better-tasting Chocolate Shakeology doesn't lose any of the essential nutrients and healthy benefits of the previous formula.  It still has less sugar, more fiber, and the four sensational Super foods – Moringa, Luo Han Guo, Coconut Flower Nectar, and Himalayan Salt! Moringa is one of the most nutrient-dense plants in the world, providing a multitude of vitamins, minerals, protein, antioxidants. And Himalayan salt is a "healthy" salt, containing more than 70 trace minerals!
"It tastes great, but more importantly, it gets the job done internally," says Manesseh Ibanez. "It's amazing to think what Shakeology has done for me and my family health-wise. And after serving on the panel I can tell you, Shakeology continues to deliver!"
For the people – by the people.
For all the people on the chocolate Shakeology panel, there was a tremendous sense of pride to be involved and give their collective stamp of approval. Coach Chris Plank told us he'd be thrilled to be on any future panels. "I can't wait for a chance to do it again," he explains. "It was a VIP experience all the way to be part of the process."
Coach Maria Panaro shared the same level of enthusiasm. "I'd be honored to volunteer for a Shakeology panel any time," she proclaims. "If I'm picked again, I'll probably dance around my living room." Maria adds, "It's amazing to be able to give my opinion for something that helps so many people. Can it get any better?"
What happens now?
Make sure to reach out to customers who didn't like the taste of Superfood formula and encourage them to try this new, delicious Chocolate Shakeology formula update. Remember, we have a 30-Day Money Back Guarantee. Don't forget: if you reactivate a previous customer's HD order, you earn a Success Club point!
All the deets on future Shakeology tasting panels will be posted on the Shakeology Facebook page so like us at Facebook.com/Shakeology to stay up to date! In the meantime, if you have any other questions or concerns, shoot us an email WeCare@beachbody.com