Get content you can customize and share with your Country Heat® Challenge Groups.
Getting Started
Create a Challenge Group in the My Challenge Tracker Coach Portal, and invite your participants to download the My Challenge Tracker App. Alternatively, you can set up a private Facebook® group.
Review the Product Training Guide for everything you need to know about Country Heat.
Share this message from Autumn with your challengers.
Post Week 0 topics to your group's feed.
Challenge Group Best Practices
Use My Challenge Tracker. My Challenge Tracker was designed to help you run your Challenge Groups and get your customers the best results possible. Using the app, your participants can track their workouts, Shakeology, weight, measurements and progress photos, while interacting with one another in a closed forum. Simultaneously, with the Coach Portal, you can gain insights into your participants' daily activities to help keep everyone accountable.
Kick off with a group meeting and set expectations. Whether in person, via Zoom or over the phone, holding an initial group meeting is a great way to set clear expectations that can define a rewarding experience for your participants. It also creates a team culture where participants can feel a sense of belonging and gain encouragement from others. Walk them through the My Challenge Tracker app, showing them how to track their activity and engage within the group. Tell them what they need to do to be successful (i.e., check in daily, drink Shakeology, set realistic short-term and long-term goals, etc.). Share how you and others in the group will support them along the way.
Share the Team Beachbody meal prep guides. These guides are tailored to different calorie needs and make meal prep simple, providing grocery lists and step-by-step instructions for planning breakfasts, lunches, dinners and snacks — one week at a time.
Lead by example with our #1 Vital Behavior, be proof the products work. Track your activity and share your experiences daily, so your participants can replicate actions that will help them succeed.
Connect and check in with participants constantly. Notice someone hasn't been logging their activity? Reach out to them individually to make sure everything is okay and encourage them to get back on track. They'll be more likely to stick with the challenge if they know someone is holding them accountable.
Surprise your participants; throw down a challenge. Whether it's a day where everyone completes 10 push-ups, shares their favourite meal photo and recipe, or does the most squats in a minute, small prizes or contests can help keep your participants engaged and motivated.
Recognise, Recognise, Recognise! Another Coach vital behavior, it's key to recognise the positive changes and healthier lifestyle choices people make, no matter how small. Recognition keeps challengers engaged and motivated. Consider designating a day of the week to highlight someone's success, or, better yet, do it daily.
Encourage participants to submit their results to the Beachbody Challenge contest. Everyone loves free stuff. Make sure your participants enter the contest once they complete their challenge to get rewarded with a free completion prize, and a chance to win some cash.
Continue with the momentum even after your Challenge Group ends. Check out these tips for effectively wrapping up your Challenge Groups and getting your participants to join your next challenge – or transition to become a Coach.
Note Regarding Links
This guide contains links to products and resources on TeamBeachbody.com. To ensure you receive credit for any sales made through these links, simply append this (inserting your OWN Coach repID) to the end of the URL: ?referringRepId=yourID
---
OR FILTER BY
:
Select the content topics you'd like to view and then click "Filter."
Motivation
Shakeology
Nutrition
Fitness
Recipe
Check-In
Getting Started
Success Story
Trainer Tips
Download all images in this Challenge Guide
---
Week 0
(Week prior to challenge start date)
---
Week 1
Day 1:
Country Swing
Day 2:
Country Swing
Day 3:
Giddy Up
Day 4:
Giddy Up
Day 5:
Country Swing
Day 6:
Giddy Up
Day 7:
Rest Day
Motivation / Trainer Tip
It's the official start of your challenge—Have FUN!
Hopefully by now, you have set your goals, read your programme materials, stocked up on all the right foods, and are now ready to dance! These workouts are filled with great music and awesome moves, so fire up the FUN!
Now, there's some crucial information you need to be successful with Country Heat. Watch this video, and Autumn will give you the scoop: https://youtu.be/V0bATIcnsNQ
Getting Started / Nutrition
I've found that prepping my meals in advance helps me stay on track during the week. Check out these tips to get started with your own meal prep regimen: https://tbbcoa.ch/Meal_Prep_Tips
Fitness / Trainer Tip
Check out this video for advice from Autumn on how to get the most out of your workouts…and be sure to BRING IT! https://youtu.be/-Wqf3CRxl2w
Success Story
Check out this transformation! Lisa lost 18 pounds and 9.75 inches in 30 days with Country Heat. She was able to use the modifier when necessary and keep the moves low-impact, and she still saw great results!†
"Country Heat allowed me to change my mindset about exercise and working out. You can have fun doing something other than playing sports. A person doesn't have to be in condition to get in better shape—you can start right where you are (everyone can dance!) and progress from there. One of the best things about Country Heat is that it's easy on your joints. I saw amazing results all three months doing low-impact moves. On some moves I could increase the intensity, but on other moves I kept my movements low-impact and saw results."
—Lisa L.
†Results vary based on effort and following Beachbody's healthy eating plan.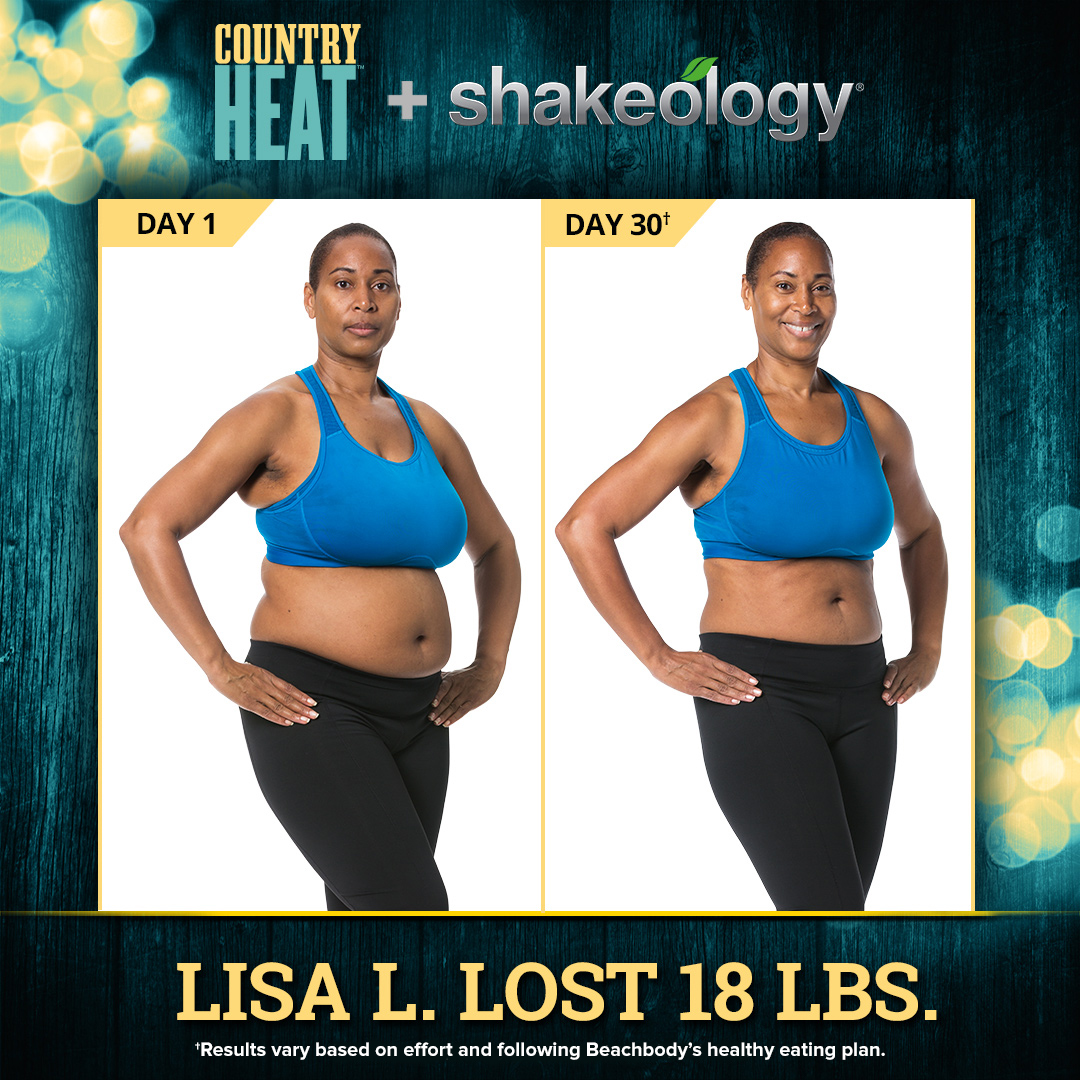 Shakeology
Sometimes it takes something extra to get you where you want to be. This morning, I was feeling tired and wanted to skip my morning workout. But I didn't. Instead, I made myself Shakeology and nailed my workout. Sometimes starting off my day with a delicious guilt-free shake keeps me honest in my food choices later in the day. Anyone else feel the same?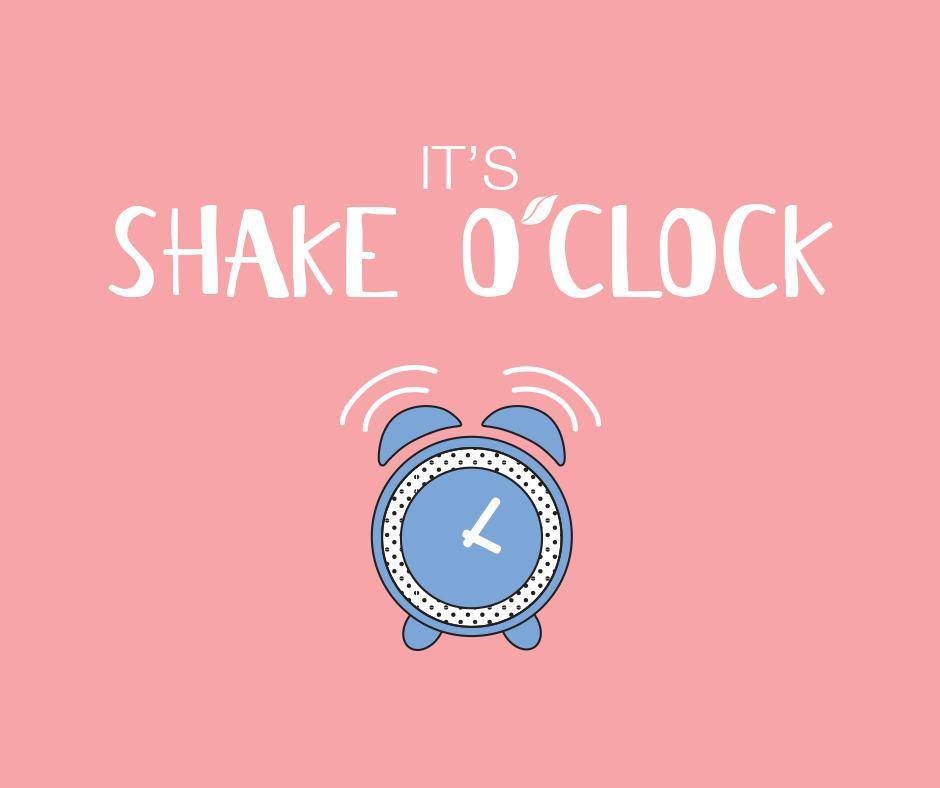 Recipe
Even your favourite foods are allowed! Check out this delicious Butternut Squash Mac and Cheese recipe: https://tbbcoa.ch/SquashMacandCheese
---
Week 2
Day 8:
Down and Dirty
Day 9:
Down and Dirty + Dance Conditioning
Day 10:
Bring the Heat
Day 11:
Bring the Heat
Day 12:
Down and Dirty
Day 13:
Bring the Heat + Dance Conditioning
Day 14:
Rest Day
Motivation / Trainer Tip
Looking for that motivation to start Week 2? Check out this video, as Autumn explains the benefits of doing the move breakdowns before the workouts, and discusses Fixate, her healthy cooking show on Beachbody On Demand: https://youtu.be/ZT0OG0g_OEM
Recipe
Don't have much time to cook? Check out these simple meal prep recipes (each with container equivalents!): https://tbbcoa.ch/1Oo4TtB
Success Story
Talk about inspiration! Millie lost 26 pounds and 31 inches in 90 days of Country Heat!† Though she never had a dance lesson in her life and this was the first workout programme she tried, she found the workouts easy to do. She said following Autumn was easy, because she broke down the steps into easy-to-follow directions.
"I did not expect to see such results from this fun workout. I also didn't expect to sweat so much! The music was great. It was fun and easy to dance to. Country Heat is something I would recommend to everyone! It is simple, fun, energising, and from young to old, women to men—everyone can see results and add a little spunk to every day!"
—Millie F.
†Results vary based on effort and following Beachbody's healthy eating plan.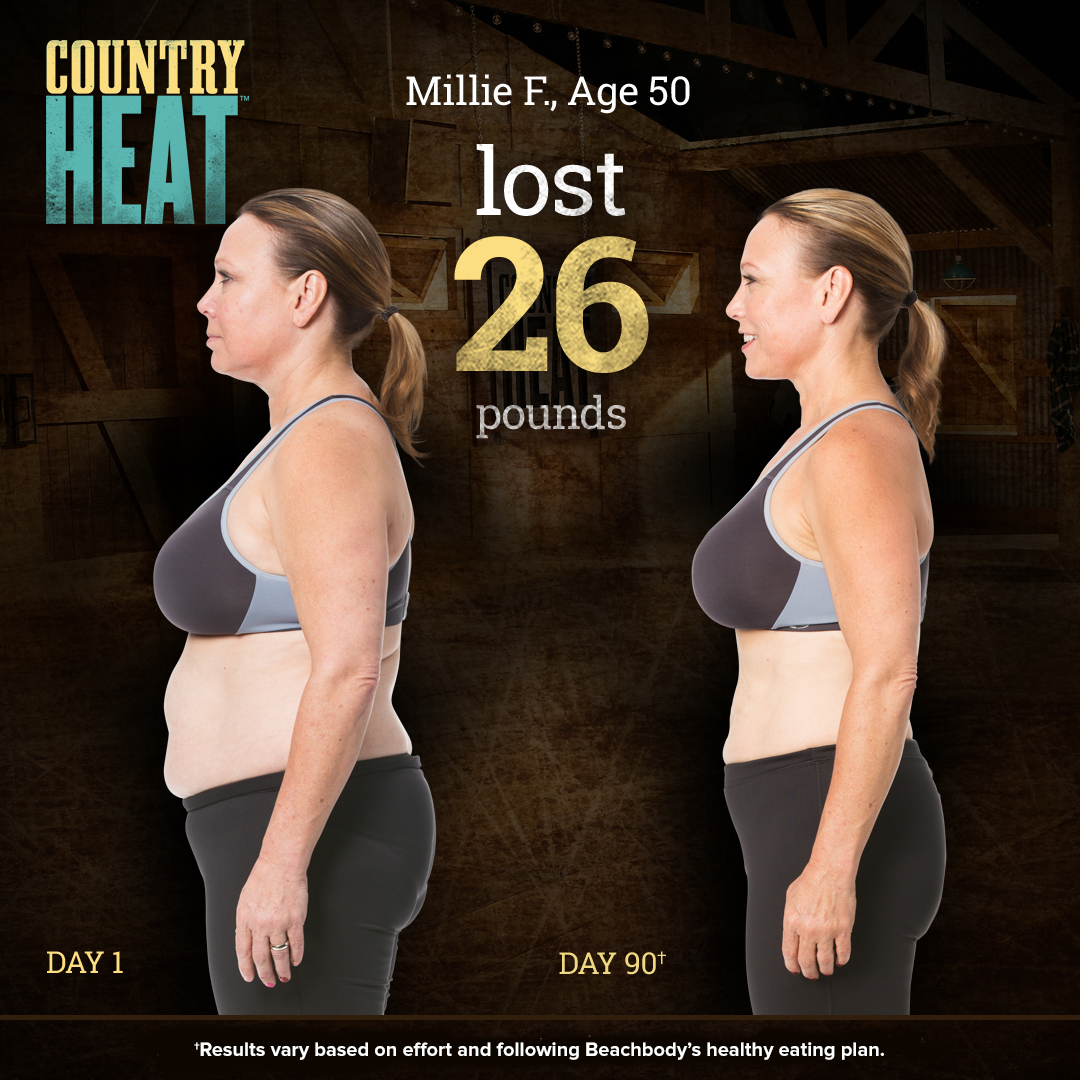 Check-In / Recipe / Trainer Tip
Have you checked out the recipes in the Country Heat Eating Plan? Autumn included Country Heat Healthy Comfort Food recipes that are super-delicious!
Which recipe is your favourite? https://youtu.be/GjFJ2BzgLig
---
Week 3
Day 15:
Trail Ride
Day 16:
Trail Ride + Dance Conditioning
Day 17:
Country Swing
Day 18:
Giddy Up
Day 19:
Trail Ride
Day 20:
Down and Dirty + Dance Conditioning
Day 21:
Rest Day
Fitness / Motivation
I've said it before, but can't stress it enough...have fun with your workouts! If you're having a blast, you won't just do your workout, you'll look forward to it, and most importantly, stick with it!
Check-In / Fitness / Trainer Tip
By now you've tried all the workouts!
Which move is your favourite? Autumn knows hers: https://youtu.be/7ldix3PbGzg
Nutrition / Trainer Tip
Don't forget to hydrate! You have been stepping up your workouts, so it's important to drink enough water! There are water slots on the Tally Sheets so you can keep track. 🙂 https://youtu.be/VnJoMiP_ZJA
Check-In / Nutrition / Trainer
Now that you've hopefully mastered meal prep…which container is your favourite?
Listen to Autumn share her love for carbs. 🙂 https://youtu.be/8xGEZ3JM1dQ
Recipe / Shakeology
I'm having a debate with myself: Which Shakeology flavour is the best? All of the flavours of Shakeology do the same thing: help you build lean muscle mass, provide healthy energy† and support healthy digestion‡, and support normal immune system function*. But what about FLAVOUR? It changes weekly for me. This week I am all about Vanilla, but last week it was nothing but Chocolate Vegan.
†Vitamins C, B6, and B12 contribute to normal energy-yielding metabolism.
‡Calcium contributes to the normal function of digestive enzymes.
*Vitamins A, C, and Selenium contribute to the normal function of the immune system.
Success Story
Barbara G. lost 30.5 lbs.!† She had the following to say!
"The workouts are great because they are easy to learn, but can be adjusted so that you push yourself more as you get used to the steps. It helped me keep going and push more each time. I was able to stick with Country Heat easier than other programmes, I think because the workouts were interesting and never felt like they got stale. And I loved the music! It was fun to get to know the songs and steps so well. I find that they really timed the dance moves perfectly to the music, which made it really fun." —Barbara G.
†Results vary based on effort and following Beachbody's healthy eating plan.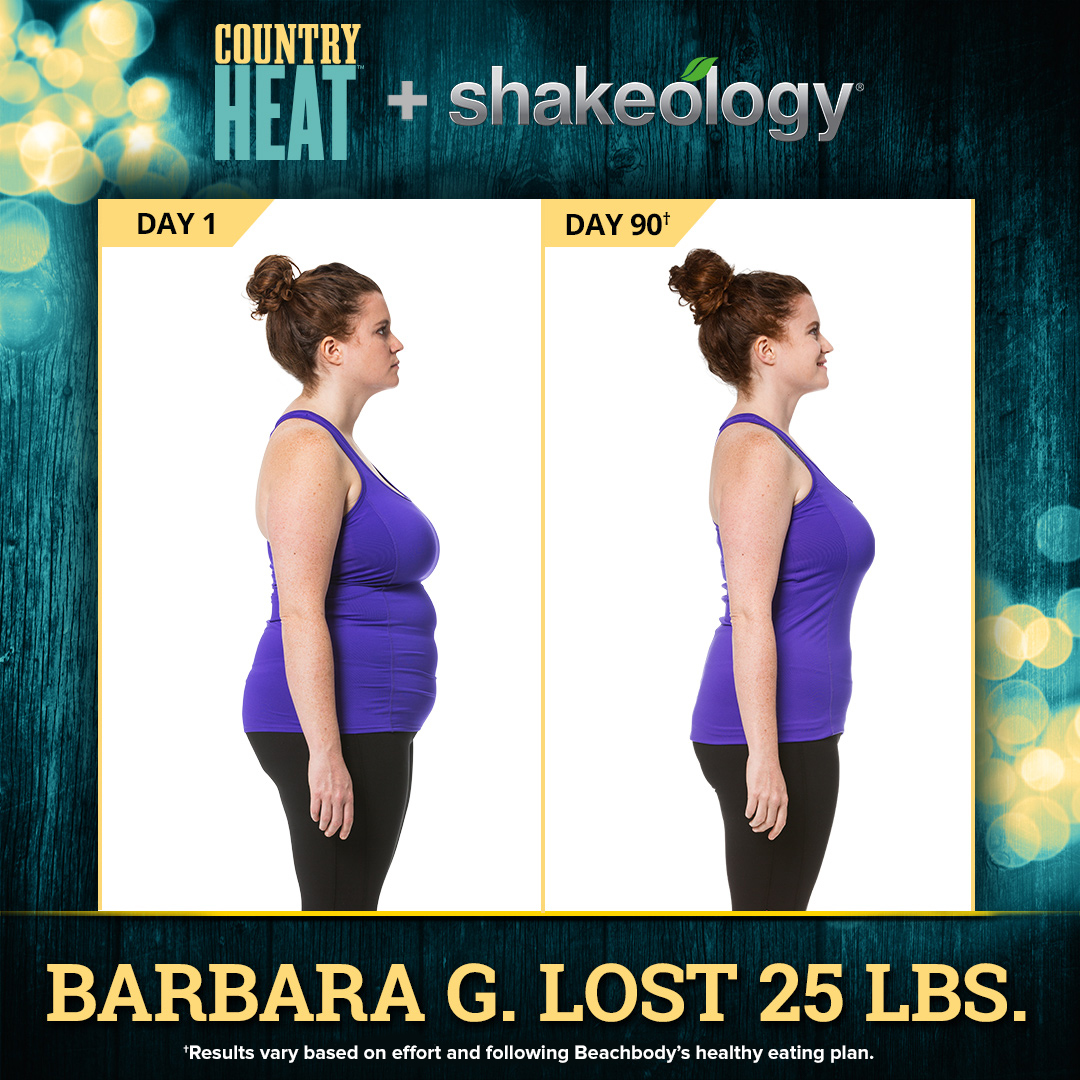 ---
Week 4
Day 22:
Bring the Heat
Day 23:
Country Swing + Dance Conditioning
Day 24:
Giddy Up
Day 25:
Down and Dirty
Day 26:
Bring the Heat
Day 27:
Trail Ride + Dance Conditioning
Day 28:
Rest Day
Check-In / Trainer Tip
Can you believe it's already the FINAL FULL WEEK?
Autumn has a few things to share as you wrap up the programme: https://youtu.be/mVN306knKZY
Recipe
Looking to mix it up in the kitchen? Try this delicious Pulled Chipotle Chicken with Cilantro Slaw: https://tbbcoa.ch/29MZZ0e
Fitness
Now that we're nearing the end of our Country Heat challenge, how will you continue to improve your nutrition and fitness?
For some of you, completing another round of Country Heat will be a great way to continue with your healthy lifestyle. But if you're ready to take it to the next level with simple workouts and simple nutrition, I suggest you try 21 Day Fix!
Message me if you're interested.
Success Story
I have yet another story of success to share with you: Edward lost 46.5 pounds and 30.5 inches in 90 days with Country Heat.† After completing the programme, he is feeling happier and healthier, and notices his new, slimmer shape and flat belly!
"The workouts are fun and easy, but you can modify up or down to increase or decrease [the intensity]. Sometimes I followed the modifier, but once I got in better shape, it was rarely needed. The music is great (and I wasn't a fan of country music before). I really like 'Save a Horse (Ride a Cowboy).' The beat made it fun and easy to do the moves. Country Heat is fun, easy, effective, and you can start no matter what level of fitness you're at." —Edward J.
†Results vary based on effort and following Beachbody's healthy eating plan.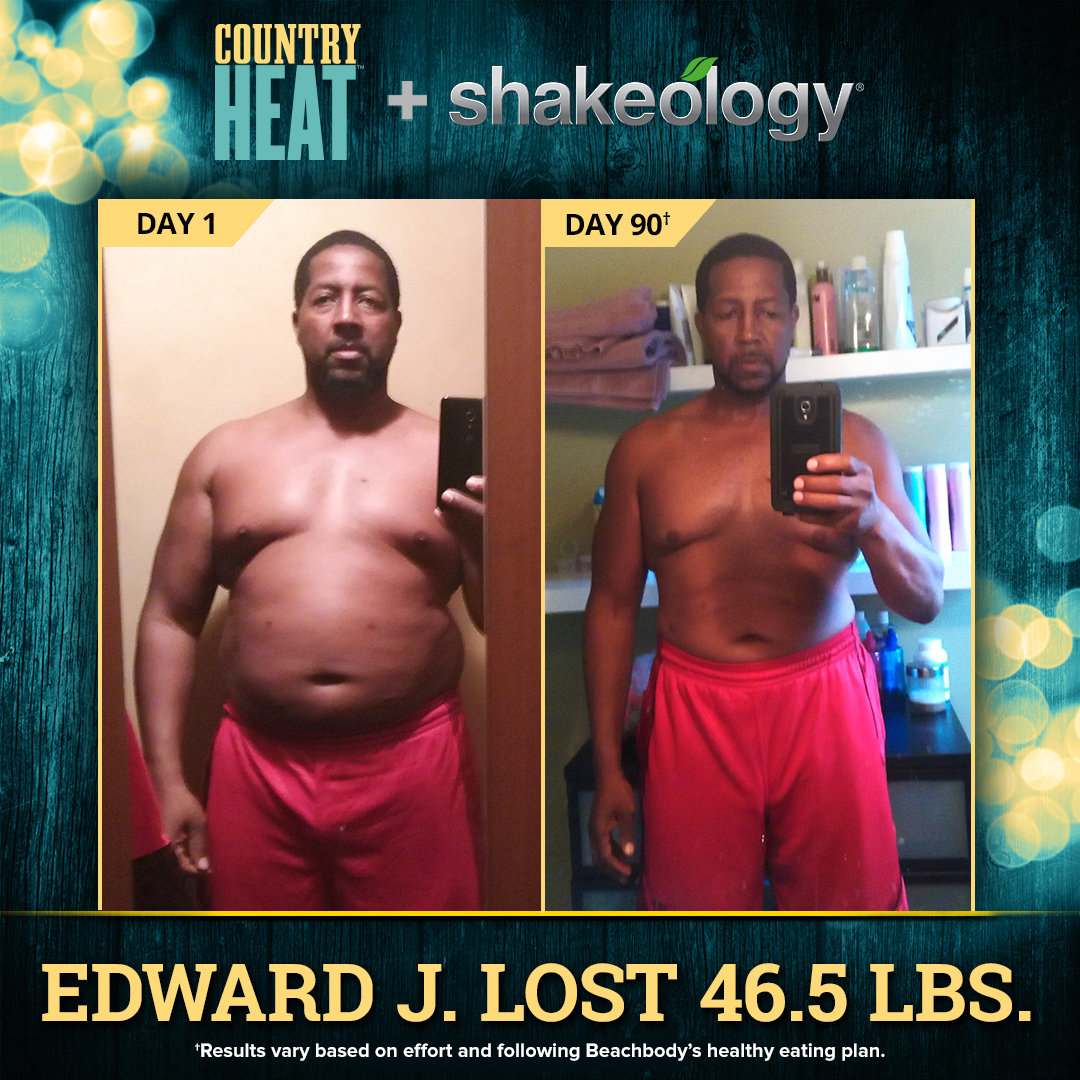 Recipe / Shakeology
Feel the PASSION with this refreshing Passion Fruit Shakeology recipe: https://tbbcoa.ch/2a0fKAF
---
Week 5
Day 29:
Trial Ride
Day 30:
Pick Your Favourite Dance + Dance Conditioning
Check-In / Motivation
You did it! Awesome work, everyone!
Be sure to take your "after" photos and measurements, and, if you feel comfortable, share your results! Remember, you can get a free Country Heat t-shirt by submitting your results to the Beachbody Challenge. Just complete this form: https://bit.ly/2otV2Po
You've come so far, now's the time to keep up your fitness and nutrition regimen! Who's planning to do another round?
---