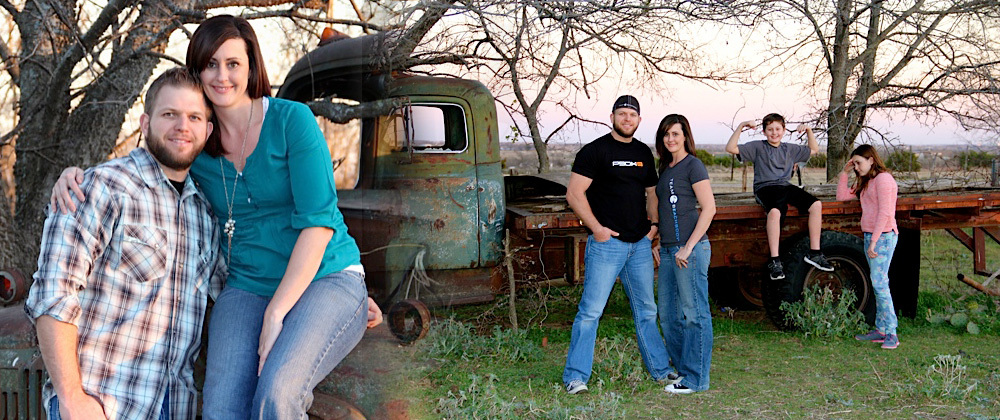 Nothing says, "accountability," like waking up next to your success partner every morning. Perhaps that's why so many Coaching couples are finding double the success. See how Coaches Dennis and Julie Fowler prove that teamwork makes the dream work, both at home and in business.
5-Star Diamond Coaches (as well as high school sweethearts) Dennis and Julie Fowler enjoy all the benefits of being full-time Coaches together. Sharing a home office. Having time for their kids. Taking stellar family vacations together. Working for a company they believe in. These two fitness renegades know that success is so much more satisfying when you share your passions and dreams with someone else.
"Coaching together has made us a stronger couple," Dennis explains.
"Not only is it great for the relationship, but it's great for the business," Julie expands. "When you share a vision with someone, you're going to work that much harder to make your dreams come to life!"
Whether it's your spouse, partner, friend, or collaborator you work exceptionally well with, one thing's for certain: It pays (literally!) to have a partner working with you. 
The Ying to Your Yang
One of the best ways to utilize your business buddy is by embracing the different skills you both bring to the table. Dennis and Julie are prime examples of that.
"We both have our different strengths," Julie states. "I'm the organized one who's good at explaining logistics and how to execute Coach goals. Dennis brings the passion and gets Coaches pumped up."
Dennis adds, "By pulling together our strengths and knowing when to let the other take the lead, we're able to deliver so much more to our customers and Downline than we would working alone. It's definitely important to have a success partner that compliments your skills!"
A Little Friendly Competition
Another perk of having a close Coaching comrade? Friendly competition.
"I'm competitive, so it's important for me to have a success partner who will constantly push me to excel. Push me to achieve a higher rank. Push me to collect more Success Club points," Julie says.
"Oh yeah!" Dennis laughs. "It's always a race to Success Club!" Not to be left out of the loop, their two kids, Madison (11) and Jackson (9) get in on the competition, too.
"Our kids are constantly fueling that friendly battle between us, always checking up on who has more Success Club points and pushing us to beat out each other," Julie explains. "They both plan on being Coaches when they turn 18, so they feel very invested in our business! It's very inspiring!" Dennis says.
Lead by example
Although a powerhouse couple now, Dennis and Julie's Coaching journey originally got off to a rocky start.
"She only loved the workouts, and I only loved the business," Dennis recalls. "It was a struggle at first because we weren't very supportive of each other." It wasn't until Dennis started making money that Julie came around to the business side of Beachbody. And once Julie got Dennis into the workouts, Dennis's connection with the products really clicked and his business took off.
Now seasoned Coaches, Dennis and Julie find a lot of their Downline Coaches experiencing similar friction with their significant others.
"If you want your partner to fall in love with Beachbody like you did, keep working hard and keep being passionate about your Coaching business," Julie advises. "Help people. Earn money. Don't push your partner into being a Coach, just prove that your business works."
In other words, let the money and results speak for themselves.
She goes on, "Ask your spouse for help with your business—not as a Coach, but as your partner. Once they realize the positive effect they can have on others, it's likely they'll want to get more and more involved with the business."
An Accountability Partner is Key
Whether you turn to your spouse or a fellow Coach you met at Summit, both Dennis and Julie agree that accountability partners are pivotal to achieving top-tier success.
"I would say that a success partner is something every Coach should have," Dennis explains. "Friends and family outside the business are great, but only a fellow Coach will really get what you're going through."
Julie adds, "Find someone who's like-minded like you. Someone who cares about this opportunity. Someone you can confide in. Someone you can rely on to pump you up, help you with your goals, and remind you of why you're doing this."
So take the leap, buddy up, and get out there!
Coach's Playbook:
Find an accountability partner who compliments your strengths and weakness. In this relationship, know when to lead and know when to learn.
Encourage your spouse to help you with your business—not as a Coach, but as your partner.
Encourage friendly competition with your partner!
Let yourself be emotionally vulnerable with your accountability partner. Sometimes we need to let our guard down so we can get the help we need.