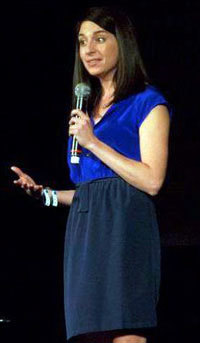 Director, Lead Generation & Conversion, Shelley Parise
You talked. We listened. And the result? Say hello to the brand new Universal Monthly Qualification program. We cover everything you need to know in this informative Q & A with Director, Lead Generation & Conversion, Shelley Parise.
How does the new program work?
It's exciting because if you qualified any time during October, you'll begin to receive leads in November and retain your qualification for the full calendar month! You'll still qualify the same way, but this new longer reward period is a win-win for everyone. For a detailed breakdown of the new program and features, check out the 20-minute training Webcast.
When does the new program start?
Our new monthly qualification and reward system will go LIVE on November 1st. So for example, our system will look back and see who qualified during October and distribute leads for November. Use this checklist to see if you've met your qualification and will be receiving leads in November.
Where can I see the new report?
We've made this super easy. The new Coach Online Office screen (launching November 1st) will make it simpler to understand and review your qualification status for all three Beachbody Lead Programs. Here's all you need to do:
Log in to your Coach Online Office.
Click on "My Business."
Go to "My Qualification Reports."
Click on "Lead Program Qualification."
What do I do if I have a problem?
We have a new Coach Relations Transition Team in place to help you with any concerns or launch issues. Here are the simple steps you should take:
First, check your qualification on Nov. 1st in the Coach Online Office.
If you're having an issue, call Coach Relations at 1-800-240-0913 and a representative will transfer you directly to a member of our dedicated Transition Team.
You must report all October issues to Coach Relations by Monday, November 5th. If validated and approved, all reports received by this date will be eligible for lead replacement. (Unfortunately, reports received after November 5th will

NOT

be eligible).
How can I find out more?
To feel like an expert on the new enhancements, make sure to watch the 20-minute training Webcast. You should also share this link with your Teams and on social media: //youtu.be/pwU8m0A28nQ. I look forward to bringing you more updates over the next several months!