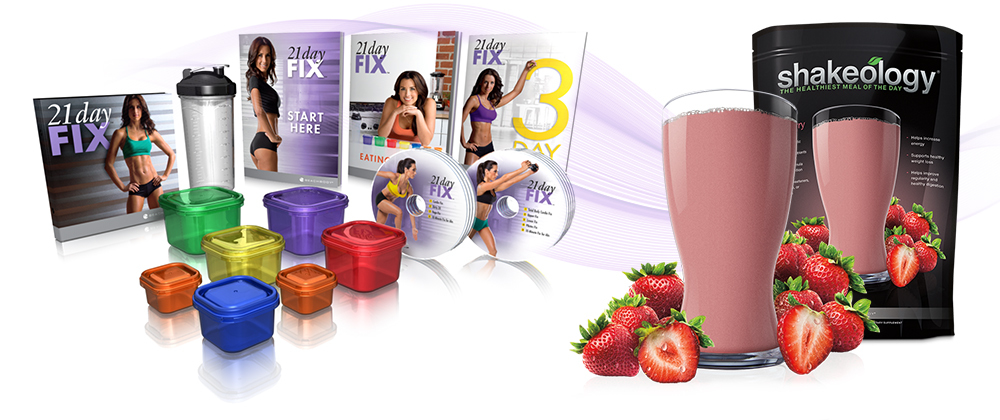 February Success Club Incentives
FEBRUARY CHALLENGE PACK PROMOTION: 21 DAY FIX™
This month Beachbody debuts the 21 Day Fix™, the ultimate fitness and nutrition program that will help you lose up to 15 pounds in 21 days. And in tandem with the launch we're offering a 21 Day Fix Challenge Pack Promotion for only $140, typically retailing at $160.
We know you'll love the nutrition aspect of 21 Day Fix. Not only is it easy to follow with no guesswork involved, but it incorporates your favorite meal of the day, Shakeology! Each 21 Day Fix Challenge Pack Promotion includes Strawberry Shakeology HD.
For more information about 21 Day Fix, visit the Coach Online Office:
21 Day Fix: Program, Challenge Pack and Training Details FAQ 9728
21 Day Fix: Product Kit & Equipment Details (Base & Deluxe) FAQ 9730
21 Day Fix: The Containers FAQ 9729
21 Day Fix: The Launch FAQ 9327
For more information about Strawberry Shakeology, visit the Coach Online Office: Strawberry Shakeology FAQ 9653
Dates to remember:
Challenge Pack Offer available: February 3 – 28
TEAM BEACHBODY CUP KICKS OFF
Are you ready? Team Beachbody Cup returns February 1st. It's time to start your 4-week commitment to build your business and compete against thousands of Coaches for the chance for glory. There are fantastic prizes up for grabs, but only one Team will rise to the top and win the Team Beachbody Cup. Not only are you fighting for victory, but this competition is the boost your business needs.
For more information visit: www.teambeachbody.com/teambeachbodycup
Dates to remember:
February 1 – 28
Product & Training Spotlight
REGISTER NOW FOR SUMMIT 2014: LAS VEGAS
Calling ALL Coaches! Summit 2014 is going to be here before you know it. What can you do to get ready?
Register for Summit NOW
If you're a new Coach, save $100 on your Summit ticket with the New Coach Special
Book your MGM Grand Hotel room before space fills up
To register or book your hotel, visit: //www.coachsummit.com/
Get the insider scoop on how to pay for Summit 2014: //www.youtube.com/watch?v=avKp2wnethA
Dates to remember:
June 19 – 22: Mark your calendars and book your room. Coach Summit 2014 is coming!
FranklinCovey TRAINING WORKSHOP: TORONTO
How often do you look at the clock and think, "where did all my time go?" According to The Productivity Institute, only 20% of the average workday is spent on "crucial" and "important" things, while 80% of the average workday is spent on things that have "little value" or "no value."
Team Beachbody® Custom FranklinCovey® Training Workshop brings you The 5 Choices to Extraordinary Productivity: Time Management Training. This 2-day world-class training workshop will transform your life and dramatically increase your ability to achieve extraordinary outcomes in your business and personal life. Valued at $2,000, this training is available to you for only $249 and features customized workshops designed specifically for Beachbody.
Upcoming workshops this month:
When: February 8th – 9th (8am – 5pm)
Where: The Westin Bristol Place Toronto Airport – 950 Dixon Road, Toronto, Ontario M9W5N4
When: February 22nd – 23rd (8am – 5pm)
Where: Seattle Marriott Waterfront – 2100 Alaskan Way, Seattle, Washington 98121
To register or find other upcoming workshops, visit: https://bb.pulsemob.com/event/fctrainings/
BEACHBODY CHALLENGE GROUP TRAINING: PORTLAND
You've read your coach training materials. You've started inviting. Now it's time to kick it up a notch with live, hands-on training.
During this interactive Coach training session, you'll:
Learn how to apply the 3 Vital Behaviors to your business
Discover the most effective tools used by our Top Coaches
Learn to create compelling Challenge Group invites
Understand how to set goals and track business success
Create an Action Plan to launch or revive your business
When: Saturday, February 15, 2014 (10am – 3pm)
Where: Portland Marriott Downtown Waterfront, 1401 SW Naito Parkway, Portland, OR
To register, visit: https://bb.pulsemob.com/bbcgtportland
UPDATED CHALLENGE GROUP GUIDES
Want to make your business thrive? Use our 16 refreshed Challenge Group Guides to keep your group motivated. These Guides give you a post a day to keep your social media channels fresh. The Guides are provided as Word documents so that you can personalize the posts and save them for your next group. There are also more eye-catching images that you can download in just one click.
The Challenge Group Guides also include:
New Shakeology recipes
Value-driven posts to encourage long-term Shakeology use
Icebreakers for week one to create immediate engagement
More program-specific success stories
To view and download the Challenge Group Guides, go to the:
Coach Online Office > Sales & Marketing > Beachbody Challenge