By EVP Network Marketing, Michael Neimand
To quote the Pointer Sisters, "I'm so excited and I just can't hide it!"
What's all the excitement about? Starting in March, you and your customers will be able to stream a catalog of our programs as part of your Team Beachbody® Club memberships.
Beachbody On Demand is huge news, and we are doing it right, starting with a massive investment in technology, systems and people. In order to deliver a premium product, we hired leading industry experts who were behind major launches at Hulu, AOL and Fox. Plus, we partnered with Verizon to ensure we had appropriate resources to support all of our new streaming activity.
So what will this exciting news do for your business?
A world of benefits
Ever have a customer who can't decide which program is right for them? Now with the Beachbody On Demand catalog, they can find the trainer and program that will get them results, and they can stream those workouts wherever there's an Internet connection.
This addition will make the Team Beachbody Club even more attractive to your customers that come in through our infomercials and should increase the number of customers in the lead program. All this adds up to more people getting healthy and more commission opportunities for you.
In a nutshell, it's a win-win for everyone.
A more valuable Club
Club membership just became more valuable than ever.
In addition to meal planning, tips, and access to our trainers, there will be hundreds of Beachbody workouts (well over $1,000 USD in value) available. And the price will stay the same at launch—$38.87 USD for 90 days of access. (We can't guarantee this price forever, but we wanted you to provide your customers this low price—and extremely high value).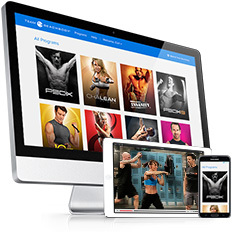 Members will get streaming access to top fitness titles like INSANITY, P90X®, P90X2®, and P90X3®. They'll also get insider access to preview select single workouts of newer programs that are not in the catalog.
So, if one of your Club customers tries out Plyo Fix Extreme from 21 Day Fix EXTREME and wants the whole program, they simply buy the DVDs from TeamBeachbody.com and you get credit for the order.
Coming soon: Challenge Packs
Here's more exiting news: we're working on a Club Challenge Pack. For $140, your customers will get Shakeology® HD and 90 day access to the Club which then kicks into the standard 90 day Club continuity.
This should help us get more people working out, drinking Shakeology every day and getting results. Plus, you get two Success Club points with each pack sold. That means you'll have two products (Shakeology and Club) on continuity programs—which means more commission opportunity.
Club Commisssions
Beginning in March, we will update our commission structure to align with the cost structure of the new functionality. Starting March 11, 2015, subscription commissions associated with new Club orders will be 40%. Everything else will remain the same, including The Challenge Pack commissions. The commission structure on all Club orders before March 11, 2015, and any associated continuity orders will not change. That means you will continue to get today's Club commissions on existing Club customers.
March is go time
In short, going digital is a giant step for Beachbody. There are going to be new features added throughout the year that will really blow you away, and we know you and your customers are going to love Beachbody On Demand.
I'm so excited!