Ready to get knockout results for your body—and your business?
Here comes your new secret weapon: CORE DE FORCE™. This highly anticipated program (now available!) is the ultimate mixed martial arts-inspired workout and the first program from Super Trainers, Joel Freeman and Jericho McMatthews. They've helped thousands of people get fit and you'll feel their infectious energy every time you push play.
So what exactly is CORE DE FORCE? How can you use it to help people get results and help you crush the last two months of the year?
View inside the ring
Prepare for 30 days of mixed martial arts-inspired workouts that bring together the best moves from Boxing, Kickboxing, and Muay Thai. And similar to a boxing match, CORE DE FORCE workouts are broken into 3-minute "rounds" meaning you go hard for three explosive minutes at a time.
What results can you look forward to? You'll slash inches off your waist, blast belly fat and sculpt impressive, total-body definition. What's more, CORE DE FORCE will also help improve your cardiovascular endurance, speed and strength.
What makes the program stand out from all the rest?
360-Degree Core Training
Don't go in expecting your average kickboxing workout. CORE FORCE is far from it.
Each move, whether it's a jab, a kick, or an uppercut, works your core from every angle. This is what Joel and Jericho call 360-Degree Core Training. More effective than traditional abdominal training, it's designed to help you tighten up your entire midsection and carve a more defined waist.
Did we mention there's no equipment required? It's true; you'll achieve serious results using only your bodyweight mixed in with cardio spikes and the best fighting moves.
The chatter on CORE DE FORCE
Here's what participants from our Coach test group had to say about the program:
"I'm over 11 pounds down in 36 days! I'm so happy with the results!"

—Nina Sinisterra
"Hello obliques!"

—Wendy Jo Spencer
"I LOVE that I can take this workout with me anywhere and can even get it done in a small space!"

—Laura Cullen Carter
"Oh how I love MMA Shred! Throwing Elbows just makes me feel so powerful. Killed this workout and really enjoyed it."

—Jeremy Shuhart
"I've accomplished more with my CORE DE FORCE strength workouts this week than I ever thought possible."

—Natalie Rene
"I'm within 10 lbs. of my goal weight. I'm so in love with this program and so grateful!"

—Mannie Watkins
"I'm seeing some major shoulder and back muscles coming in. Makes me very happy!"

—Trista Cottman
Kick your business into high gear
No doubt about it, CORE DE FORCE is bound to bring you ample opportunities. Who doesn't want to shed inches from their waist and see fast, eye-popping results, right?
There's a full range of audiences to target with this program. People looking for an MMA-inspired workout. Beginners looking to kick their fitness up a notch. Basically anyone who wants to lose belly fat and focus in on their midsections.
Make your customers feel comfortable by letting them know you do not need prior experience with any mixed martial arts. In fact, every workout includes a "Learn It and Work It" section to break down the moves so you can master them before you begin.
So get out there and be ready to talk about CORE DE FORCE with confidence. Don't forget to check out all the great training tools and resources in the Coach Online Office, too.
After all, your business is worth fighting for.
Use these tools to help you rock your Core De Force launch: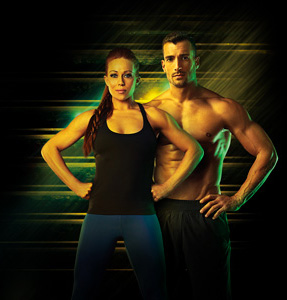 Planning to run a Challenge Group?
You'll need: