Last summer, Coach Stephanie Lugo rose from the ashes and led her Girls on Fire to an unthinkable victory. She'd been a Coach for just four months at the time—but something burned inside her. She was ready to lead. And when her Coach called for captains, Stephanie accepted the challenge. No excuses.
This is a story that just can't be written, so we asked Stephanie to tell it for us. Read her answers below to find out how she built her dream team, became a leader, and rallied her Girls on Fire to number one. Prepare to be inspired!
**Remember and share Stephanie's story as you organize your teams and recruit captains for our upcoming Team Beachbody Cup. Registration opens Monday, February 11th!**

Q: So when did you become a Coach, Stephanie?
A: I started as a Coach on Irene Estrada's team on February 23, 2012 with the financial goal of generating $50 per month. Back then, I genuinely didn't believe the Team Beachbody coaching opportunity could give me financial freedom.
Q: What was your first reaction when we announced the first Team Beachbody Cup?
A: I thought it would be an impossible task to compete against all the U.S. teams at first! They seemed so far ahead of me in terms of their physical transformation and organizational development. But, even though I thought a victory would be very difficult, I knew I could aim to win one of the other [tiered] prizes.
Q: Did you consider yourself a leader before your team won the Team Beachbody Cup? 
A: Honestly, no. I saw myself as just another member of Girls on Fire. A Coach on a team who needed to touch as many lives as possible to earn Success Club points. I believe that leadership is something that you develop slowly, and I still consider myself a 'leader in development'.
Q: What motivated you to assume the responsibility of being the team captain? 
A: When the Team Beachbody Cup was announced, my Coach Irene Estrada asked all the Diamond Coaches in her organization to build a team. And because I'm a good student, I followed her instructions! It was the best decision ever.
Q: How did you recruit your "DREAM TEAM"?
A: My dream team was formed with exceptional people who always went the extra mile.  I knew they were people who always kept a positive attitude in any situation.
Q: Do you have suggestions you can share with other leaders that are looking to build their teams?
A: My suggestion is to find people that go the extra mile, and will do what it takes to succeed. Look for leadership qualities—people who respond quickly to your posts, calls, and assignments.
Q: What did you do to motivate these Coaches to join your team and commit to win?
A: I challenged them to give it their best. When the first lists came out and we saw we were in second place, we realized we had what it takes to win. [Keeping our eyes on the list] was our motivation throughout the entire competition.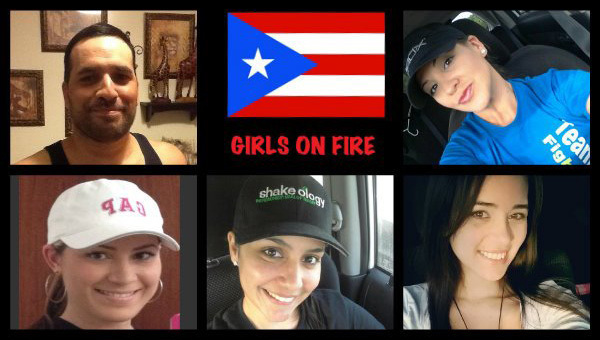 Q: Why did you name your team "Girls on Fire", and what does it mean? 
A: The name Girls on Fire represents what we are–our Latin essence that does not surrender and fights for what it wants. The name was also born from the fact that most of the members of our team had done TurboFire. I should add that the name was chosen BEFORE we included Hector Sella in our plans. Being the great guy he is, he agreed to it without any problem!
Q: How did you keep your team motivated, committed, and focused during the competition?
A: I created a private Facebook group where we shared successes and tips, reported our Challenge Pack sales, and would continuously push each other.
Q: You were in second place during most of the competition. What did you do to get to 1st place and stay there until you crossed the finish line?
A: The reality is that we all went the extra mile. We felt we could do it, and we knew that we only needed to give a little bit more of ourselves to come through.
Q: Did you or your team have difficult moments during the competition?
A: Yes, we had moments of despair and anxiety. The victory was so close and we were not willing to lose. Towards the end of the competition, when it was really close, we had a lot of anxiety—you could even feel the pressure on our Facebook posts!
Q: What would you tell a Coach who has never been team captain?
A: It's not impossible! You can win! Believe in yourself and always be willing to do what it takes. Don't make excuses. Also, invite your team to impact as many lives as possible. Leave the negative thoughts out of your mind, and stay focused.
Q: Share a few tips that got you to the top and got you the Cup.
A: The relationship that was built within the team was very important because when someone would get discouraged, another member would jump in to cheer that person up and we were kept going as a team. The Fit Clubs also helped us reach more people, and Facebook was vital there because it allowed us to fill the Fit Clubs and attract more people to accept the Challenge. Last but not least, the Challenge Pack "trial" promotion gave us an extra push.
Q: Do you have any other tips or suggestions for anyone who aspires to become a leader?  
A: Never stop learning. You learn from all kinds of people, regardless of their rank, position or salary. In the process of teaching my Coaches, they have also taught me. The simplest lessons are sometimes learned just by paying attention.
Q: Are you building your "Dream Team" again to defend your crown?
A: As soon as the competition is announced, of course I'll assemble my team. We'll give 300% to have our names engraved on the Team Beachbody Cup again!