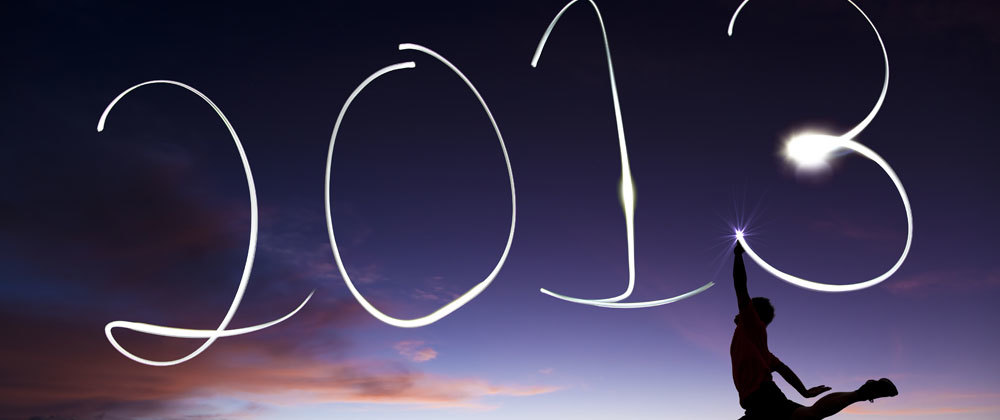 Did you know that "13" can be your lucky number? In 2013, it can.
The fact is; We have some BIG things on tap this year. Increased advertising. Game-changing promotions. New fitness programs. You have every reason to be on the threshold of greatness.
So where do you see yourself at the end of 2013? It starts with embracing a mindset that this will be "your year." And to help get it off to a blazing start, we've put together five practical ideas that just might make it your best and most productive year ever.
1. Put the past in the past.
The ball dropped. You drank the bubbly. And the last year rode off into the sunset. In other words; 2012 is so yesterday. Didn't become quite the leader you envisioned? No problem. Enjoy the clean slate and the promise of the fresh start you've been given. After all, that's why they call it New Year's. Now go make the most of it.
2. Get the year started right on January 5th.
What should be the first resolution on your New Year's list? Two words: Super Saturday. Mark January 5th down on your calendars—in ink! The first Super Saturday of 2013 is a golden opportunity to get the year started with a bang. Contemplating stepping up as a leader and hosting your own National Super Saturday event? Good thinking. Set the example in YOUR 'hood and get your whole Team on board.
Here are just a few of the exciting things we'll reveal this January 5th:
Your 2013 Summit Keynote Speaker
The 2014 Success Club trip (THE BIGGEST TEAM BEACHBODY TRIP IN HISTORY)
New Success Club and Elite Program enhancements
Simply put, Super Saturday is non-negotiable. Be there. Or be left behind.
3. Get out of bed & jump on the new National "Wake Up" Call.
If you're serious about making this year yours, then make 52 mini-resolutions to get on the weekly National Coach Call, now called the National "Wake Up" Call! Did we mention it's moving to a new time, too? The "Wakeup Call" will hit the airwaves at 8:00AM PST in 2013 and will feature an all-star line-up of guests. So tune in every Monday for enough inspiration to last you the whole week through!
What: National "Wake Up Call"
When: Every Monday
What time: 8:00AM PST/11:00 AM EST
Where: Dial – (832) 225-5055 Password: 90405# 
4. You've got text appeal.
What's the best way to stay connected? Team Beachbody Texting, of course! Starting this month, we're rolling out an all-new program that will send you up to six texts per month of late-breaking Coach news. That means you and your Team will be on the pulse of the Team Beachbody world and never miss something BIG. So sign up and stay in the know 24/7.
Opt in for Team Beachbody Texting by visiting: //txtsmart.com/onlineSignup/TeamBB/Coach411
5. Leads. Leads. Leads.
The New Year also means brand new leads. Lots of them. That's because Beachbody is about to ramp up media spending by the millions! In the month of January, to meet the massive wave of New Year's weight-loss resolutions, we roll out all the stops and that means more leads (and business) for you! What's more, our new and improved Customer Lead Program guarantees that Beachbody leads will now be qualified customers who have REQUESTED a Coach. Bam!