//www.youtube.com/watch?c2Vw91bJmBA
This month, on Coach TV, we're highlighting the top three things you need to know. Watch it now!
Fun fact: Did you notice Lisa's accent? She's Irish! Need more details? Keep reading.
March Success Club Incentives
MARCH CHALLENGE PACK PROMOTIONS
This month we have not one, not two, BUT THREE challenge pack promotions to help your business and to get your Challenge Groups going!
As a continuation from the early release in February, the Les Mills Combat Challenge Pack Promotion is available for $140, typically retailing at $160.
Also from the Les Mills family, we have the Les Mills Pump Challenge Pack Promotion. Typically retailing at $245, this awesome package can be yours for only $180.
Lastly, to kick off your countdown to swimsuit season, get ready for a little "spring cleaning" with the Ultimate Reset Challenge Pack Promotion. This kit typically retails at $305, but this month only is yours for $275. Promote the Ultimate Reset now so you and your customers can join the "Spring Cleaning with Carl and Isabelle" as they do the Ultimate Reset starting Wednesday, April 16th.
Remember Coaches, Challenge Pack promotions aren't just killer deals – they're a critical tool for you to start new Challenge Groups and help people achieve their fitness goals.
For more information about the March Challenge Pack Promotions, visit the Coach Online Office: FAQ 9749
---
MARCH SUCCESS CLUB PROMOTION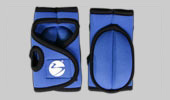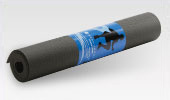 Great news! If you achieve Success Club 5 in the month of March, you'll receive a Team Beachbody Weighted Gloves Set and a Beachbody Jump Mat – a $79.80 retail value!
---
INCREDIBLE PRODUCT OFFERS DURING MARCH!
March is a packed month with great Challenge Pack Promotions AND awesome product offers. Save all month long on the Ultimate Reset Kits and select Pump accessories.
Ultimate Reset Kit Offers:
Complete Kit: $199.95 (from $229.95)
Dual Kit: $349.95 (from $399.95)
Refill Kit: $179.95 (from $199.95)
Challenge Pack: $275.00 (from $305.00)
Pump Equipment Offers:
Complete Barbell Set: $44.50 (from $89.00)
Barbell Weights 2-5lbs: $7.58 (from $15.15)
Barbell Weights 2-10lbs: $13.20 (from $26.40)
Barbell With Speed Safety Clips: $28.45 (from $56.90)
Step With 4 Risers: $49.95 (from $99.90)
Combat Gloves: $19.98 (from $39.95)
Coach Exclusive Giveaways
#WAKEUP AND WIN: FREE SUMMIT 2014 TICKET
During the month of March, we're giving away a FREE TICKET TO SUMMIT 2014 each week to a Coach who listens to the National Wakeup Call live or within 24 hours to the replay.
Here's what you need to know to participate in the giveaway:
Must be an active Team Beachbody Coach
Must listen to the live National Wakeup Call or listen to the replay within 24 hours of the actual weekly live call
Must call in with an unblocked phone number
Can only win once during the promotion
Ticket is transferable, nonrefundable and cannot be redeemed for any monetary amount or credit for Summit
Winners will be notified by phone each week and announced on the call the first Monday in April. Tune in this month to the National Wakeup Call for your chance to win and to hear great Summit stories and updates!
For more information visit: FAQ 9782 in the Coach Online Office
---
WIN A VIP SPOT AT TONY HORTON'S P90X3 WORKOUT
Calling all Coaches who've taken a crack at P90X3. This is your chance to be up front at the Tony Horton workout at Summit. You'll be close enough to see the sweat on Tony's forehead. Yeah, you won't want to miss this. But first we need your 'before' and 'after' photos and a short YouTube clip. So, jog over to the Team Beachbody Coach 411 page on March 12 and enter to win. The contest ends May 18th.
---
ARE YOU A T25 SUCCESS STORY? WE NEED YOU!
Did you fall in love with Focus T25® and got amazing results? Are you thinking about starting the program but need extra incentive? This is your sign. We're offering an exclusive Coach casting call. Enter and win a free Focus T25 "Nailed It" t-shirt, plus the chance to meet Shaun T or appear in a future Focus T25 infomercial. How do you top that?
Here's what you need to know: Focus T25® Coach Casting Call
Product & Training Spotlight
LIMITED TIME ONLY: FREE ActiVit® TRIAL
Find it hard to get those essential daily vitamins? Starting March 13th you and your customers can sign up for a FREE trial of ActiVit®. Everyone likes free things, so take advantage! Offer expires March 31st.
For more info on ActiVit visit: //tbbcoa.ch/1fusMwE
---
GIVE AND RECEIVE COUPONS EXPIRE SOON
Remember those coupons you earned in November from the Give and Receive promotion? They expire in one month! Heaven forbid they go un-redeemed. Make sure you use them before April 1st.
For more information on the terms and conditions click here: //tbbcoa.ch/16QQOzd
---
SUMMIT 2014
Have you checked off all your items on your 'Summit To Do List' and marked your calendars for June 19-22, 2014?

Summit To Do List:
To register or book your hotel, visit: //www.coachsummit.com/
---
FranklinCovey TRAINING WORKSHOP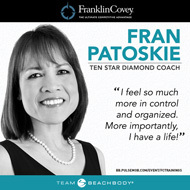 Did you know the average person gets 1 interruption every 8 minutes? Of these interruptions, 80% are considered of "little or no value." That means that approximately 3 hours per day is wasted on items that don't get you to your goals.
Help is on the way!
Team Beachbody® Custom FranklinCovey® Training Workshop brings you The 5 Choices to Extraordinary Productivity: Time Management Training. This 2-day world-class training workshop will transform your life and dramatically increase your ability to achieve extraordinary outcomes in your business and personal life. Valued at $2,000, this training is available to you for only $249 and features customized workshops designed specifically for Beachbody. Sign up for a training near you!
Upcoming workshops this month:
When: March 8th – 9th (8am – 5pm)
Where: Sheraton Nashville
Downtown – 623 Union Street
Nashville, TN 37219
When: March 15th – 16th (8am – 5pm)
Where: The Westin Oaks @ The Galleria – 5011 Westheimer
Houston, TX 77056
To register or find other upcoming workshops, visit: https://bb.pulsemob.com/event/fctrainings/
---
TRACKING FOR P90X3 NOW AVAILABLE!
You've tweeted and commented and now the update is finally here! Tracking for your P90X3 workouts is now available on the P90X app. Don't miss this awesome way to track your progress. Download it on your iPhone or Android today.
iPhone: //bit.ly/P90XAppiPhone
Android: //bit.ly/P90XAppAndroid
---
NEW PAGES ON TBBCOACH411.COM
Your TBBCoach411.com is getting bigger and better than ever. Hop over to the New Coach page and the new Recognition page for great spots to send prospective Coaches, new Coaches and folks on your Team who need a helpful breakdown.
Check out the new pages here:
New Coach Page: //www.tbbcoach411.com/new-coach/
Recognition Page: //www.tbbcoach411.com/recognition/
GET MORE DETAILS:
© 2014 Beachbody. All rights reserved.