Multi-Programme Challenge Group Guide
Get content you can customise and share with your Multi-Programme Challenge Groups.
Getting Started
Create a Challenge Group in the My Challenge Tracker Coach Portal, and invite your participants to download the My Challenge Tracker App. Alternatively, you can set up a private Facebook® group.
Post Week 0 topics to your group's feed.
Challenge Group Best Practices
Use My Challenge Tracker. My Challenge Tracker was designed to help you run your Challenge Groups and get your customers the best results possible. Using the app, your participants can track their workouts, Shakeology, weight, measurements and progress photos, while interacting with one another in a closed forum. Simultaneously, with the Coach Portal, you can gain insights into your participants' daily activities to help keep everyone accountable.
Kick off with a group meeting and set expectations. Whether in person, via Zoom or over the phone, holding an initial group meeting is a great way to set clear expectations that can define a rewarding experience for your participants. It also creates a team culture where participants can feel a sense of belonging and gain encouragement from others. Walk them through the My Challenge Tracker app, showing them how to track their activity and engage within the group. Tell them what they need to do to be successful (i.e., check in daily, drink Shakeology, set realistic short-term and long-term goals, etc.). Share how you and others in the group will support them along the way.
Share the Team Beachbody meal prep guides. These guides are tailored to different calorie needs and make meal prep simple, providing grocery lists and step-by-step instructions for planning breakfasts, lunches, dinners and snacks — one week at a time.
Lead by example with our #1 Vital Behaviour, be proof the products work. Track your activity and share your experiences daily, so your participants can replicate actions that will help them succeed.
Connect and check in with participants constantly. Hold a weekly zoom call for your challengers to ask questions and share successes and challenges to increase group engagement and morale. Additionally, if you notice someone hasn't been logging their activity, reach out to them individually to make sure everything is okay and encourage them to get back on track. They'll be more likely to stick with the challenge if they know someone is holding them accountable.
Surprise your participants; throw down a challenge. Whether it's a day where everyone completes 10 push-ups, shares their favourite meal photo and recipe, or does the most squats in a minute, small prizes or contests can help keep your participants engaged and motivated.
Recognise, Recognise, Recognise! Another Coach vital behaviour, it's key to recognise the positive changes and healthier lifestyle choices people make, no matter how small. Recognition keeps challengers engaged and motivated. Consider designating a day of the week to highlight someone's success, or, better yet, do it daily.
Encourage participants to submit their results to the Beachbody Challenge contest. Everyone loves free stuff. Make sure your participants enter the contest once they complete their challenge to get rewarded with a free completion prize.
Continue with the momentum even after your Challenge Group ends. Check out these tips for effectively wrapping up your Challenge Groups and getting your participants to join your next challenge – or transition to become a Coach.
Note Regarding Links
This guide contains links to products and resources on TeamBeachbody.com. To ensure you receive credit for any sales made through these links, simply append this (inserting your OWN Coach repID) to the end of the URL: ?referringRepId=yourID
For more products links, visit the Coach Link Generator.
---
OR FILTER BY
:
Select the content topics you'd like to view and then click "Filter."
Beachbody On Demand
Beachbody Performance
Check-In
Fitness
Getting Started
Motivation
Nutrition

Shakeology

Success Story
Week 0
(Week prior to challenge start date)
---
Week 1
Getting Started / Motivation
Make today awesome—it's the first day of your challenge! Share how your first workout went. Don't worry if the workouts seem difficult—it usually takes a few run-throughs to get used to the moves.
PS: Don't forget to enjoy your Shakeology or Beachbody Performance supplements today!
Success Story
Talk about motivation! Breonna was disappointed with how she looked and was tired of not doing anything about it. By completing several Beachbody fitness programmes, drinking Shakeology, and eating clean, she lost 67 POUNDS and gained the confidence to pursue a modeling career!*
"I was extremely proud when I arrived at a photo shoot and the photographer asked me if I had a trainer! I said, 'No, I just use the diet plans that come with Beachbody programmes and I stick to my workouts!'"
*Breonna B. is an independent Beachbody Coach. Results vary based on effort and following Beachbody's healthy eating plan.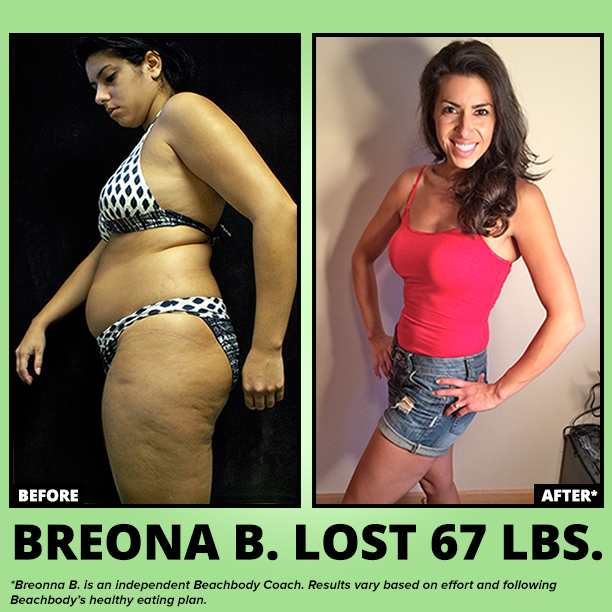 Success Story
After tearing her ACL playing competitive volleyball and losing her mother to terminal cancer, Emily became depressed and stopped caring for herself. However, once she had her second child, she decided something needed to change and turned to Beachbody fitness programmes and Beachbody Performance to help her get fit for her daughters. Now she's down 67 POUNDS!*
"I can't believe the difference Beachbody has made. I'm no longer the mum that parks her kids in front of the TV all day. We're always on-the-go and I can play with them without getting tired!"
*Emily E. is an independent Beachbody Coach. Results vary based on effort and following Beachbody's healthy eating plan.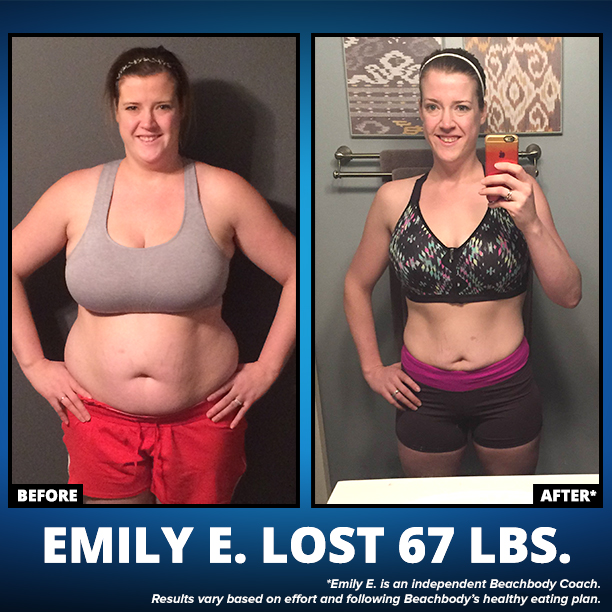 Fitness / Nutrition
I LOVE that you all are committed to crushing it every day! Here are 3 tips to help you make the most of your hard work:
Get plenty of sleep—at least 7 to 8 hours. Catching those z's is super-important to help your body recover and build muscle.
Make sure you're consuming Shakeology or Beachbody Performance supplements.
Drink plenty of fluid! It's crucial to your performance during a workout. Staying hydrated ensures you maintain your body's fluid balance. Why's that important? Just a little loss of fluid through sweat can significantly impair your power and performance.
Beachbody On Demand
I've said it before, with Beachbody On Demand you can take your programme on-the-go, so you have no excuses. But what does that really mean for you? Let's break down a few scenarios:
You're on a business trip and realise your hotel room doesn't have a DVD player. Do you miss a workout? No! You can stream it right from your laptop in your hotel room.
While on the way with the kids to grandma and grandpa's for the weekend, you realise you left your nutrition guide at home. Do you turn around and go back for it? Or worse yet, forgo your nutrition for a few days and binge on everything in sight? Heck, no! You know you can access your nutrition guide from your tablet.
One weekend you stay at a campsite where there's no internet access. Do you let your fitness take a backseat for the next few days? NO. You already downloaded your workouts to your phone with the iPhone app, so you can access them at any time.
I think I've made my point. And Beachbody On Demand isn't just convenient for traveling. It's useful every day! For instance, while waiting to pick up my son from school, I glance at my workout calendar from my phone to see what I have scheduled for the day. That way, when I get home I'm mentally prepped for my workout.
Have you streamed Beachbody On Demand outside your home? Please share!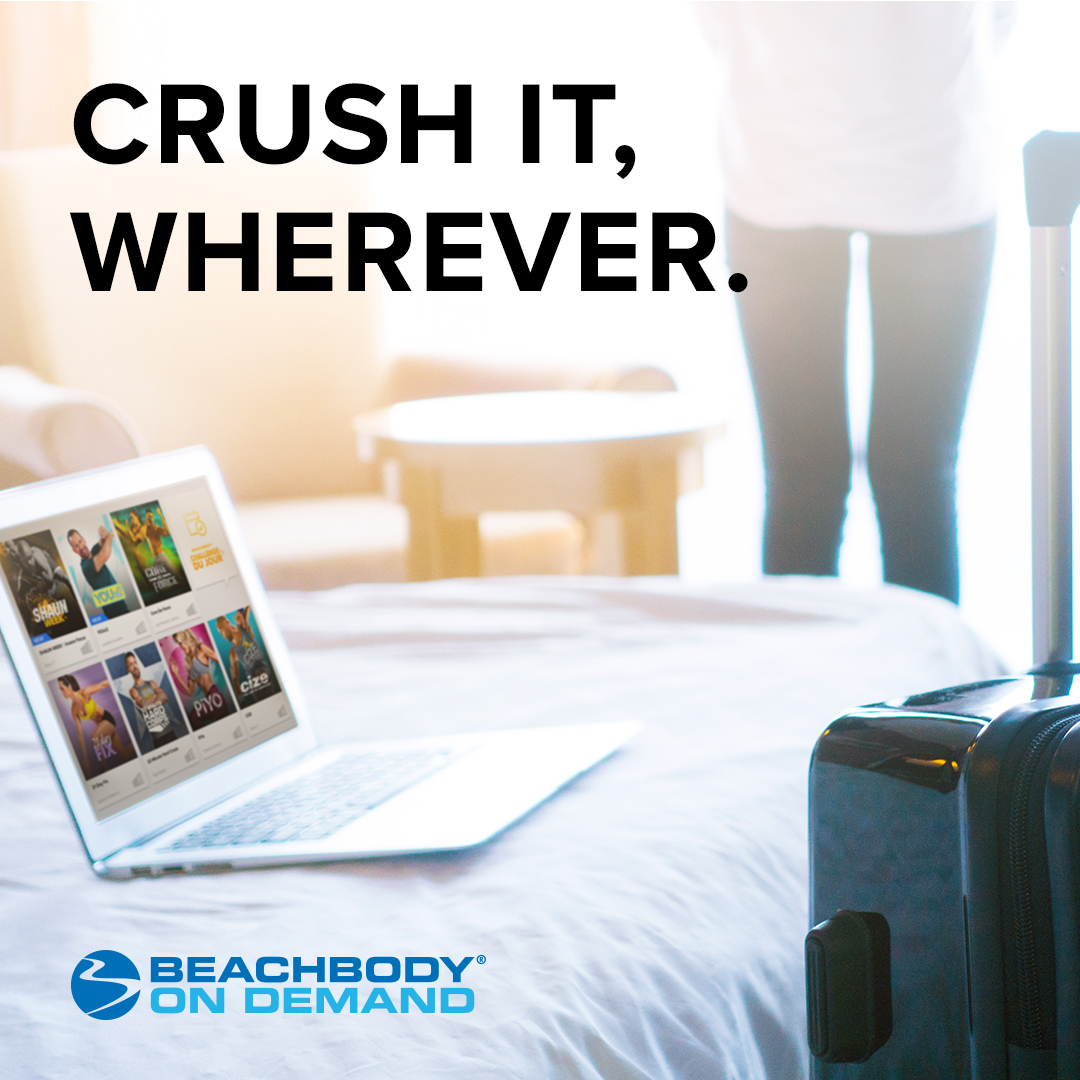 Shakeology
Real talk: Did you know Shakeology can help support healthy digestion? That's because it is formulated with calcium, prebiotics, probiotics, fibre, and digestive enzymes.
Fitness
Anyone feeling sore or hungry? If so, that's GOOD! It means your programme is working. Because you're pushing your body in new ways, you're breaking down the muscle so it can rebuild stronger.
This also helps explain why you're hungry, even if you've been following your nutrition plan to the T. When your body is in breakdown mode, it starts craving more nutrients. It's all just part of the process to getting stronger and fitter!
---
Week 2
---
Week 3
Nutrition
I don't know about you, but I find it easy to overeat at mealtime. What can I say, I just LOVE food! But to avoid feeling stuffed, I portion out my meal, eat it, and then wait 20–30 minutes for my brain to tell my body it's full. This trick usually works for me and helps keep my nutrition on track. Do you have any tips to avoid overeating?
Success Story
Melanie lost more than 20 pounds in just 2 months!*
"It blows my mind that so much can change with consistency, intentional nutrition, 30-minute workouts, and accountability from like-minded individuals! My co-workers, family members, and friends have noticed a significant improvement in my energy level, physique, and positive outlook on life!"
*Melanie F. is an independent Beachbody Coach. Results vary based on effort and following Beachbody's healthy eating plan.
Fitness
I'm so impressed with everyone's work ethic! Keep pushing—I promise you won't regret it later. If you're still finding it hard to get through the workouts, try these tips to conquer the next one:
Mentally prepare.
Find a workout buddy (even if it's your spouse or neighbour).
Get into a routine and make it a priority.
Remember why you started.
Use the 3 P's: Positive images, Power words, and Present focus
Shakeology
Here's a tasty recipe that is an absolute must try 😉
Nutty Buddy Shakeology
1 cup water
1 cup ice
1 scoop Vanilla Shakeology
½ large banana, cut into chunks
1 Tbsp. all-natural almond butter
Calories: 296
Beachbody Performance
No matter what level of athlete you are, timing your pre-workout nutrition is important if you want to maximise the work you're about to do. If you need to eat before a workout, do so at least 2 hours before exercising to give your body time to digest. And be sure to take your Beachbody Performance Energize 30 minutes before sweating it out—that gives it plenty of time to kick in!
Fitness
Here's one reason to catch more z's—to help you get results! Not only is it important to lock in those 8 hours to help your body recover from your workouts, but according to research, taking a protein supplement before bed coupled with a good night's rest can actually help with muscle growth when you've been exercising vigorously: https://tbbcoa.ch/1Vei4UU
Motivation
Like I've said before, stress releases cortisol, which can make it harder to lose fat from your midsection. Unfortunately, the negative effects of stress don't stop there. Increased cortisol can effect recovery and encourage muscle breakdown—NOT COOL. That's why it's important to step back and take a deep breath every once in a while.
---
Week 4
Beachbody On Demand / Fitness
We've entered Week 4! WHAT?!
Whatever programme you're completing, I encourage you to follow it to a T. All of Beachbody's programmes are proven, but you really need to follow the programme's guidelines (i.e., workout schedule and eating guide) to get the best results. That's not to say you can't complement your programme with some extra physical activity. There may be times when you feel energised and want to add another workout to your routine. On other days, you may just want to relax with some extra stretching and meditation exercises. It's for times like these I'm thrilled to be a Beachbody On Demand member. From yoga to cardio to strength and resistance-training, Beachbody On Demand gives you access to hundreds of workouts ready to stream when you need them.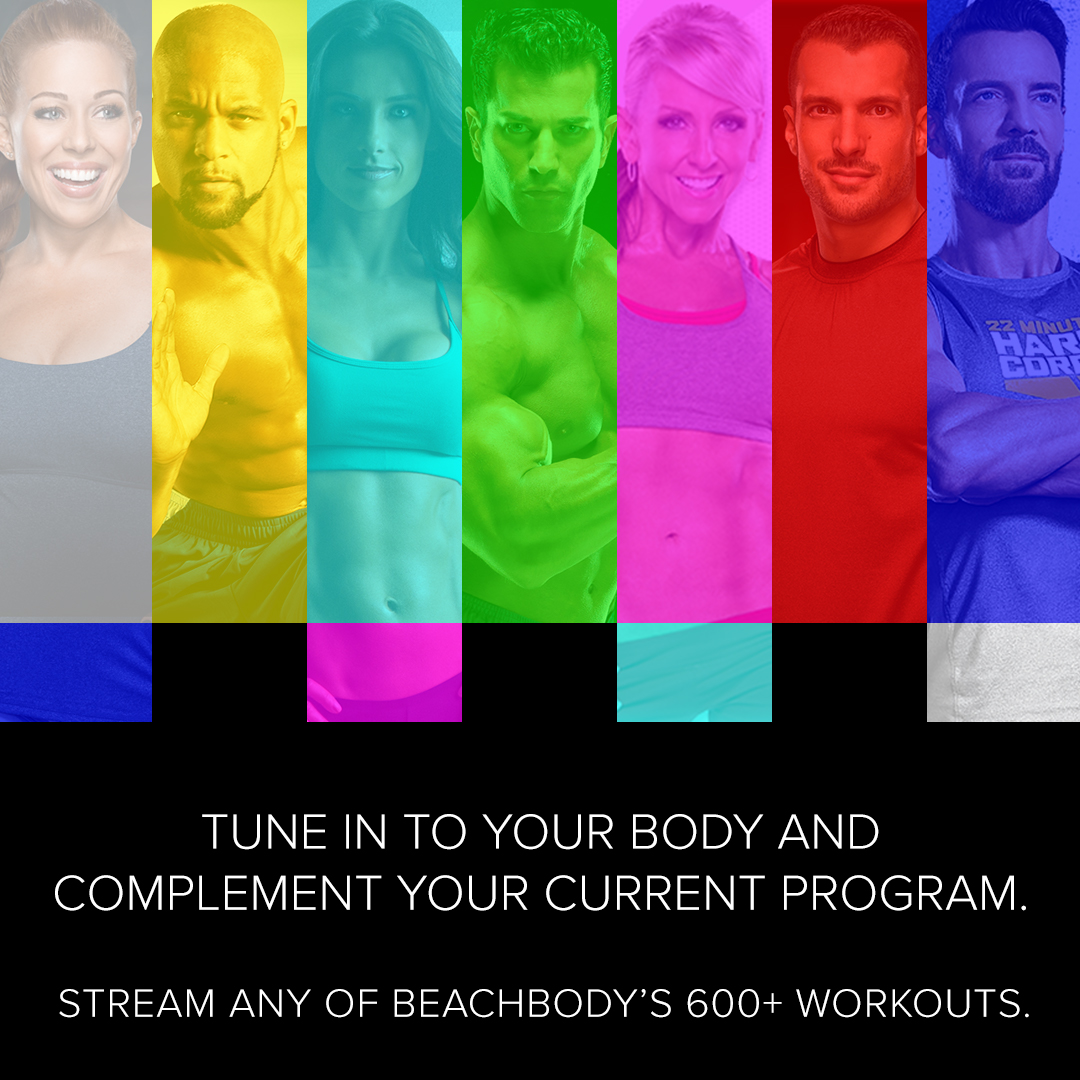 Shakeology
This story is straight-up inspiring. Because of her weight, Sherry felt like she wasn't focusing on what was important: making happy memories with her family. However, since completing several Beachbody fitness programmes and supplementing her healthy eating programme with Shakeology, she's lost 40 pounds* and is loving life right now!
"I wake up with a passionate fire for life! I feel like I can accomplish anything that comes my way and can live happily no matter what size I am. I've completed a Tough Mudder race, a Colour 5K, and I even became an INSANITY Instructor!"
*Results vary based on effort and following Beachbody's healthy eating plan.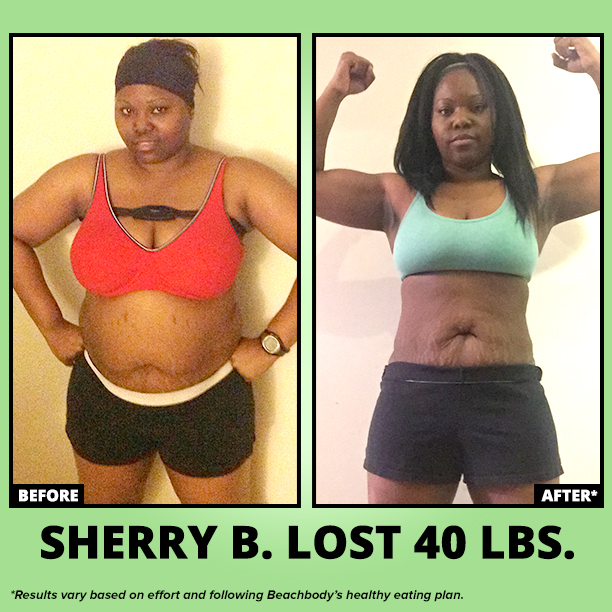 Beachbody Performance
Carrie struggled with body issues her entire life and decided something needed to change. She turned to Beachbody fitness programmes and Beachbody Performance to help her develop a healthy and sustainable routine. Now she loves working out—and has lost 90 pounds!*
"I always thought of exercise as a way to lose weight, but now I see it as a vital behaviour. It's a way of life and it's fun! There's a sense of accomplishment in finishing a Beachbody programme."
*Results vary based on effort and following Beachbody's healthy eating plan.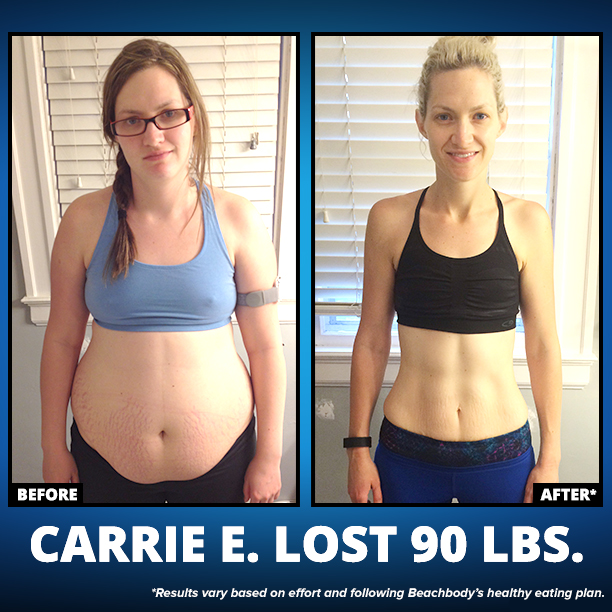 Fitness / Nutrition
Ever wonder what you should eat if you like to work out in the AM?
Your body can resynthesise muscle glycogen stores (an energy source) within a day with adequate carbohydrates from your diet. But if you need a little fuel in the morning, try eating a banana or small bowl of oatmeal. Those options will give you the energy you need to power through your morning sweat session without weighing you down.
Shakeology
Any birthdays out there? Celebrate with this sweet and healthy treat.
Red Velvet Birthday Cake Shakeology
⅔ cup water
⅓ cup unsweetened beet juice
1 scoop Vanilla Shakeology
¼ cup reduced-fat (2%) plain Greek yogurt
1 tsp. raw honey
Calories: 213
Beachbody Performance
Ever wondered why Beachbody Performance Recover contains not one, but three different kinds of proteins? Your body digests the whey, pea, and casein proteins found in your Recover drink at different rates to provide a rapid and sustained supply of nutrients that help support post-workout muscle protein synthesis (the process required for muscle rebuilding and adaptation alongside your training programme).
Have you noticed the difference since using Recover? Share your experience with the group!
Fitness
Remember, the road to getting healthy and fit is a journey. It won't always be easy. There will come a day when you lack the motivation to hit the play button. If that feeling persists, you might be experiencing burnout.
Don't worry—it doesn't have to last forever. Check out these helpful tips to fight burnout and help you get back on track: https://tbbcoa.ch/27Ju1qz
Check-In
Congrats on completing your first MONTH of your challenge! You're nearly a third of the way there!
I recommend taking your weight, measurements, and Month 1 photos today. That way you can see how far you've come over the last few weeks. If you want, you can also share your progress with the group!
---
Week 5
Check-In / Motivation
Revisit the goals you set prior to starting this challenge. Are you on track to accomplishing them? If not, focus on what you can do differently to nail them this month. Try writing them down and putting them on your fridge or desk to keep them visible, so they'll be less likely to fall off your radar!
Nutrition
Have you tried using mason jars for meal prep? I love them to store my salads for the week because they keep the ingredients fresh if you layer them properly. And when you're ready to eat, all you have to do is shake 'em up!
Here are a few tips for creating the perfect mason jar salad:
Pour dressing in the bottom. That way your veggies stay crunchy and fresh.
Layer heartier ingredients like carrots or beans after the dressing.
Pack your greens on top.
Nutrition
I absolutely LOVE cereal and I have a feeling some of you do too. Unfortunately, some cereals—even "healthy" ones—contain a ton of hidden sugars. So make sure you read the labels and choose ones with low-sugar content (5 grams or less), plenty of whole grains, and few to no extra preservatives. And if you really need to add a sweet kick to your morning bowl, just add some fruit!
Motivation
Don't feel like hitting the play button today? Instead of focusing on losing weight or getting "ripped," try focusing on how a good workout will increase your quality of life. The work you put in today can improve your mood and help you become stronger and more confident. And that might be just the push you need to do something outside your comfort zone!
Shakeology
Today during my morning commute, I tuned in to the "Inside Shakeology" podcast series on iTunes. I totally recommend it if you want the inside scoop on this superfood protein shake! Check out the first podcast, "Discover the Shakeology Difference," where creator Darin Olien explains why Shakeology is more than just your run-of-the-mill protein shake. Check it out: https://tbbcoa.ch/1TwaTWV
Beachbody Performance
I thought this was pretty cool for all you Beachbody Performance users out there! Check out this short video on what [insert Tony, Autumn or Sagi] thinks about the Beachbody Performance system.
Tony: https://tbbcoa.ch/1sI2qpZ
Autumn: https://tbbcoa.ch/25eeH6B
Sagi: https://tbbcoa.ch/25eeuR5
Motivation
We all unwind in different ways (confession: my favourite way is with/by [insert guilty pleasure], but have you ever tried meditation? Taking a few minutes out of your day to relax and reflect on your thoughts can do wonders for your mind, body, and stress levels. Here are a few things to keep in mind when learning how to meditate:
Maintain a straight spine while sitting cross-legged in a chair or on the floor.
Focus on your breathing—in through the nose and out through the mouth.
Focus on something that makes you happy!
And don't worry if you get distracted—focus is like a muscle and meditation will help strengthen it!
---
Week 6
Beachbody On Demand / Nutrition
Need some recipe inspiration? Check out Beachbody On Demand's FIXATE cooking show with Super Trainer Autumn Calabrese and her brother, professional chef Bobby Calabrese. They'll show you how to create amazing portion-controlled meals, all "containerised" and approved to work with a portion-controlled eating plan, which you'll want depending on the plan/phase you're on. You'll have access to videos, delicious recipes, and grocery lists—everything you need to reach your nutrition goals without feeling deprived.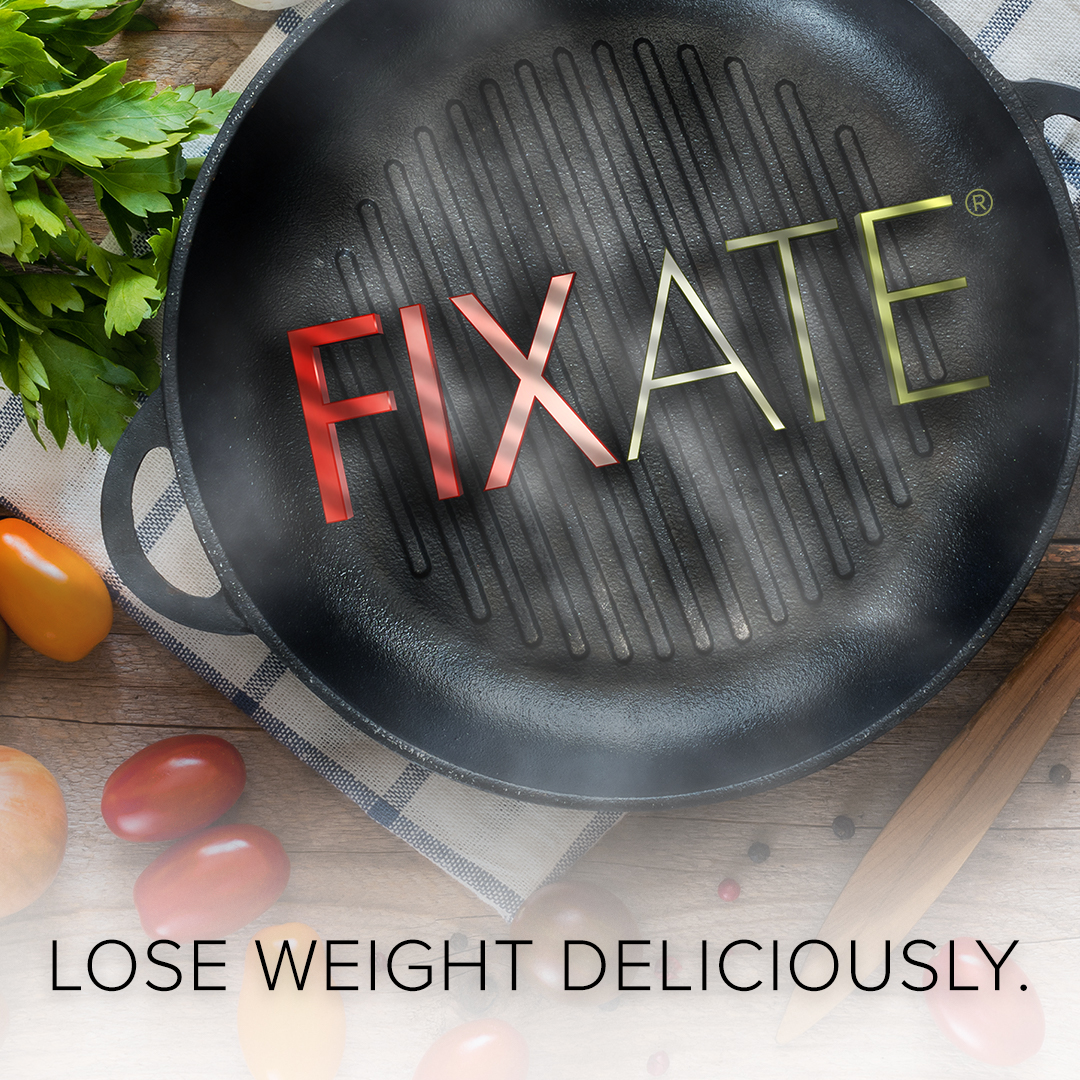 Shakeology
It's been almost two months since you whipped out the blender and started sipping Shakeology. By now, you should be experiencing more positive changes.
How has Shakeology helped improve your healthy lifestyle and fitness?
Nutrition
We're nearly halfway there! Amazing, right? Think for a moment about when you started and if you want, share some of the lifestyle changes you've made since then. Were there some foods/beverages you gave up? Is following the programme as hard as you thought? Are there some delicious foods you're eating that you never thought you would?
Shakeology
Lana found Beachbody after ending a toxic, seven-year relationship that left her overweight and feeling down. But she didn't let all of that prevent her from taking charge of her life. With Beachbody fitness programmes and a healthy eating programme, including Shakeology, she lost 30 pounds!*
"With Beachbody workouts, I immediately felt a shift. Inches started melting off and I began to feel better about myself. My self-esteem was rising and people were starting to notice the difference in me. I'm confident and happy!"
*Lana M. is an independent Beachbody Coach. Results vary based on effort and following Beachbody's healthy eating plan.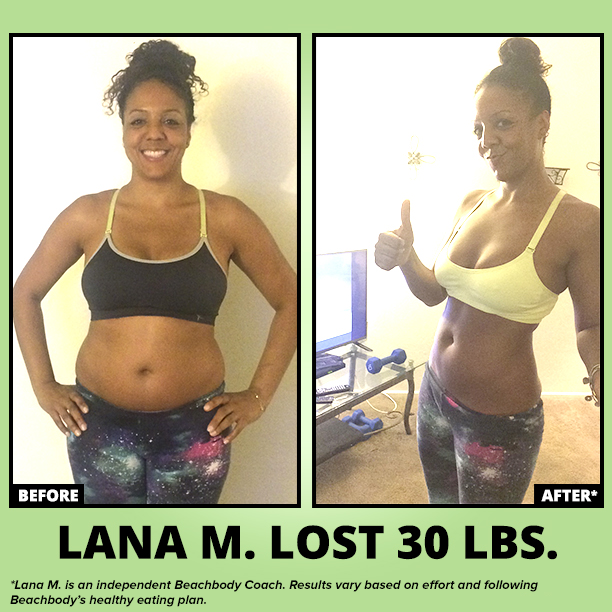 Beachbody Performance
Everyone knows that leading a sedentary life has its consequences. Jason experienced them firsthand: numerous health issues, feeling tired all the time and poor self-image. His daughters were his inspiration for improving his health and fitness—now he's nearly 50 pounds lighter thanks to Beachbody fitness programmes, eating healthier, and the Beachbody Performance line!*
"I feel amazing. I am proud that I have taken control of my health and I'm proud of the example I am setting for my daughters."
*Jason C. is an independent Beachbody Coach. Results vary based on effort and following Beachbody's healthy eating plan.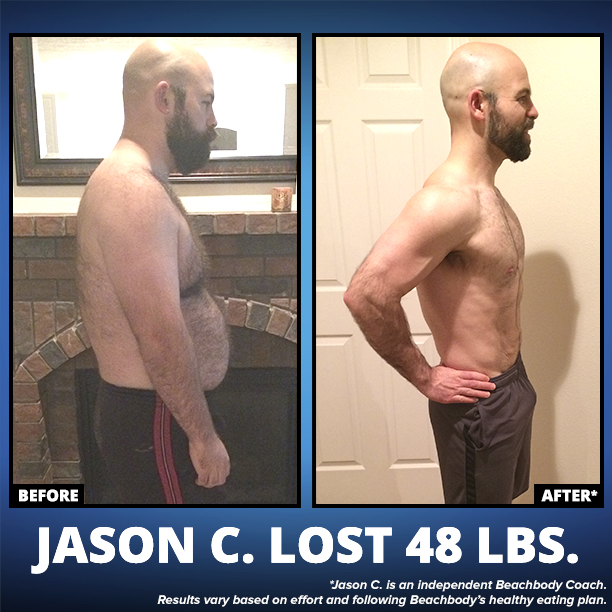 Nutrition
We all have those moments where we fall off the healthy-eating wagon and just, well, pig out. But one thing that's definitely helped me stay on track is meal prepping! I choose [insert day of the week] and I make a big batch of grilled veggies and roasted chicken breasts [or insert the foods you prep]. That way it's always on hand in case I don't have time to cook during the week!
What about you guys? What's your favourite food to make in bulk?
---
Week 7
Nutrition
Who says healthy has to be boring? There are plenty of ways to spice up veggies, proteins, and even fruit to keep things fun and flavourful. Here are a few of my super-easy, go-to recipes:
Chopped carrots, cucumbers, and red bell peppers tossed in rice wine vinegar and sesame seeds.
Canned tuna mixed with celery, olive oil, Dijon mustard, tarragon, and hot sauce.
Bananas, papaya, and pineapple with fresh-squeezed lime juice and lime zest, topped with shredded coconut.
What are your favourite ways to flavour your foods?
Fitness
Find push-ups challenging? I do, but I know they are one of the best exercises to sculpt my shoulders, arms, chest, and back. However, to ensure you maximise your results with push-ups—and to avoid injury—it's key to have the proper form. Here are a few tips to nail the perfect push-up:
Make sure your hands are slightly wider than shoulder width.
Maintain a tight core.
Keep your back flat and do not let your back or hips sag!
Shakeology
Anyone craving peanut butter cups? Here's a recipe to use if you're in need of something that tastes like a cheat. 😉
Chocolate Peanut Butter Balls
(Makes 14 servings, 1 each)
Total Time: 15 min.
Prep Time: 15 min.
½ cup finely chopped raw mixed nuts (like walnuts, pecans, or almonds)
½ cup Chocolate Vegan Shakeology
½ cup organic old-fashioned rolled oats
½ cup all-natural smooth peanut butter
3 Tbsp. raw honey
1. Combine nuts, Shakeology, and oats in a medium bowl; mix well.
2. Add peanut butter and honey; mix well with a rubber spatula or clean hands.
3. Roll dough in balls about 2 Tbsp. each.

Calories: 122 per serving
Beachbody Performance
I have a confession...sometimes my only motivation for working out is knowing that a chocolaty, creamy Beachbody Performance Recover shake is waiting for me at the finish line! I mean, yeah, it has protein, which when consumed after exercise, supports muscle protein synthesis and growth*, but it also tastes SO good. Anyone else as addicted to Recover as me?
*High in Protein. Protein contributes to the maintenance of muscle mass
---
Week 8
Success Story
Working from home was a bummer for Amanda. She felt isolated and turned to food for comfort. However, once she combined Beachbody fitness programmes with Beachbody Performance supplements, she became fitter and healthier than she had ever been in her entire life!
"Now that I know what I can achieve, my goals are constantly changing. I don't put limits on what I can do. My family is blown away by my results—they want to hop on the bandwagon with me!"
Amanda G. is an independent Beachbody Coach. Results vary based on effort and following Beachbody's healthy eating plan.
Shakeology
Confession: I have trouble getting all my veggies in during the day. Did you know that Shakeology has a super-green/phytonutrient ingredients like moringa, chlorella, spinach, kale and matcha? Sometimes when I want extra boost of greens, I toss in some fresh vegetables. With Shakeology's delicious taste, can help me get in my 5 A Day! https://www.nhs.uk/Livewell/5ADAY/Pages/5ADAYhome.aspx
Beachbody Performance
A lot of supplements out there contain tons of artificial crap or "fillers." That's why I'm really happy that Beachbody focused on using healthier ingredients for their line of Beachbody Performance supplements. With ingredients like beta-alanine, pomegranate extract, and green tea, I can take my workouts to the next level without having to worry about sketchy ingredients.
If you've done other Beachbody workouts before, how do your results compare this time around using Beachbody Performance?
All products, configurations, and flavors may not be available in your market.
Nutrition
Love oatmeal for breakfast, but don't have time to make it every day? Try making a huge batch of these delicious, filling Oatmeal Cups at the beginning of the week: https://tbbcoa.ch/20hg0uF
Nutrition
Anyone else a big late-night snacker? I found this article the other day—it has great advice for staving off those PM cravings! https://tbbcoa.ch/1XoinfZ
---
Week 9
Success Story
Even though Allison is a nutritionist, she found it hard to maintain good eating habits. When she found Beachbody, she was convinced that she had finally found the solution to better health—and she was right! So far she's lost 35 pounds!*
"I plan on wearing a bikini and buying new shorts this summer. I am so proud of the body I have worked for!"
*Allison F. is an independent Beachbody Coach. Results vary based on effort and following Beachbody's healthy eating plan.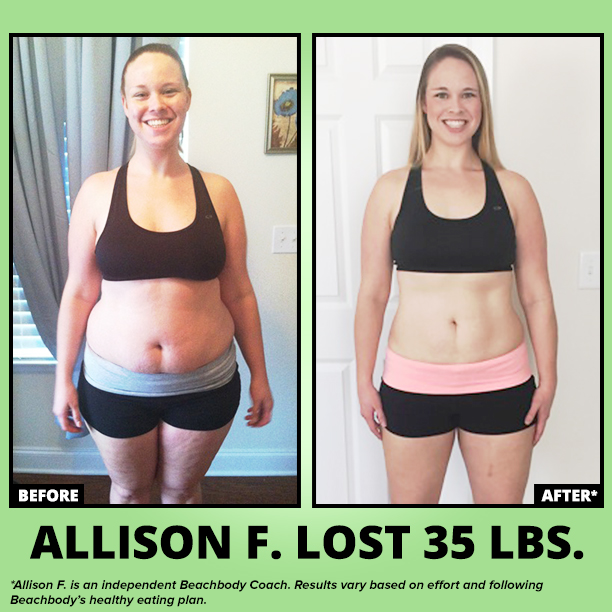 Nutrition
I don't know about you, but I can't live without mac and cheese. And lucky for me, the nutrition experts at Beachbody came up with this incredible recipe. It has less than 300 calories per serving and 15 grams of protein, so it won't wreck your diet. And if you have kids, they'll absolutely love it too! Save this one…it's guaranteed to become a household favourite! https://tbbcoa.ch/240Chhm
Beachbody On Demand / Fitness
Ever consider cross-training with yoga from our Beachbody Yoga Studio to improve strength and flexibility? Available only on Beachbody On Demand, this collection of yoga workouts features classes with Beachbody Super Trainers and Yoga Experts. Classes range from 6- to 10-minute specialty workshops to 60-minute flows—a wide selection allowing you to find the right class, no matter where you are on your fitness journey.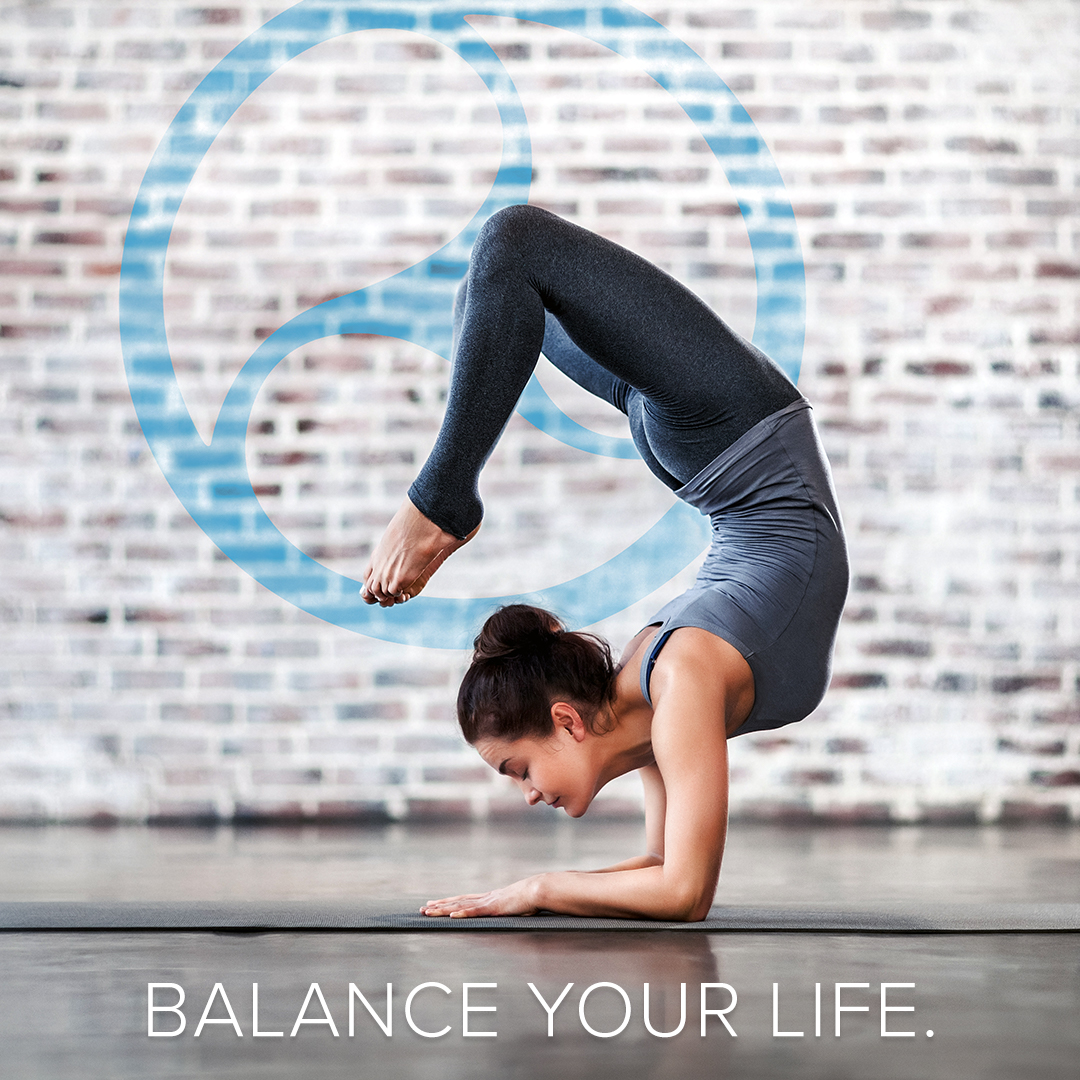 Shakeology
Now that you've made Shakeology part of your daily routine now for a bit, what is your absolute favourite "go-to" shake? When do you drink your shakes? What is your favourite flavour? I want to know your top Shakeology "must-haves" so I can try them out this week!
Beachbody Performance
Beachbody Performance is a performance-enhancing supplement system specifically designed to meet the demands of Beachbody's world-class workouts. Now, you don't have to let anything hold you back from getting the results you want! Beachbody Performance helps you get the most out of your fitness programme. The key ingredients in Beachbody Performance products can help you push yourself harder so you can get the most out of your workouts. Let me know if you have any questions about the products—I'd be happy to answer them!
Fitness
Eating clean and hitting your workouts these last few weeks are important to seeing your best results. The last thing you want is to be so sore from exercise that you skip a day or two of working out. If you're feeling super-tight, especially in your legs, I recommend foam-rolling. Here a few tips to keep in mind when breaking out the roller:
Don't try to foam-roll EVERY muscle. Look for places in your body that are restricting movement.
Roll slowly—it's not about speed.
When you find "hot spots," stay on them.
If you want to learn more about this recovery strategy, check out this article: https://tbbcoa.ch/1SZWsdt
Motivation / Nutrition
Setting goals and committing to them 100% is key if you want to improve your health and fitness. But we all have moments of weakness—like going overboard with food at a family get-together.
One of the things that helps me is preparing for "what-if" situations. Before my week begins, I'll ask myself if there are any challenges that might interfere with my daily goals. For example, if I know I'm going out for a friend's birthday, I'll make sure I prioritise my workout and eat really clean in the days leading up to that. That way, if I indulge a little, it won't sabotage my results.
How do you prepare for the unexpected?
---
Week 10
---
Week 11
Nutrition
Whether you're hosting a big game or you need a quick and easy dish to bring to a potluck, this healthier version of a 7-layer dip is a great option. Instead of the usual suspects of sour cream and refried beans, this one relies on extra veggies, nonfat refried beans, and yogurt. Try it out and tell me what you think! https://tbbcoa.ch/1s5bqEV
Success Story
Jerry is proof you don't need to be a serious athlete to use Beachbody Performance supplements and Beachbody fitness programmes—you just have to be serious about getting results. Before he began his journey, he was a single father who couldn't do many activities with his daughter. After two health scares, he turned to Beachbody Performance and committed to daily Beachbody workouts and eating clean.
"Now I'm doing 5K runs, and I've even completed a 5K Warrior Dash! But my biggest accomplishment is that I am out playing with my daughter on a daily basis. I help coach her basketball team, softball team, and soccer team.
Jerry G. is an independent Beachbody Coach. Results vary based on effort and following Beachbody's healthy eating plan.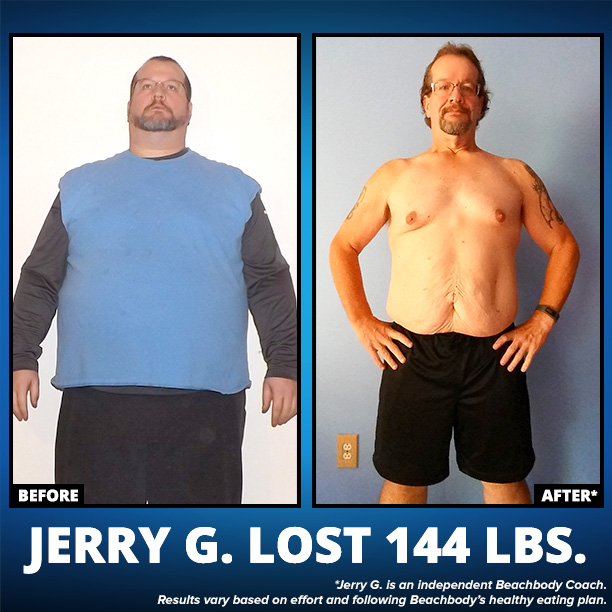 Nutrition
When it comes to nutrition, sometimes the struggle is real. It always seems like someone's bringing donuts around the office or there's a family event that's focused on food—and not the healthy kind.
Well, guess what? Those are just EXCUSES. Eating healthy is never going to be "convenient." You have to make it a priority! And when you finally reach your goal, you'll realise that turning down that cookie, the wine—the whatever—was worth it!
Shakeology
Now that you've made Shakeology part of your daily routine now for a bit, what is your absolute favourite "go-to" shake? When do you drink your shakes? What is your favourite flavour? I want to know your top Shakeology "must-haves" so I can try them out this week!
Beachbody Performance
You're almost at the end! And if you're like me, you're really able to tell what a difference Beachbody Performance Energize and Recover have made to your energy while working out and in your recovery process. I've been telling you about all the great benefits of these two products, but if you want to get even more great tips on how to supplement your workouts, check out the Beachbody On Demand blog: https://www.beachbodyondemand.com/blog/
Fitness
Sometimes you stumble across someone or something that tells you EXACTLY what you need to hear to help you stay inspired and committed. Well, this article from Beachbody Nutrition Expert, Denis Faye, did just that for me.
After being consistently "mediocre" (his words, not mine!), he describes what it felt like to win for the first time in his sport of choice—and provides some awesome tips to motivate you to live the fit life long after this challenge is over: https://tbbcoa.ch/22mcMb7
---
Week 12
Motivation / Success Story
In our final week, I thought I'd start off with my own story. [Insert YOUR Success Story and describe why you decided to become a Coach. Explain your process, fitness programmes, healthy eating, and your Beachbody nutrition products of choice.]
Motivation
We're pretty close to wrapping up our Challenge Group—how excited are you? Over the past few weeks, I've seen you conquer your doubts and rise to numerous challenges. It's been so inspiring and I'm glad to have been a part of it.
You might be wondering if you can help others experience the same sense of empowerment. If you've ever thought about supporting others in their fitness journey, message me!
Beachbody On Demand / Fitness
Now that we're nearing the end of our challenge, have you thought about what you'll do next? Exercising and eating right doesn't end with this challenge—they should be a part of your everyday life.
The great news is you have a ton of options to maintain a healthier self or continue to get results. You can redo the programme and maybe bump up to the next eating plan to build more lean muscle. Or you can use the instant sorting feature on the Beachbody On Demand site to explore and find something totally different. Simply use the filters to bring up workouts that meet criteria according to Workout Level, Time, Type, or Trainer. Once you find another programme, you can even try a "hybrid" version of your original programme—combining the two to challenge your fitness in a brand-new way.
Whatever you decide, I'm here to help you along the way! And with hundreds of workouts and plenty of nutrition resources, Beachbody On Demand makes it so convenient to take that next step forward.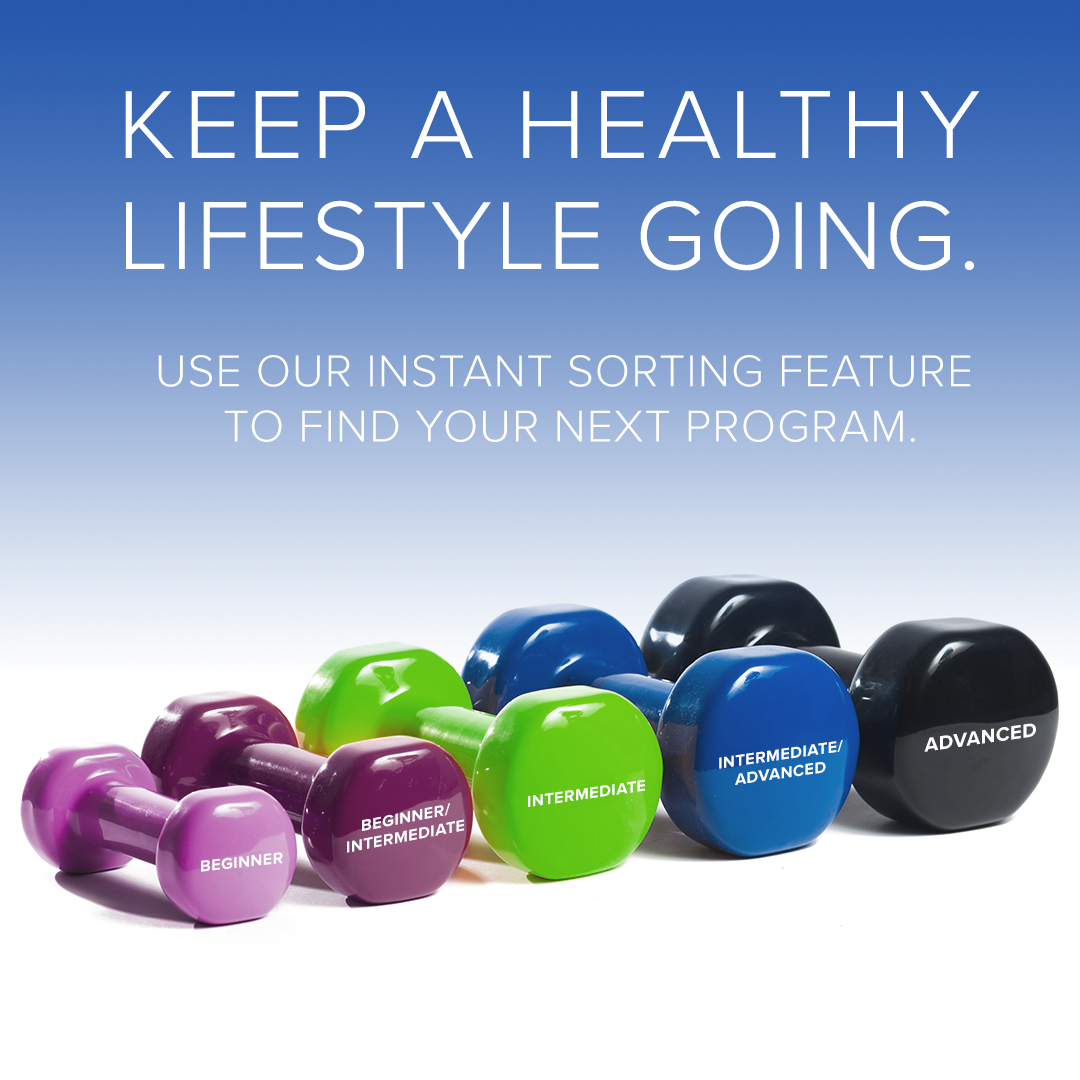 Nutrition
Don't quit now—staying on point with your workouts and your nutrition is going to pay off BIG-TIME in just a few days.
So until we finish our challenge, I'd like for you guys to keep a daily log of what you're eating. This will help you stay on track—and hopefully prevent you from grabbing one too many spoonfuls of almond butter during these last couple of days. 😉
Shakeology
Now that we're almost at the end of the challenge, hopefully you've developed a bunch of new habits that will help you continue living a healthier life.
Drinking Shakeology is one of the habits I've stuck with since I completed my first-ever Beachbody programme. I've been drinking the stuff over the last [insert length of time you've been drinking Shakeology], and I really believe it's what's helped me stay consistent. I hope that it's made as much of a difference for you as it has for me on my journey.
Beachbody Performance
Now that we're almost at the end of the challenge, hopefully you've developed a bunch of new habits that will help you continue living a healthier life.
Taking my Beachbody Performance supplements is one of the habits I've stuck with since I completed my first-ever Beachbody programme. I've been taking the stuff over the last [insert length of time you've used Performance], and I really believe it's made a difference in the quality of my workouts. I hope that it's helped you as much as it's helped me on my journey.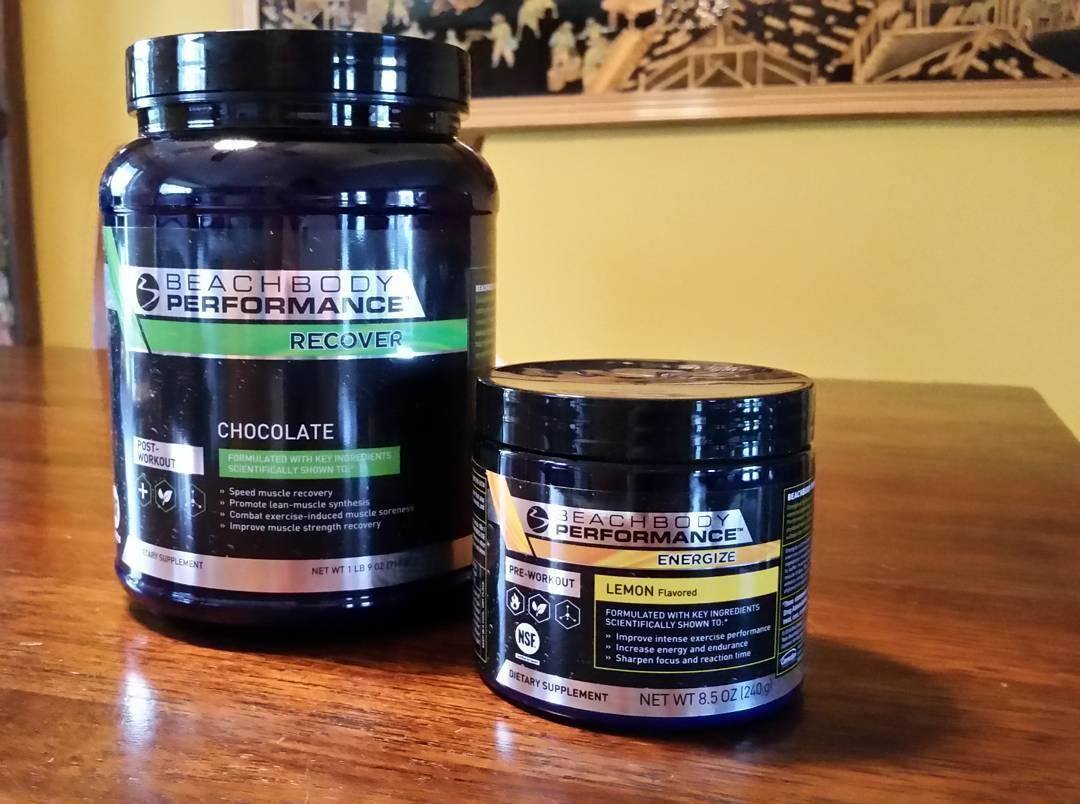 Check-In / Motivation
You've got one day left in your challenge and I'm curious…has it positively impacted your life? What changed? And what's next? Don't forget, this is NOT the end. Make those healthy habits we talked about a daily commitment and you'll continue to become the very best version of yourself!
Motivation
CONGRATULATIONS! YOU MADE IT! You successfully completed our challenge. What an incredible accomplishment!
Remember to take your "after" photos, weight, and measurements, so you can compare your results to where you started [insert number of weeks] weeks ago. Also, if you want a free gift from Beachbody, submit your story and results to the Beachbody Challenge at https://app.smartsheet.com/b/form?EQBCT=8e3d37deba834e52a6e2757c692f0c3b.
Does anyone have any results or photos they want to share? Post them now!
---