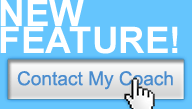 Very soon we're going to make it easier than ever for your customers to contact you. That means better relationships with your customers, more communication and hopefully, more business! We will be adding a new easy to use (and see) button called 'Contact My Coach' to the Team Beachbody home page. As Shaun T would say, "Oh shiznizzy!"
So, how did it work before?
Currently, the process for customers isn't easy. In order to contact their Coaches, customers must login to Team Beachbody, go to the Connect button then to the My Coach button and then send a message contact them. The message is then sent to the TBB inbox of the Coach, who must also login to respond.
How is Contact My Coach going to work?
We're adding the new Contact My Coach button to the top left of the TBB home page. It will allow all customers, whether they're old or new, to send a message to their Coach in a single click. This "one-click contact" will remove old barriers, allowing you and your customers to focus on what matters—achieving goals and living healthy and fulfilling lives.
"This update is a huge step forward in our commitment to connecting customers with their Coaches. We know that our customers who connect and develop a relationship with their Coach are more likely to get the best results."  says Senior Vice President of Team Beachbody Michael Neimand.
By placing the Coaches front and center, we believe more customers will connect with them, more lives will be changed and we'll be that much closer to ending the trend of obesity.
What options will my customer have when using the new button?
Next to the Contact My Coach button will be a small thumbnail of your profile picture – so get those glamour shots ready! Once your customer hovers their cursor over the button, a message will appear providing important details and explaining what a coach is. Among the things described, customers will be reminded of the following:
Access to their Coach is included FREE with their membership
Their Coach started as a customer, just like them, and can partner online or over the phone to provide the extra support they need to succeed.
The customer will then be given five message templates to choose from and an option to add their own additional note. The message will go directly to your personal email address registered with Team Beachbody and not your TBB inbox.
How does this benefit you?
It puts YOU in the center of things! We're integrating the idea of having a Coach into the user experience so that your customers will immediately realize they have access to you, their most valuable resource.
Customer messages going straight to your personal email will make it easier for you to manage your contacts and will give you greater freedom to respond. Whether you're checking your phone while sipping Shakeology on the beach or away at Coach Summit, you'll be able to interact with your customers in a way that wasn't possible before.
Of course, please be sure to respond! Making it easier for customers to contact you won't help if you don't get back to them.  Make it a priority to connect with those customers.
Finally, if a customer has specific questions about changing account info, payment info, etc. simply refer them to Customer Service as you normally would for help.
Bottom line – get pumped! This technological advancement is bringing you and your customer together in a new, strategic and dynamic way. Get ready to see your lead commissions skyrocket!
Continue the leads conversation on the TBB Lead-ucation Facebook page: https://www.facebook.com/TBBLeaducation