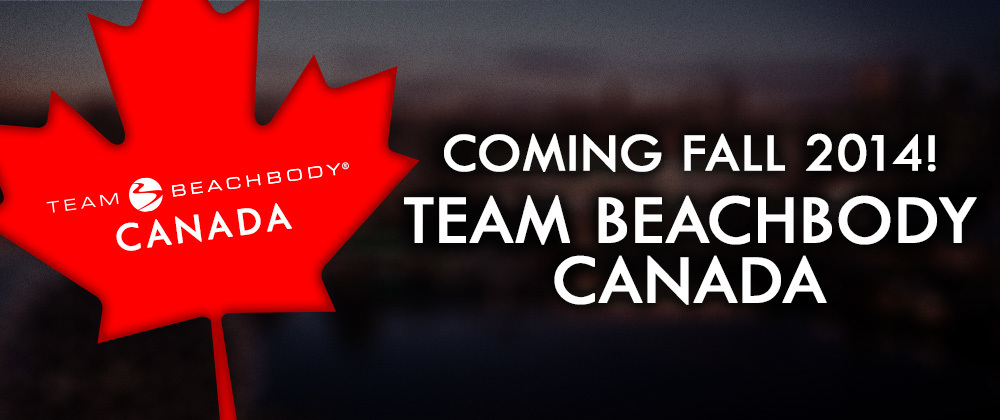 The latest chapter in Beachbody®'s storied history is about to be written.
This August, we're proudly making the leap into the home of hockey, the maple leaf, and Niagra Falls—Canada. And our highly anticipated global expansion equals golden opportunities for you and your Team.
In other words, you have the chance to be part of something BIG!
Why is Team Beachbody venturing north? What does this historic moment mean for your business? How can you best prepare? Read on as we tackle these burning questions and give you a crash course on our Canada takeover.
Going global
Excitement is everywhere as Coaches can now take advantage of Beachbody's first step into being a truly global company.
"This is a new market that still remains very much untapped," says Senior Director, Regional Sales, Arnauld Nakaha. "It's a great time to grow our foundation of U.S. Coaches, but also expand into a new territory with unlimited potential for growth."
Arnauld touches on the reason why Canada was on Beachbody's international radar. "We already have a retail and small infomercial presence there and Canadians love our brands," he explains. "And outside of being geographically close, we also share a common bond: the fight against obesity."
Our Coaches up north
This important launch means big things for Coaches everywhere, but there's one group that will be impacted the most: our Coach base living in Canada who have been participating in our U.S Coach opportunity.
5 Star Diamond, Miguel Carrasco, who lives in Manitoba, describes what the launch means to our neighbors from the north. "It's a statement that Canada has arrived!" he says with obvious pride. "I've been trying to grow a strong Team of leaders to get ready for the launch. Now it's time to get out there and get serious!"
---
Here's a snapshot of the changes our Coaches in Canada can expect to see:
Canadian Coaches will have access to their own shopping cart
Pricing will now be in Canadian dollars
Canadian Coaches can receive EFT
Increasing support will be given to our French Coaches
More training events will be held as cities and markets grow
---
Miguel sums up the enormous benefits for our Canadian Coaches. "Having key events take place in Canada is fantastic because it will attract so many people and teach them what Beachbody is all about," he says. "And direct deposit will allow Coaches to take the business more seriously as a sole source of income."
Prepare for the possibilities
When contemplating how you will prepare for the launch, first think about the math.
Canada is home to almost 35 million people. (That's a little less than the population of California, but much more spread out). That's a huge number of new people to help get healthy and fit.
Miguel provides some specific ways you can prepare for the launch. "First, find Coaches in Canada that are willing to be pioneers and willing to help lay the foundation," he says. "Then learn more about the Canadian culture, how they think, as well as the obesity trend in Canada."
Miguel goes on, "You need to get fully engaged now so you can take advantage of this incredible opportunity. You need to be ready to grow as the country grows."
Arnauld chimes in with more solid advice. "Continue to set goals, run Challenge Groups, and spread the message of health and fitness," he says. "The launch will help you expedite those results if you've built a strong Team to go to market with."
Questions, anyone?
If you have questions about the Canada launch, have no fear. Communications will be sent out in advance and helpful FAQs will also be available. And, as always, your trusted Coach Relations team will be ready to assist you as well.
So open up your mind up to the myriad of new opportunities the Canada launch will bring. After all, when the Beachbody world gets bigger—so does your business!