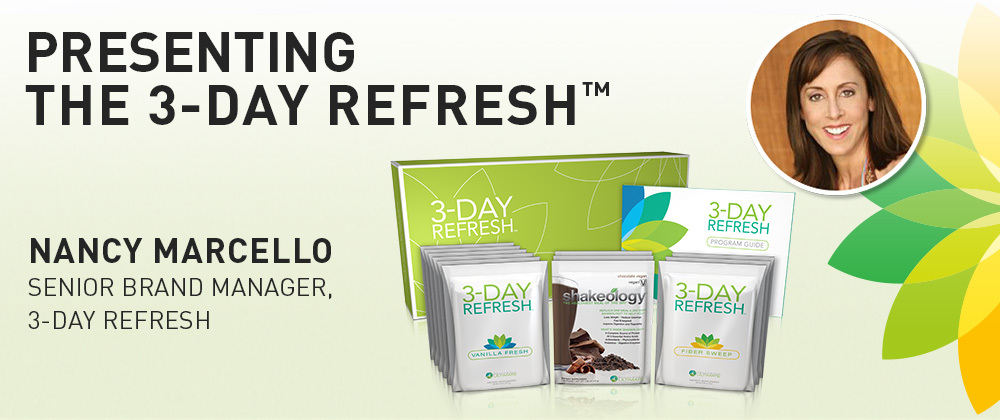 The 3-Day Refresh™ has officially arrived! But now what? Nancy Marcello, Senior Brand Manager, 3-Day Refresh, has the skinny on all aspects of the newest addition to the Beachbody family. Facts. Feedback. Fresh opportunities. Nancy's got all the delicious details and then some. So read on, Leaders—and get ready to rock the Refresh! 
Q. Tell us about the new 3-Day Refresh™, Nancy…
A. It's a simple, low-calorie, clean eating program consisting of Shakeology® for breakfast, two high-protein shakes at lunch, and a selection of fresh fruit, vegetables, and a digestive drink for dinner. But unlike liquid fasts that can be high in sugar and calories, the 3-Day Refresh is loaded with protein, fiber and real food you can chew! It's the perfect solution to lose a few pounds, get a break from bad nutrition habits and immediately feel lighter and healthier—without starving.
Q. Why did you develop this product?
A. The program was originally conceived by Isabelle Daikeler. She and Carl were discussing the success Coaches were having doing a three-day cleanse using Shakeology. Because Shakeology wasn't intended to be used for this purpose, she dreamed up a more targeted solution to deliver quick weight loss, along with a detoxifying cleanse effect. And together with the Beachbody R&D team, she created this simple, yet very effective program. 
Q. Who is the ideal customer for 3-Day Refresh?
A. Anyone seeking quick weight loss in a short time. It's ideally suited for those who have 'fallen off the wagon' with their eating, and for people seeking to undo the damage of a recent binge. The 3-Day Refresh is also for people looking to kick start clean eating habits, or those wanting to look and feel good for a big event, milestone or trip. We envision this as a program people will want to do as often as once a month.
Q. What types of results are you seeing?
A.  We saw incredible results from the three test groups we ran earlier this year. Weight loss varied from between 1 to 9 pounds with the average being around 3 pounds. Other common benefits included improved digestion, reduced cravings for junk food, feeling lighter, and improved sleep, mood, and mental clarity.
Here are a few quotes:
"In 3 days I lost 5.4 pounds, 2.5 inches off my waist, and an inch off my hips."
— Jennifer C.
"I lost a couple of inches around my waist. My energy skyrocketed. I slept better. WOW!"
— Michael B.
"After just having a baby, losing 2.5 inches off my waist is a miracle!"
— Leah G.
"The 3-Day Refresh is a plateau buster. I can't believe the changes that occurred in just 3 days."
— Nicholas W.
Our CAB members also had an opportunity to test drive the 3-Day Refresh last month. They agreed that it's a tremendous business-building opportunity and the perfect door opener to Shakeology for new customers!
Here are some of their comments:
"The 3-Day Refresh gets peoples' heads in the game and gets them quick results right from the start!  Not to mention, it's great for people who aren't willing to buy a whole bag of Shakeology. I loved it and can definitely see myself using it quarterly and before events!"
— Lindsay Matway
"I felt lighter (flatter tummy after) and lost almost 3 pounds. I think this will be great for business, and will drive volume."
—Julie Schulte
"Yup, it works! I lost a total of 6.4 pounds with this awesome product. It was easy to follow, yummy, and effective. Perfect for a quick "dial in" after a holiday splurge or as a start up into a program or nutrition plan. Kudos!"
—Bob Lucido

Q. What are the most important things for our Leaders to know about this product?
A. The complete kit is only $69.95. That includes three packets of Shakeology (any flavor), three packets of Fiber Sweep, six packets of Vanilla Fresh, and one Program Guide.
The kit without Shakeology is $59.95. This version is designed for the many customers who already have Shakeology at home. It includes three packets of Fiber Sweep, six packets of Vanilla Fresh and one Program Guide. (The Kit without Shakeology is also available as a 30 or 90-day HD auto shipment.)
Challenge Pack Promo: We will offer the Challenge Pack for a $140 promo price from June 23rd—July 31st (normal price $160). The Challenge Pack includes the Kit without Shakeology with a full-sized Shakeology (choice of flavors). This is a $70 value vs. buying each product separately!
Q. How does the 3-Day Refresh differ from the 21-Day Ultimate Reset®?
A. The 3-Day Refresh is more of a 'quick fix' and a jumpstart to weight loss and healthy eating habits. On the other hand, the Ultimate Reset is a long-term, holistic, detoxifying cleanse aimed to restore your body to improved overall health.
Q. Can you do the 3-Day Refresh and workout at the same time?
A. Absolutely. However, because this is a low-calorie program, we recommend that if you're going to work out, you choose mild to moderate exercise. You know your body best so it's up to you.
Q. How will the 3-Day Refresh help Coaches grow their business?
A. Lots of ways! First, a three-day challenge is an easy way to get people to try a Beachbody product. By getting quick results, customers will gain confidence in you and be open to longer challenges. Second, it's a great way to introduce someone to Shakeology. And after the 3-Day Refresh, you can talk to your customers about maintaining results by drinking Shakeology on a daily basis. It's a win-win for everyone!