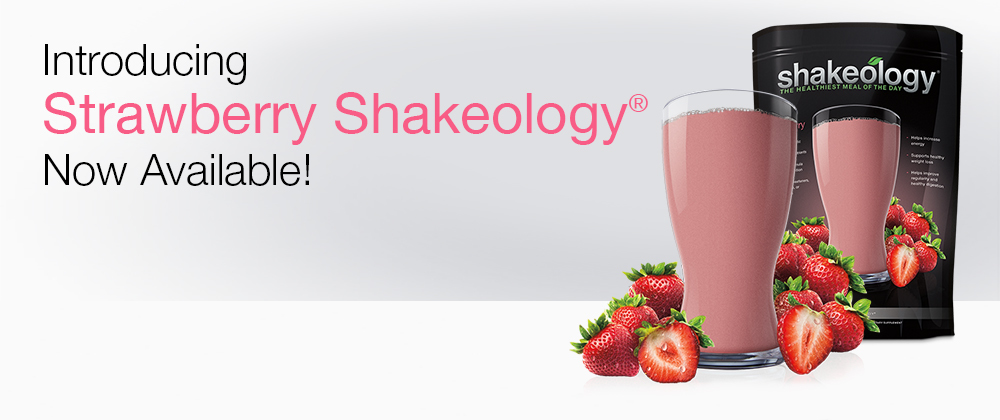 What could Shakeology® do to add to its already incredible legacy? How about a sinfully delicious, new Strawberry flavor that's sure to delight your senses. Learn the story behind the flavor, all the awesome health benefits, and why pitching it to your customers will be as smooth as the shake itself! Get all the sweet details!
Ready for your biggest crush this Valentine's Day? Meet the absolutely irresistible, new Strawberry Shakeology®!
Yes, the newest addition to the prestigious Shakeology family is already a smashing success. It's delicious. It's nutritious. And dare we say; it might just become your new soul-mate shake.
VP of Shakeology, Carolina Gutnisky, gives us a little background on the birth of the new Strawberry flavor. "Ever since the launch of Tropical Strawberry, it was our intention to provide a whey-based strawberry option," she explains.
"Coaches and Customers loved the refreshing taste of Tropical Strawberry, but wanted a creamier and smoother strawberry flavor."
In other words, you asked for it, we made it, and the rest is Shakeology history.
There's something about Strawberry
So what exactly is the difference between Tropical Strawberry and the new Strawberry flavor, you ask? While Tropical Strawberry Shakeology is vegan and a blend of several fruit and berry flavors, the new Strawberry flavor is whey protein based (non vegan) and, well—all about the strawberries.
No other fruit flavors added. Just sweet, delicious, oh-so-satisfying strawberries. And if you want to talk texture, this shake is one smooth operator. So essentially, you're getting a sweet-tasting shake that's also incredibly smooth and creamy. Not a bad combination, folks.
Savor the new light flavor. Refreshing. Fruity. Delicious. Word on the street says the new Strawberry Shakeology is a slam-dunk winner in the all-important flavor department. Bursting with mouthwatering and succulent strawberries, how could it be anything less than awesome? "I'm a big chocoholic and have been drinking Chocolate Shakeology for 5 years, but strawberry has become my go-to breakfast now," says Carolina. "It just makes me happy. Hard to explain, but it really does!"
Here's a few quotes from some of our Strawberry panelists:
"Impressed with this flavor. Very sweet tasting. Really tastes like a strawberry milkshake!"
"It is amazing! NO CHALKY Aftertaste! I absolutely love it!"
"I absolutely loved it! Perfect texture and flavor! Goes down easy and smooth."
After all this love and attention, it's clear Strawberry deserves to have somewhat of an ego. But how does it stack up health-wise? 
Delicious for your body, too.
Sure, Strawberry is outrageously delicious, but let's not forget about all the goodness it gives to your body.
First, Strawberry has the same protein blend and nutrient profile as Chocolate, Vanilla, and Greenberry. What's more, it still contains over 70 healthy ingredients, including many nutrient-dense  superfoods from around the world.
So with either Chocolate, Vanilla, Greenberry, or Strawberry you're getting almost all the same levels of superfoods, vitamins and minerals—not to mention your daily dose of dense nutrition! Bottom line? It's still the healthiest shake in the nutritional galaxy. By a landslide.
Think inside the box
For those of you who prefer not to be monogamous with just one Shakeology flavor, here's a little something just for you: the awesome, new Triple Combo Box featuring Strawberry Shakeology. Think of it like the Neopolitan ice cream box of 3 flavors—only about a thousand times better for you!
No reason to say goodbye to your current favorite flavor. Just mix it up. On a daily basis. And as far as creative recipes go, you can't get much better. Check out some great recipe options here and visit //www.shakeology.com/shake-recipes for even more!
Sweet opportunities for your business
One of the biggest reasons to be excited about the new strawberry flavor? The opportunities it will bring to your business! With strawberry on the scene, you'll have prospects everywhere you turn. After all, strawberry is often the most popular flavor right behind chocolate and vanilla.
If your customers are tired of drinking one flavor every day for the month? The Triple Combo Box will give you an instant way to overcome objections. Variety anyone? The Triple Combo Box contains 24 single-serving packets. (That's eight packets each of Chocolate, Vanilla, and Strawberry for those of you keeping score at home). Customers and prospects can sample to their heart's content and make a different shake every day.
So get your Strawberry swagger on, and help make the new flavor a certified success!
For more information on Strawberry visit: www.shakeology.com and FAQ 9653 in the Coach Online Office. And for even more tools to help you share Strawberry with your Coaches and customers make sure to check out the three new eCards in the 'Featured' eCard section of the Coach Online Office.