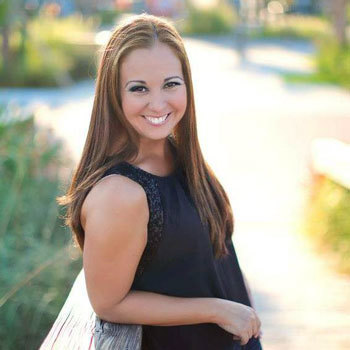 When Lindsey Catarino's Army Ranger husband first enlisted, she knew she had to find a way to earn some extra money—even though she already had a powerhouse position working full time at a local university.
"When my husband joined the military, our income dropped significantly, so I thought, 'let's see if I can replace it'."
Luckily, Lindsey had already been pushing play with P90X to get fit for her wedding in Maui. When friends started asking how she had become such a buff bride, she couldn't stop talking about P90X.
"People would stop me in the mall or on my way to work and say—'You're the P90X Queen'—because that's what I talked about."
That's when it hit her. Coaching could be the answer to her problems. "I remember my husband and I thinking, 'well, an extra $200 a month would be great'."
Discover Your Why.
But like most new Coaches, fear initially got in Lindsey's way. She had an MBA. She had a demanding, high profile job she knew how to do. She was super-organized, so she figured she would find the time.
But actually selling to people she didn't know? That was terrifying.
It took a few months until she realized, "it's really just carrying the product and being a huge advocate of the workouts." She wasn't "selling"—she was helping people reach their fitness goals.
"People want a real person who has real struggles and is willing to share their journey. Just talk about it, share it, love it and you'll find people are drawn to you."
That realization helped her uncover her Why, and has become her great advice for new Coaches: "Just start. Try it. Do something. I did P90X. I got it. I loved it. So I talked about it. That's the key. Just share something you're comfortable with—something you're fired up about."
Adapt. Improvise. Overcome. (And sell like hell!)
At first, Lindsey was pretty much on her own. She wasn't part of a big, powerhouse Team. Didn't have a network of contacts she could ask for guidance. She didn't even have anyone she could eat with at Summit.
But she had a mission, and a burning determination to succeed.
"I just started training programs and Challenge Groups and all these things on my own…just hoping I was steering the ship correctly."
And she started connecting with other newbies. "The best thing I did when I did my first Challenge Group was get a partner. She's actually one of my Diamond Coaches today, but we joined about three weeks apart, and we didn't really know what we were doing."
The key for Lindsey was 'doing something', even without having all the right answers. She started a Challenge Group and things began to fall into place.
The Importance of New Coaches
Over time, Lindsey finds herself building more and more Challenge Groups. Spreading the word about Team Beachbody and it's mission is key to growing her business and supporting her Why – helping others.
"We get 30, 40, 50 Coaches and they start 'friending' each other on Facebook and before you know it, they're cheering each other on." And before she knows it, there's a new wave ready to join, and then another. And another.
Never Lose the Personal Touch.
Even as her group grows rapidly, Lindsey always makes time for the personal touch. She sends Monday morning motivational tips. She emails, tweets, texts and reaches out on Facebook. On Fridays, she sends a favorite healthy recipe from her own kitchen.
And she uses hardcore business tools—many that she's created—to keep her team completely on mission. "My team members striving for Diamond actually send me their Business Activity Tracker with real names listed. It keeps them honest because it's one thing to simply check it off, another one entirely to provide a name."
"With Coach prospects, I'll keep a running list of everyone they are chatting with, and role play with them and their downline."
That personal touch leads to referrals that then lead to other referrals. "If you really want to build a business, referrals are the key. I have a Challenger right now who brought in four Challengers with her… it's like this girl got her sister and then her sister got her co-worker and then the co-worker got her mom."
That's just one of the reasons Lindsey has sold 114 Challenge Packs and growing. And, to come full circle, it's one of the reasons Lindsey and her husband have found the financial freedom they always wanted.
Make Big Goals and Reach Them!
With her first year under her belt, Lindsey couldn't be more satisfied with her success. She's happier and healthier than ever before. She's building a network of Coaches who look to her for inspiration and ideas.
And she's seeing paychecks larger than she ever imagined. She and her husband don't have credit card debt. They're proud that he can be in the military without cutting into their income.
They see the possibility of truly achieving financial freedom. Or, as Lindsey says, "My husband and I see big things in the future. All the money I'm making from my Coaching… I kind of consider it to be my retirement plan. And I plan to retire a lot earlier than most people."
Coach's Playbook:
Don't "sell"—inspire. Ask questions, and listen carefully. Everyone has a Why. Your job is to find it, then show how you can solve it.
Don't wait. Dive right in. Don't have a lot of contacts? Make them. Don't understand Facebook? Learn it. Need a bigger network? Grow your own.
Always ask for referrals. People will come to see you as a problem-solver, someone who cares enough to help them… and their friends. Your reputation will grow and your business will explode!
Spread your Why. Share your journey. People trust someone who is real, open and honest. When you share your journey, you'll be surprised how many others want to tag along.
Add that Personal Touch. Never forget where you were when you started. Always remember to reach out to your Team and your new Coaches and help them grow. Helping others with their business will help yours in the end.