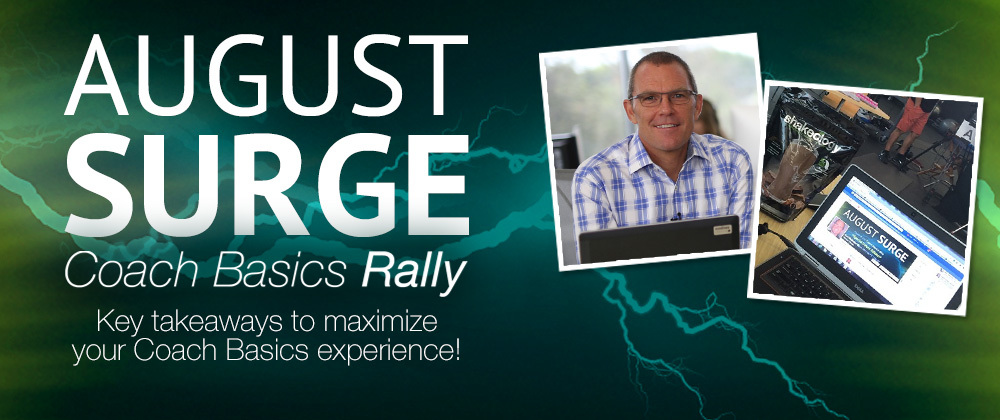 Our LIVE Surge events offer invaluable tips for any Coach—at any level.
But August boasted a brand new Surge—in a brand new format. This two-hour event featuring CEO, Carl Daikeler, and top Coaches, kicked off the largest Coach Basics Group in Team Beachbody® history—the Coach Basics Blitz!
The goal: To rally over 10,000 new Coaches to enroll in a Coach Basics Group.
The Ultimate Foundation
Coach Basics is a 60-day, online training program that helps you build a solid foundation for your business, while focusing on the 3 Vital Behaviors of a successful Coach.
Daily messaging. Support. Accountability. It's all in your own private Facebook group set up by your Coach Basics Group leader. That means that while you're learning the ropes, you have the opportunity to interact with other Coaches and ask questions.
Why is Coach Basics so vital for new Coaches? The August Surge had the answers.
Get out of the gate—fast!
LeeAnne Ruff, Sr. Manager, Training & Field Development, explains why it works.
"Trying to learn on your own can be overwhelming," she says. "Coach Basics helps new Coaches achieve their goals and builds confidence quickly. It also teaches the skills needed to start making money right away, earn Success Starter, and rank advance to Emerald."
LeeAnne adds, "Just like a fitness program, if you do the actions each and every day, you can't help but succeed."
And the numbers don't lie:
Over 78% of new Coaches have earned $100 their first month in the program
48% have earned Success Starter status
64% have rank advanced to Emerald
Commit to the Blitz
The Coach Basics Blitz has LeeAnne—and just about everyone else—fired up.
"It's letting Coaches know we have an award-winning program that delivers great results," she says. "We know that the more Coaches we can get engaged in the training, the more successful they will be in achieving their goals."
And LeeAnne has a tip for our leaders to keep Coaches inspired during the program. "Keep Coaches connected to their 'Why.' That alone will help them feel connected and engaged for the length of the training."
As seen on the Surge
Carl asked seven of our top-performing Coaches what it takes to get the most out of Coach Basics training. Here are some of their expert tips:
Trina Gray, Superstar Diamond
Get started with the right mindset. Manage your time wisely and make sure to create a schedule on your calendar.
Barbie Decker, 11 Star Diamond
Shoot for early wins that give you the momentum to keep going. Hitting Success Club and becoming a Success Starter is huge.
Kristina Delgado, 11 Star Diamond
Focus on your first seven days to get off to a great start. You can't jump to 4th grade if you skip learning to read in kindergarten.
Julie Voris, 9 Star Diamond
Have an accountability partner to keep you motivated and remember to make Zoom calls a top priority.
Miguel Carrasco, 6 Star Diamond
Fit Personal Development into your routine. Doing daily reading or listening to an audio CD will help you build confidence.     
Brigitte Linford, Superstar Diamond
Tracking is important because it allows you to celebrate successes and see where the challenges lie. It also helps match activities to your goals.
Lindsay Matway, Top Coach and Superstar Diamond II
Go ALL IN! Have a vision for who you want to become and ask the question, "Why not you?"
Coach Basics is a training program for everyone
If you're a new Coach, make sure to reach out to your Sponsor or Upline Coach and find out how to get in a Coach Basics group. You won't find a better way to accelerate your success.
If you're a leader, invite your new Coaches to your own Coach Basics Training. You'll be arming them with the competitive edge they need to hit the ground running.
With Coach Basics, everyone wins!
Find out more about Coach Basics training.
Check CBN for weekly trainings, documents and content to help you power through the Coach Basics Blitz.