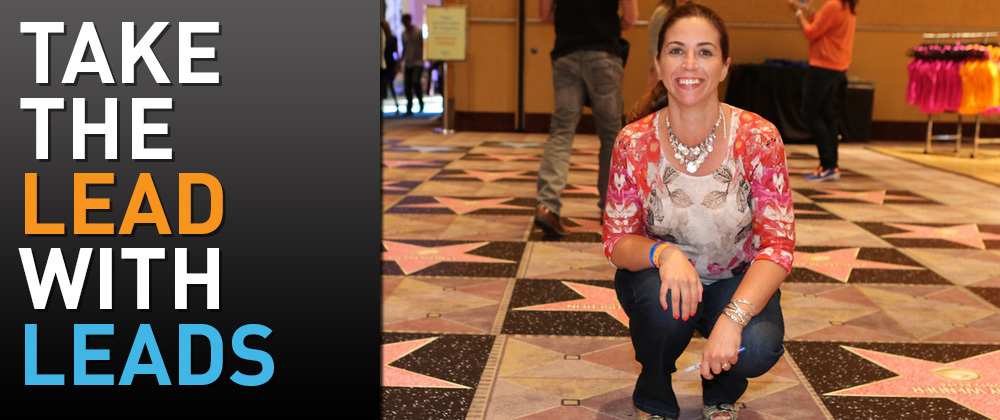 When it comes to converting customer leads, don't give up—follow up! Discover how 10 Star Diamond Coach, Nicole Jones's determination and persistence has allowed her to turn Beachbody's Customer Lead Program into a profitable, business-building tool.
In 2013 alone, Beachbody assigned over 800,000 leads to qualified Coaches—tens of thousands of whom went on to purchase Shakeology and additional products from their Coaches.
Pretty impressive numbers.
But while Beachbody's lead program has a host of amazing benefits, it takes tenacity and strong follow-through skills to reap the rewards. One Coach who is doing just that? 10-Star Diamond Coach, Nicole Jones.
With a little work and a lot of persistence, Nicole has proven that leads can be a huge business generator.
---
How has the Customer Lead Program helped you with your business, Nicole?
Converting leads has played a big role in growing my business. It's given me practice in getting out there and talking to strangers. And it's given me confidence to help complete strangers take their fitness to the next level.
After 4 years in the business, I make between $400-600 from my leads every week. Needless to say, it pays (literally!) to put in the time and persistence.
Did you know? Beachbody has paid over $2.5 million in commissions to qualified Coaches in 2012.
What is the primary reason for your success with your leads?
I am persistent!
When you first reach out, a lot of customers are going to assume that your welcome e-mail is just a computer-generated response.
It's through your persistence that customers are going to learn that you're a real person and, yes, your service is free. Determination shows them you are a reliable source for guiding them through their fitness journey.
This doesn't mean being pushy, rude, or messaging your leads every day. Reaching out with a mindful and polite approach—is key to success.
It's commonly said that 85% of sales happens after the fifth contact, and I know this to be true. I hear back from a lot of people after that contact!
Tip: In Lead Lesson 4.2: How Do I Follow Up?, you will learn how to apply a flexible four-week, follow-up plan to help you get to the fifth contact easily.
How do your leads usually respond?
Sometimes, people are confused. They think they clicked the wrong button and accidently paid for a service they didn't want. This is a great opportunity to explain the awesome, free service you provide!
Others (about 60-70% of those who respond) are really excited to start their program and grateful to have a Coach that can support them through this time in their life.
Of these people, about 30% will continue their relationship with me and actually work to take their fitness to the next level. This doesn't sound like a large percentage, but these people make it all worth it. I've converted 25 of these customers to Coaches!
After opening multiple business centers and almost four years in the business, I know for a fact that hard work and persistence does pay off when it comes to converting your leads.
Tip: Don't expect a "yes" every time. Assume that 80% of your leads will be confused about what it is you do and might need a friendly nudge to get going. Check out Lead Lesson 3: What Do My Customer Leads Expect? for an explanation on where these customers are coming from and how to get them to open up to you.
How do you manage your time reaching out to leads? 
I set aside 30 minutes a few days a week to make contact with the customers. Since I'm most fresh and creative in the mornings, I usually spend that time "relationship building"—explaining my role as a Coach, answering questions, etc. At night, when I'm tired and less focused, I'll usually send out my welcome e-mails since they are already written and take little thought.
Tip: As a new Coach, set aside 30 minutes to reach out to leads (though you really might only need 5-10!). Need help creating a timesaving script like Nicole's? Check out Lead Lesson 4.1 for e-mail, text, and voicemail scripts.
What advice do you have for Coaches that get a rude customer?
My response is always super-positive to rude customers.  I tell them that I'm sorry if I over-stepped my boundaries, but I just wouldn't be doing my job if I didn't reach out to tell them who I am and what I'm here for. I let them know that I understand that they might not be in a place where they want to talk to me, but I always leave them my contact information in case they change their mind.
Tip: Keep in mind, your main goal is to connect with the customer. So even when you get a "no"­, you've still done your job. That's what it's all about.
Nicole has been successfully converting leads for years, but like every other Coach, she had to start somewhere. It takes consistency and drive to take advantage of this incredible program. But Nicole will tell you, it's well worth it.
Don't give up. Follow up.
Visit CoachFAQ.com and type in #LEADUCATION for great tips and tricks on running a successful Coach business.
© 2014 Beachbody. All rights reserved.