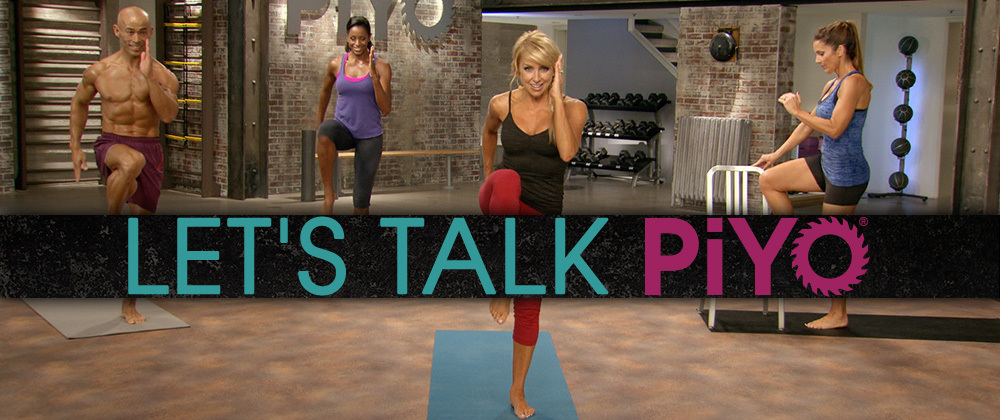 At Summit 2014 Beachbody unveiled PiYo®, the much-anticipated fitness innovation from celebrity trainer, Chalene Johnson.
And this time, she's completely outdone herself.
PiYo has the whole Team Beachbody® family buzzing with excitement. And for good reason. Read on for some helpful nuggets of knowledge that will have you talking PiYo with confidence—and powering up your success!
What is PiYo?
For starters, PiYo is a low-impact, high-intensity program that fuses elements of yoga and Pilates to get you ultra-lean and intensely-defined.
But if you think you can yawn your way through it, think again.
To keep it challenging and fun, Chalene cranked up the pace so you get full-throttle cardio while sculpting every inch of your body. You'll be in constant motion, using your own bodyweight to perform targeted moves for a leaner, stronger, and more flexible physique.
Here are a few of the many benefits you'll get from PiYo:
Sweat, stretch, and strengthen—in each workout!
Use your body to shape your body. No weights needed!
Burn crazy calories without high-impact, joint-straining cardio.
And while many recognize the importance of integrating flexibility training into their workout routine, few have the time or luxury to jump from their favorite cardio class to yoga or Pilates.
For the time-challenged Chalene, it was this simple need that sparked the idea for PiYo. "I was doing yoga, but still felt like I needed to stretch certain areas, do more cardio, and lift more weights," she explains. "So I started to think, 'how can I get more flexible and develop strength and cardio?'"
The solution was PiYo—and boy does it deliver! But enough from us; let's hear what our Elite Coach Test Group had to say about the program.
Putting PiYo to the test

"I had no idea how high my heart rate would get while doing PiYo. I thought it was going to be boring and that I would lose cardiovascular strength, but I've been challenged every single workout."
– 9 Star Diamond Coach Michelle Myers
"I've seen drastic changes and lost inches all over. I didn't expect a low-impact workout to have such radical results."
– 8 Star Diamond Coach Lindsey Catarino
"PiYo really impressed me. I actually had to stop and modify after having done INSANITY® and FOCUS T25®. It's amazing that you can get this kind of intensity from a Pilates and yoga fusion."
– 5 Star Diamond Coach Ryan Chapman
"PiYo's a lot harder than I expected and it gets harder as you progress. It's definitely not just for chicks."
– 7 Star Diamond Greg Plaskett
And the best part? All this incredibly positive feedback will make talking about the program easier than child's pose.
Flexibility for your body—and your business
One of the greatest things about PiYo is that it turns every person you talk to into a potential customer.
When talking to prospects, begin with a need—just like Chalene did—and you'll discover that it's the ultimate problem-solver.
Total beginners can benefit big time. For example, right alongside Chalene, there's a modifier performing a more doable version of the moves for those just getting started. They can watch her alignment from the side (a Beachbody first!) making it a breeze to nail proper form.
If your customers are feeling a little more extreme, they're in for a treat. The cranked-up cardio and body-resistance training in PiYo can help improve athletic performance, cardiovascular strength, and stamina—without putting additional pressure on the joints. No weights. No jumps. Period.
And for those with aches and pains who want to rest their joints from high-impact workouts, PiYo is the perfect solution.
Former college athlete and 5 Star Diamond Coach, Patrick Riehlman, shed some light on the subject. "I always said that my body was held together by scotch tape," he jokes. "But after doing PiYo, I haven't had any of the pain and issues I've been dealing with since I played college lacrosse."
But the true power of PiYo is that it solves many needs for many people, making it one of the strongest tools in your arsenal.
So go on, get out there and spread the word about PiYo. It's one program you and your customers simply can't afford to miss.
And don't forget! The PiYo Challenge Pack is available NOW through the end of July for just $140 (normally $160).
More info at FAQ 9753.