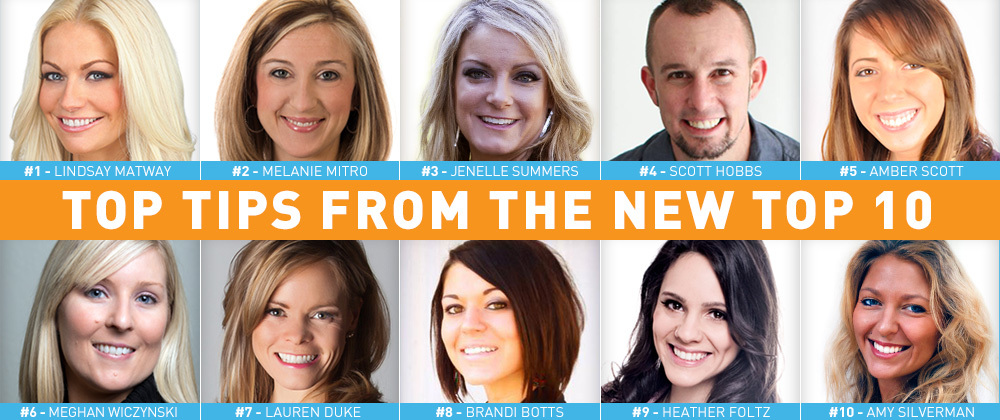 What does it take to become one of Beachbody's rockstar Coaches? Why not find out from the crème de la crème of the Coaching ranks—the Top 10 themselves! We asked each of our newly-crowned Elite Top Ten: "What's the one thing you did last year that got you into the Top 10?", and they responded with these little nuggets of greatness.
Lindsay Matway, 2013 Top Coach
"If I had to choose just ONE thing, it was coming up with an easy system to help my new Coaches get started in MY challenge. Then I made them go out and run their own. It made it much less intimidating and helped them have early wins to build their confidence as new business owners!
The key to getting your Team to progress from there is to focus on what THEY really want, and WHY they want it. At that point, give them a step-by-step process on what it will take to reach those goals. Then, create a clear vision for them of what their new life can look like. NOTHING will get them more fired up and ready to go outside their comfort zones for change!"
---
Melanie Mitro
"I focused on developing a training system that could be duplicable by the rising stars in my organization. I feel that the personal touch of getting on the phone with my Team made a huge difference, too. The more hands on you can be; the greater success you will have!"
---
Jenelle Summers
"First, I started strong—that really set the pace for the whole year. Next, I turned down certain opportunities so I could stay focused and not feel overwhelmed by what I had on my plate. Lastly, I launched the Coach Basics trainings with my Coaches. It made a huge impact!"
---
Scott Hobbs
"DISCIPLINE. I believe that out of all the success principles I've learned, discipline in my daily activity is the one thing that got me to the Top 10. I've also conditioned myself to DO IT no matter how I feel. I read Personal Development books or watch Personal Development videos on YouTube until I feel it. Then I put in the hustle."
---
Amber Scott
"First, I learned from every mistake I made. I never beat myself up and didn't let the mistakes stop me from moving forward. I also spent time reflecting on what was working. This allowed me to continually fine tune processes and ideas. As a result, my welcome process, sign-up process, training, Challenge Group experience, and Team culture all improved."
---
Meghan Wiczynski
"Personal Development. It's one of those things that's easy not to do because you don't see any repercussions of not doing it. However, if you DO it, you see changes almost immediately—the way you handle situations, treat others, respond to customers. Personal Development kept my head in the game through a year with some crazy ups and downs."
---
Lauren Duke
"The one thing that encompasses so many activities is consistency. No matter what was going on or where we were, I was consistent with checking in, inviting, sharing, and being available. My Team, customers, and challengers appreciated that and knew they could always count on me." 
---
Brandi Botts
"I feel God had a lot to do with it, but my sole focus last year was on helping my Team be successful. I really feel that's the only way you can be in the Top 10. It's all about your Team and helping them learn to duplicate what you have done."
---
Heather Foltz
"The biggest thing I did was not focus on ME. I focused more on how I could help my Coaches reach their monthly goals. I made sure they were getting started right in their businesses and setting goals right off the bat. I also had them start Challenge Groups and made sure they knew I was there for them. It made such a huge difference to be selfless."
---
Amy Silverman
"I made it non-negotiable for all the Coaches on my Team to hit Success Club. I also let them know this is a brick-by-brick business and it starts with consistency. The bottom line is, if you're not focusing on helping your Team succeed and growing their paychecks, you need to start now."